Countdown to TradeCentre: What would it take for Leafs to add a defenceman?
Follow the latest trade rumours and speculation leading up to the Feb. 25 trade deadline with TSN.ca's Countdown to TradeCentre. In Friday's roundup, the Leafs' potential quest for a defenceman and the Hurricanes' plans going forward.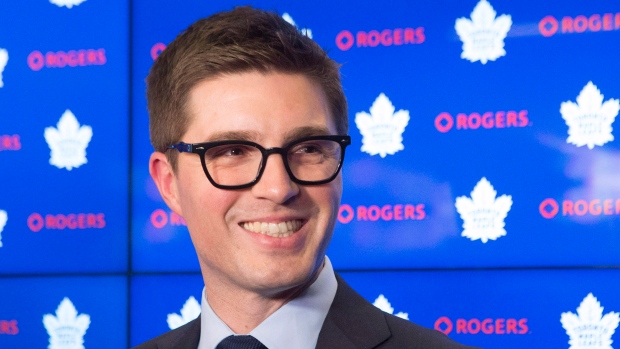 The National Hockey League's Trade Deadline is 3 p.m. ET on Monday, Feb. 25, and teams will be making decisions on whether to buy or sell and decide which players can make the biggest difference and hold the greatest value. Check out the latest trade rumours and speculation from around the NHL beat.
Will Dubas look for D?
It's no secret some feel the Toronto Maple Leafs need to go out and add a shutdown defenceman.
But what would it take for general manager Kyle Dubas to pull the trigger? TSN Hockey Insider Darren Dreger joined First Up with Michael Landsberg and Carlo Colaiacovo Friday morning to shed some light on the potential search:
"It's not just Kyle Dubas that you've got to convince to explore the possibility of adding a key defenceman and giving up the assets to get that piece," Dreger said.
"I mean there's a management group that has to be convinced. And the only way to do that is to convince them on your play. If for the remainder of the regular season management can see this team is really close and maybe they do build themselves into the status of a legit contender, well now you're starting to look a little bit more seriously at giving up a better asset because you feel you're that much closer to being a real Stanley Cup contender."
I'm not suggesting that they're ever going to get to a point this season where yeah, Kasperi Kapanen is a piece they can live without, but maybe it shifts in a different direction with some of the other coveted prospects they have at centre."
One name on the blueline market that's been popping up around the league? Jake Muzzin of the Los Angeles Kings.
"He's a quality top-four defenceman, I don't think there's much doubt of that," said Dreger. "The asking price for Jake Muzzin though apparently is off the charts. It's like a first-round pick and a prospect if not a top prospect. And at least at this point, that's described as exorbitant, it's too much. For the Toronto Maple Leafs even though you have the name and the position is interesting, Toronto has a very specific need. Maybe if they get closer to Feb. 25 and a left-shot defenceman is available they just cut their losses because it's an upgrade and they go that direction but they're pretty specific to wanting that balance in the need of a right shot defenceman.
TSN Hockey Insider Pierre LeBrun wrote in The Athletic on Thursday that although there is no guarantee L.A. decides to deal Muzzin, the Kings are listening on the 29-year-old defenceman.
Contending teams are hoping the price lowers by the deadline on Feb. 25, but the Kings like Muzzin and aren't in a position where they feel they have to move him, LeBrun adds.
He is signed through next season and carries a cap hit of $4 million. Through 48 games so far this season, Muzzin has four goals and 16 assists in 21:34 ice time per game.
Hurricanes ready for more?
The Carolina Hurricanes pulled off a deal Thursday, sending Victor Rask to the Minnesota Wild in exchange for veteran Nino Niederreiter. But are more moves on the horizon?
TSN Hockey Insider Darren Dreger suggested they might be, especially when it comes to bringing in a top-six forward.
"I had an opportunity to speak with Tom Dundon, the owner of the Carolina Hurricanes, yesterday and man, I can tell you this guy is hungry for the Hurricanes to qualify for the playoffs," Dreger said Thursday on TSN Radio 1200 Ottawa.
"I don't get the sense that Don Waddell or the Carolina Hurricanes are done. They still have pieces on their back end. Maybe Brett Pesce, Dougie Hamilton's name has surfaced on occasion as speculation, there are other defencemen that they could use. They still are in the market for another top-six forward," Dreger said.
Dreger suggested on Thursday's edition of Insider Trading defenceman Justin Faulk could also be out there.
"Now Dougie Hamilton's name is out there a lot, but the reality is whether it's Brett Pesce or Justin Faulk, any right hand shooting defenceman who's not named Jaccob Slavin is available for the right price if the Carolina Hurricanes can pick up an offensive forward," Dreger said.
TSN Hockey Insider Bob McKenzie agrees.
"Now, I think there's other deals to come. Carolina, we've talked ad nauseam about moving a defenceman whether it's Dougie Hamilton or Brett Pesce or Justin Faulk, whatever the case may be. They're going to move a defenceman for a forward. It's just a matter of time."
"They've decided that Jaccob Slavin is the untouchable on that blue line," McKenzie added.
While the Hurricanes (22-19-5 entering play Friday) sit fifth in the Metropolitan Division with 49 points, goal scoring has been a bit of an issue for them as they 24th in the league with 124.
What's the latest with Beaulieu?
Kent Hughes, the agent for Buffalo Sabres defenceman Nathan Beaulieu, told the Associated Press earlier this week his client is concerned with his lack of playing time and would prefer being traded if his role doesn't change in Buffalo.
"He's not unhappy with Buffalo, he's just looking for more of an opportunity to play," Hughes said.
Beaulieu commented on his situation Thursday:
"I believe I'm a leader in this locker room," Beaulieu said via Lance Lysowski The Buffalo News. "I've got a lot of close relationships with a lot of guys here. My teammates are my biggest support group. They all support me very well. So does [general manager Jason Botterill]. It was never about that. I love everyone in this room. I just want to play."
He has played in just three of the club's last 14 games and Sabres head coach Phil Housley said it's unlikely Beaulieu will crack the lineup Friday night in Vancouver against the Canucks.
"It's a difficult situation," Housley said. "As a coach, you never want to sit out players. It's tough. You base your decisions on a number of things, but we have eight very good defensemen. We've changed winning lineups, we've changed losing lineups. We haven't gotten a lot of results in the last 10 games. In Nate's defense, he's done a great job in the way he approaches practice. He comes to work, he's been professional and staying sharp."
Beaulieu has three goals and four assists in 26 games this season.