Countdown to TradeCentre: Why Muzzin over a Canes' blueliner?
Follow the latest trade rumours and speculation leading up to the Feb. 25 trade deadline with TSN.ca's Countdown to TradeCentre. In Tuesday's roundup, why the Maple Leafs didn't acquire a right-shot defenceman for the Hurricanes, how the Blue Jackets will proceed with Artemi Panarin and who's available on the Flyers.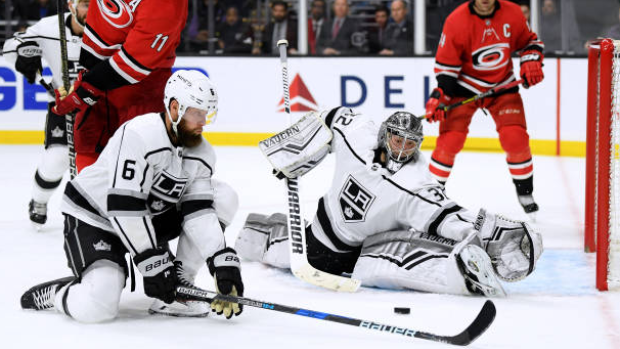 The National Hockey League's Trade Deadline is 3pm et on Monday, Feb. 25, and teams will be making decisions on whether to buy or sell and decide which players can make the biggest difference and hold the greatest value. Check out the latest trade rumours and speculation from around the NHL beat.
---

Why Muzzin?
The Toronto Maple Leafs made a major splash Monday, acquiring left-shot defenceman Jake Muzzin from the Los Angeles Kings for forward prospect Carl Grundstrom, the rights to unsigned blueline prospect Sean Durzi and Toronto's first-round pick in 2019.
TSN Hockey Insider Darren Dreger said Tuesday that the Maple Leafs are likely to be quiet on the trade market with Muzzin now in the fold and explained why general manager Kyle Dubas elected to acquire Muzzin over a right-shot defenceman from the Carolina Hurricanes.
"I think it more or less is the end, if (the Maple Leafs) do anything now, it essentially has to be dollar in, dollar out-type of thing," Dreger told TSN Radio 1050 Toronto. "That's not to say that Dubas will close up shop here and just focus on the playoff and the remainder of this second half. He's got to listen. Maybe there are other organizational moves that might impact the American League or there's something that lands in his lap, that again makes some sense - player in, player out - but they got the player they were after.
"I know we were talking about Carolina because it was established very early that Toronto was in the market for a right-shot defenceman and very recently a couple of their management team members were in Calgary to watch the Flames and the Carolina Hurricanes and they were focusing on Brett Pesce and Dougie Hamilton - two right-shot D-men. I think when push came to shove in the end, the problem was that Don Waddell and Carolina Hurricanes had to have a key roster player from the Toronto Maple Leafs to make the deal work. Is that Kasperi Kapanen? Is it (Andreas) Johnsson? What other pieces are we talking about? We don't know – at least we don't know yet.
"Even though Toronto gave up a fair bit, in terms of future pieces here, they're comfortable with it because it didn't do anything to alter their room or the roster that they have on the ice now."
Dreger reports that Muzzin will play on the right side of the Leafs' top pairing with Morgan Rielly, while Ron Hainsey will slide down to the third pairing with Travis Dermott.
Muzzin, a Stanley Cup champion with the Kings in 2014, has four goals and 21 points in 50 games this season.

---

What Now?
With agent Dan Milstein's statement on Monday that winger Artemi Panarin will not negotiate an extension in-season, the Columbus Blue Jackets must now decide how to proceed with their leading scorer.
Aaron Portzline of The Athletic believes the Blue Jackets will now "likely seek to trade Panarin" before the trade deadline.
The Blue Jackets currently sit third in the Metropolitan Division and are positioned to make the playoffs for the third straight year. However, holding onto Panarin could mean seeing an elite player leave in July for no return.
Panarin, who has 19 goals and 53 points in 46 games this season, informed the Blue Jackets in June that he wouldn't be ready to sign a contract extension when he became eligible on July 1.
Portzline reports the Blue Jackets listened to offers for the winger, but they only received futures when they were looking to replace Panarin's production.
Moving forward, Portzline adds that those close to Panarin believe he wants to play in a major city like New York or Los Angeles, or a destination such as Tampa Bay or Florida. Milstein said in July that said that Panarin "loves the team" but wasn't sure about spending the "next eight years in Columbus."
The Blue Jackets are now at risk of losing both Panarin and goaltender Sergei Bobrovsky to the open market in July. Bobrovsky, a two-time Vezina winner, also informed the Blue Jackets last summer that he would not negotiate an extension with the team and TSN Hockey Insider Pierre LeBrun reports he provided Columbus with a list of teams he'd consider moving his no-move clause for.
Bobrovsky, 30, carries a $7.425 million cap hit in the final year of his deal, while Panarin, 27, has a $6 million cap hit with no trade protection.
---

Just Giroux?
Philadelphia Flyers general manager Chuck Fletcher said Monday that captain Claude Giroux is the lone untouchable on his team's roster leading up to the trade deadline.
"We have a lot of good players here but I would never say never to almost anybody besides [Claude] Giroux. Giroux's got the no-trade and he's our captain and probably one of the best players in the history of the franchise. So I don't think that makes much sense. But there's a lot of guys that don't make much sense either, but I can't say never."
TSN Hockey Insider Bob McKenzie was asked Monday if that means 25-year-old defenceman Shayne Gostisbehere could be moved by Fletcher.
"I don't think he's got an agenda that says, 'I've got to get Shayne Gostisbehere out of town here,' but I think he's also willing to listen on just about anybody," McKenzie told TSN Radio 690 Montreal. "They've got multifaceted plans in Philadelphia in terms of 'We could keep this guy and we could move that guy, or we could that guy and move this guy,' and flip it around depending on what the interest is and what the prices are.
"But Gostisbehere is a real good young defenceman who hasn't played to his potential with the Philadelphia Flyers recently, and you've got to be careful to give those guys away. They've got a lot of really young defencemen that are not NHL-proven there. They're looking for a veteran goaltender to mentor Carter Hart and insulate him a little bit in his development. They're looking for a veteran Top-4 defenceman to insulate some of their younger players and they're looking for a veteran forward up front.
'As you point out with (Wayne) Simmonds, they've got to either sign him or trade him. I think it's more likely he's traded, although they haven't closed the door on signing him either. So we'll see where that goes.
"But Gostisbehere is a name that's been out there, but I don't know that it's at the top of the list of things that Chuck Fletcher wants to move out of town. That's not to say that he wouldn't for the right price."
Gostisbehere has five goals and 20 points in 48 games this season after posting a career-high 65 points with 13 goals last season. He is signed for four more seasons at a $4.5 million cap hit.
As for Simmonds, Fletcher said Monday he "can't really predict how it's going to play out" with the 30-year-old winger, but noted he would have to make a decision in the near future. Simmonds, with 15 goals and 23 points in 49 games this season, is listed at No. 2 on the TSN Trade Bait Board.

---