Facing the Bruins a statement game for Maple Leafs
TSN Toronto reporter Mark Masters checks in daily with news and notes on the Maple Leafs. The Leafs and the Bruins held optional skates at Scotiabank Arena ahead of Saturday's game.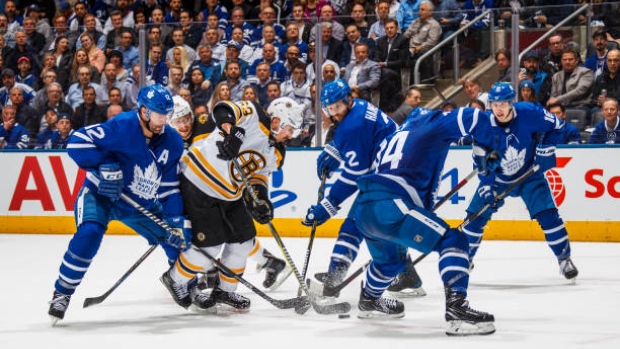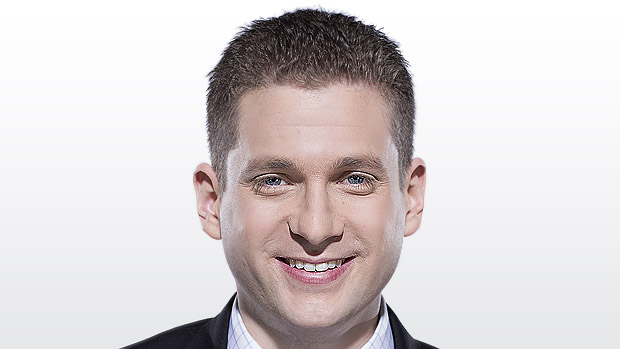 TSN Toronto reporter Mark Masters checks in daily with news and notes on the Maple Leafs. The Leafs and the Bruins held optional skates at Scotiabank Arena ahead of Saturday's game.
---
Should Saturday's showdown with the Bruins be considered a statement game for the Leafs?
"I think it should be," said centre Auston Matthews. "We should be excited for it. They've gotten the better of us so far this year and, obviously, last time they played us they really brought it to us so it should be a game that we are all ready to play."
Boston beat Toronto 6-3 in their last meeting on Dec. 8 at TD Garden. Even without injured centre Patrice Bergeron by his side, David Pastrnak produced that night with two assists. The all-star right winger has five goals and three assists in three games against the Leafs this season. Overall, the Czech native has 15 goals and 16 assists in 21 games against Toronto (playoffs included).
"He's kind of a wildcard," said defenceman Travis Dermott. "You can't really put him with anyone else's style of game. He's kind of his own player, I guess, in a way where you don't really know what he's doing to do. He seems to have a lot of different options in his backpack."
"He gets to the net," observed Mitch Marner. "He makes a lot of great plays. You have to be ready for some stuff you're not usually ready to see. All three of them aren't afraid to do some stuff out there that usually people don't so it's impressive to watch."
Bergeron has 12 points in nine games since returning from injury on Dec. 22, while Brad Marchand has 11 points in that stretch.
"I feel like they have each other figured out pretty near perfect," said Dermott. "They seem to bring it every game against us. I know they do well otherwise, but I feel like against us they really, really get going."
Leafs coach Mike Babcock said on Friday that Boston's top line serves as a great role model for his young, elite players because the trio matches their incredible talent with a fierce determination.
"They work hard," agreed Matthews, "and they check the puck back quite a bit so when they're rolling around your zone it seems like they never let you get the puck back."
"They're on both sides of the puck constantly," said Marner. "They're 100% every single night with work ethic."
---
What's the key if the Leafs want to get some payback on the Bruins tonight?
"We got to take care of the puck," Matthews explained. "That's when we're at our best is when we're not turning over pucks and giving them transition (chances), because that's what we're trying to do to the other team ... for us, we got to keep things simple sometimes, especially against these teams with good defences, they move the puck well and it's a lot harder for them when they have to turn their back going to get the puck."
The Bruins will get a big boost tonight as Charlie McAvoy returns after missing seven games with a foot injury.
"He drives transition as well as anybody on our back end," said coach Bruce Cassidy. "It should allow for our forwards to get a few easier rushes through the neutral zone."
McAvoy will be reunited with Zdeno Chara on the top pairing.
"Him and Z are a good partnership. They help each other," said Cassidy. "Charlie, mobile getting back on pucks is good for Z and Z has years of defending experience that he's trying to get Charlie to value as much as the offensive part of it and I think they've made a good partnership because of it."
"Positionally he's so sound," gushed McAvoy. "He's a safety valve out there for me. It's just so encouraging when you have him out there, because you know he always has your back. So responsible, so good defensively. He always puts himself in the best position to break-up plays, to make plays. He's incredibly smart. I'm just blessed and fortunate to play with a guy like that. I can't wait to get out and play with him tonight."
Due to a couple injuries, McAvoy has only suited up in 17 games this season, but Chara expects the 21-year-old to have no problem getting back to top speed tonight.
"He's been sidelined a couple times, but every time he comes back he's blended in well, because he's such a smooth skater and sees the ice well," the Bruins captain noted.
It's a little tougher for an older guy to recover and Cassidy points out the 41-year-old Chara is still rounding into form after returning from a knee injury seven games ago.
"He's still finding his way, but I do believe we're seeing improvements every game," Cassidy said, "and sometimes for a bigger guy it takes time to get the whole body revved up and going."
Chara's hockey sense has allowed him to be effective even as he works out the kinks. It's also a big reason why the six-foot-nine Slovak has remained a force even in this faster era.
"He's changed his skating a little bit," Cassidy said. "He's worked on certain parts of it. He understands the puck has to move quicker or guys can get under him."
The man Matthews describes as "ginormous" is certainly well respected inside the Leafs room.
"Just his reach," said Matthews when asks what stands out, "with him you're probably getting a couple feet less of room there, especially coming down in corners and then on the rush ... he's got that extra, whatever, two feet of stick there to poke the puck."
"He's an ultra-fit guy," said Babcock, "great person, ultra-competitive, leads by example. I don't know if he's retiring this year, I need to get his stick. If he's playing I'll ask next year. He's a good player, he can play as long as he wants."
---
While the Bruins have outscored the Leafs 11-4 in a pair of wins this season in Boston, it was the Leafs who triumphed 4-2 during the only previous meeting in Toronto (Nov. 26).
"Up here they did a better job of breaking through us early and getting their D involved," said Cassidy. "I think (Morgan) Rielly had at least four or five point blanks from turn-up plays by Marner so that's one we got to be a little more diligent in accounting for him coming up the ice. How are we going to defend the turn-up? You know, generally we do it with layers so we have to look at that against certain types of teams. We did a better job of that in Boston ... we limited their transition game."
Babcock was asked if Boston's style of play suits the Leafs.
"Boston plays a quick game," the Leafs bench boss said. "They rely on a group of forwards to really set the tone for them, they rely on their power play a lot. They've got a couple of guys on the back that are really mobile. But, they defend good and they make it hard on you. As far as the style goes, I think the style is perfect for us, to tell you the truth."
---
Due to illness, Frederik Andersen ​did not skate this morning and his return from a groin injury is on hold. Garret Sparks remains sidelined indefinitely with a concussion, but took shots for the first time this morning, which was a positive sign.
Michael Hutchinson will make his fifth straight start tonight. TSN's Kristen Shilton has more on what the goalie has brought to the table since being thrust into the Toronto spotlight:
---
Projected Leafs line-up for Saturday's game:
Hyman-Tavares-Marner
Johnsson-Matthews-Kapanen
Marleau-Kadri-Nylander
Lindholm-Gauthier-Brown
Rielly-Hainsey
Gardiner-Zaitsev
Dermott-Ozhiganov
Hutchinson starts
Kaskisuo​