Iginla to retire after 20 NHL seasons
Former Calgary Flames star Jarome Iginla will announce his retirement from the NHL on Monday. The news conference will be held in Calgary, where the native of St. Albert, Alta., played almost 16 seasons.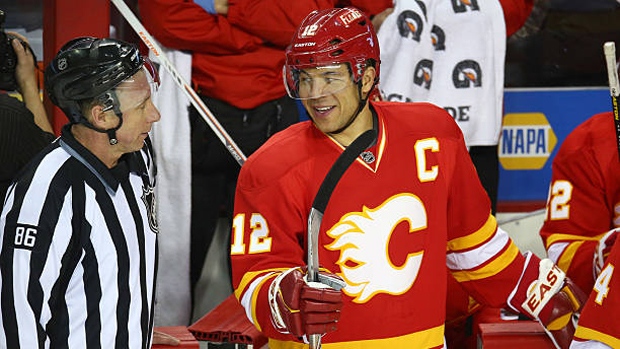 CALGARY — The face of the Calgary Flames for over a decade and a half is returning to the city to end his NHL career.
Jarome Iginla will officially announce his retirement Monday in Calgary, the Flames said Wednesday in a statement.
The 41-year-old winger didn't play in the NHL this past season. He suited up for the Los Angeles Kings for his final 19 games in 2017.
Iginla played 20 NHL seasons, registering 625 goals, 675 assists, 1,300 points and 1,040 penalty minutes in 1,554 games.
But few players have made an impact on one franchise the way Iginla did for 16 seasons in Calgary.
Iginla scored 525 goals and had 570 assists as a Flame from 1996 to 2013.
The six-time all-star is the franchise leader in goals, points (1,095), games played (1,219) and game-winning goals (83).
"I don't think there's any question he's the greatest Flame of all time," said Craig Button, a television analyst who was Calgary's general manager from 2000 to 2003.
"This is a player that's represented everything the Calgary Flames were about in good times and bad."
The six-foot-one, 210-pound forward from Edmonton was feared on the ice for his power, speed, skills, toughness and smarts.
"He could beat you so many ways," Button said. "With great players, everybody is trying to shut you down. You try and find ways to adapt and adjust to what the other team is doing and Jarome always did.
"He could beat you with a shot, he could beat you with a pass, he could beat you with skating, he could beat you with power. If you were a player that lacks in any one of those areas, he beat you and he relished beating you."
Iginla was a first-round pick of the Dallas Stars, but his rights were traded to Calgary while he was still playing in the Western Hockey League for the Kamloops Blazers
At 18, he joined the Flames for the playoffs at the conclusion of his junior season and had a goal and an assist in two post-season games.
Iginla twice scored 50 goals in a season for the Flames, surpassed 40 goals four times and reached the 30-goal mark 11 times. He won the Art Ross Trophy as the NHL's top scorer in 2002.
He was named Flames captain to start the 2003-04 season and wore the 'C' until he was traded to the Pittsburgh Penguins on March 27, 2013.
Iginla led the Flames to the Stanley Cup final in 2004, when Calgary lost in seven games to the Tampa Bay Lightning.
But a Cup eluded Iginla in his stellar career. The Flames didn't come close again during his tenure and were going to miss the playoffs a fourth straight season when he was traded.
So few faulted Iginla for waiving his no-trade clause in Calgary so he could join a Cup contender.
He finished out the 2012-13 season with the Penguins, played a season in Boston and another three with the Colorado Avalanche before capping his career with the Kings.
At 40, Iginla said he wasn't ready to retire and was skating with the Bruins' farm team in February to test the waters for an NHL return.
"Players that are committed to being the best they can be and committed to winning, I always feel they're going to intersect with the Stanley Cup at some point in time," Button said.
"It didn't happen for Jarome, but it didn't lessen any type of commitment he had.
"When you think about all the players to score 500 goals or had a thousand points and to do both with one franchise, I think it speaks to not just what he contributed to a franchise, but also how accomplished he was as a player."
Internationally, Iginla will be remembered for his pass that set up Sidney Crosby's Olympic overtime winner in the gold-medal game against the U.S. in Vancouver in 2010.
Crosby yelled "Iggy" and Iginla, who was getting hauled down by a U.S. defenceman, still got a pass away from the boards to Crosby for a historic goal in Canadian hockey history.
Iginla, a three-time Olympian, also won Olympic gold in 2002 and captured titles with Canada at the world championship (1997), World Cup (2004) and world junior championship (1996).