Insider Trading: Are the trade flood gates about to open?
TSN Hockey Insiders Pierre LeBrun, Bob McKenzie and Darren Dreger joined host Gino Reda to discuss the possibility of more trades to come, what the Oilers price is for Patrick Maroon, the Flyers goalie situation and what the Canucks plans are for their key pending UFA's.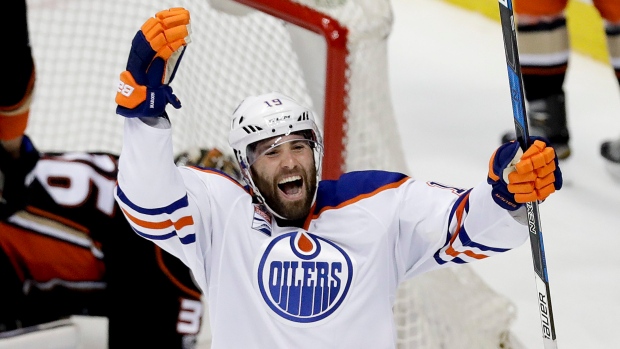 TSN Hockey Insiders Pierre LeBrun, Bob McKenzie and Darren Dreger joined host Gino Reda to discuss the possibility of more trades to come, what the Oilers price is for Maroon, the Flyers goalie situation and what the Canucks plans are for their key pending UFA's.
Could we expect to see more trades before the deadline?
There have been a number of trades that have taken place over the last few days, opening the question of whether we will see a flurry of trades take place leading up to the February 26th NHL trade deadline.
Bob McKenzie: "I don't know if I'll call them floodgates, but let's be honest - there's trades every year. I mean there's going to be 20 plus trades probably between now and the deadline, so let's get the ball rolling here. These trades today, Ottawa getting Pokka, St. Louis getting Soshnikov, they're not major transactions, but they're addressing needs for those teams and I'm sure we'll see lots more deals of that nature between now and the deadline."
What are the Oilers looking for in return for Maroon?
Patrick Maroon is one of the bigger names available at this year's trade deadline and the Oiler should get a nice package deal in return.
Pierre LeBrun: "Well, certainly I think there's a belief that by the time they're done on that front that if they do trade him, a low first round pick is a possibility for the Edmonton Oilers and maybe that's what they end up doing. However, I think if there is a preference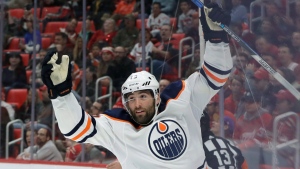 or priority for Peter Chiarelli and the Oilers, it's to get a top prospect, someone who is closer to making an impact on the Oilers roster as they try to make a quick turnaround next year and be a competitive team once again and so there are certainly teams out there with an abundance of prospects that I think can do that for the Edmonton Oilers. One thing to keep in note, agent Allain Roy, the agent for Patrick Maroon, is expected to speak again with Peter Chiarelli over the next 24 to 48 hours. The door not totally closed on re-signing, but more and more you get the sense that he will be dealt, given the interest."
Darren Dreger: "The Winnipeg Jets are definitely interested in Patrick Maroon from the Edmonton Oilers and the Boston Bruins interested as well, I don't think either team is really going to want to have to throw in a first round draft pick to acquire Patrick Maroon, but both teams most definitely have the young assets to be involved in that trade conversation. So both Boston and Winnipeg paying close attention to what Chiarelli is doing. Meanwhile, Chiarelli could be busy, certainly between now and the start of next season, he wants to acquire a winger who can skate with Connor McDavid, a defenceman who can help their transition game and a goalie who's going to push Cam Talbot."
Flyers options without
Brian Elliott
The Flyers were hovering around the playoff bubble and have just lost their starting goaltender Brian Elliot to injury for about one and a half months.
Bob McKenzie: "Well right now I think they want to see how Michal Neuvirth and Alex Lyon step up in the absence of Brian Elliott. They've got a little bit of time before the deadline to try and gauge that but they know what's out there, I mean, Antti Niemi from Montreal is available, Petr Mrazek from the Detroit Red Wings is available, and keep an eye on the Buffalo Sabres goaltending situation; Chad Johnson is a pending UFA, he could be available, and right now Buffalo is not committed long term to Robin Lehner,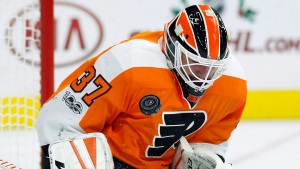 he's a restricted free agent at the end of the year but he's one year away from unrestricted free agency. The Sabres could hold onto him and not qualify him and just let him walk to free agency and let Linus Ullmark take over as their number one, or they could conceivably sign him to a short-term deal to complement with Ullmark, their goaltender of the future in Buffalo, or they could just let him go themselves and let him go to free agency in the off-season. So keep an eye on the Buffalo goaltending situation the rest of the way."
Vancouver Canucks pending UFA's Vanek and Gudbranson
The Vancouver Canucks have some key players about to become UFA's, and Thomas Vanek and Alex Gudbranson are garnering the most attention.
Pierre LeBrun: "Well, I mean Thomas Vanek is going to have to wait a bit just like he did last year when Detroit moved him to Florida right on the final day and the Canucks, I think, understand the marketplace for the veteran winger who has been good for them this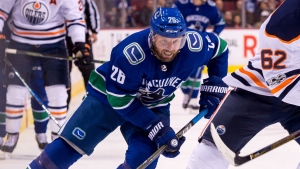 year, but he's going to have to fall in line behind some of the bigger names, I mean Kane, Nash, Grabner, Maroon, all those dominos are going to have to fall before teams start going back to the Canucks and they are kicking tires but getting more serious on their offers at the eleventh hour. Erik Gudbranson, general discussions have begun between the two sides and those talks are going to get more serious over the next weeks as Bob reported recently, the Canucks priority is to sign him, that's what they're trying to do over the next week, if that falls through then obviously those teams wondering about Erik Gudbranson will make trade offers."
Darren Dreger: "Well, teams in the market for a veteran defenceman may look to the Buffalo Sabres and 33-year-old Josh Gorges, big cap-hit at $3.9 million this season, but Jason Botterill and the Sabres are willing to eat 50 per cent of the remaining salary. So he could be a good competitive fit."
Hughes stars vs Sweden in U-18 event
Jack Hughes, the projected number one overall pick for the 2019 NHL draft, is making some noise at the under-18 tournament in Plymouth, Michigan.
Bob McKenzie: "Yeah there really are, because everybody is looking at all these draft eligible players but there's a guy there who's not draft eligible until next year, he's playing as an underager for the American team and that of course is Jack Hughes. He's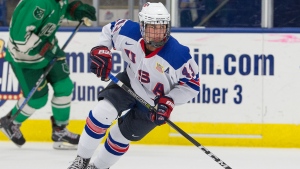 projected to be the number one overall pick in the 2019 NHL Draft, but he is so wowing the scouts in a game against Sweden yesterday that they're talking about him in these terms: that if he were available in this year's National Hockey League Draft, he may be the only player that will be able to challenge Rasmus Dahlin for number one overall. That Hughes is that good, the young American centre who is so dynamic, in other words right now they are rating him ahead of Svechnikov, Zadina, and Tkachuk in terms of the elite prospects in this draft."