Jets looking to finally find home success vs. Blues
The Winnipeg Jets and St. Louis Blues have both failed to post a home win through the first four games of their first-round series. Winnipeg hopes to buck that trend Thursday night when it hosts Game 5 against its Central Division rival.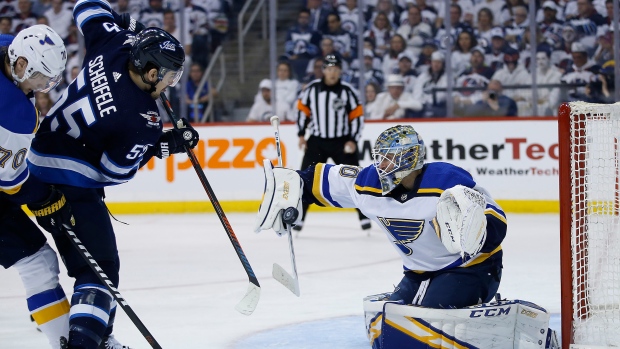 The Winnipeg Jets and St. Louis Blues fought tooth and nail down the stretch of the regular season for the honour of securing home-ice advantage for at least the first round of the Western Conference playoffs.
The Jets were ultimately victorious, but this series has featured four straight wins by the road team.
Winnipeg hopes to buck that trend Thursday night when it hosts Game 5 against its Central Division rival.
The Jets followed a 6-3 victory in Game 3 with the franchise's first overtime playoff win, a 2-1 triumph in Game 4 on Tuesday.
Kyle Connor supplied the fireworks by setting up Mark Scheifele for a deft deflection in the third period before scoring 6:02 into the extra session to level the series.
"It's a sense of relief and a lot of excitement, honestly. There is nothing better than celebrating with teammates all coming in there," the 22-year-old Connor said.
Winnipeg's top line of Connor (three goals, two assists), Scheifele (two goals, three assists) and captain Blake Wheeler (one goal, four assists) has totaled 15 points.
"They drive for our team -- all three of those guys and Mark in particular took his game to another level," Jets defenceman Josh Morrissey told the Winnipeg Sun. "Looking at last year's playoffs, that's what we see. We definitely like to see that out of him."
Scheifele erupted for 14 goals and 20 points last spring as the Jets advanced to the Western Conference final for the first time in franchise history. The 26-year-old followed that up by recording career highs in goals (38) and points (84) this season, with two and seven, respectively, coming against the Blues.
"Every game has been a battle," Scheifele said of the current series. "St. Louis has made us work for every inch and we know that's going to happen again in Game 5 going back home. We've got to be prepared. We've got to get our rest and be ready to battle."
While the Jets' No. 1 line has excelled, the Blues' top group of Vladimir Tarasenko (two goals), Ryan O'Reilly (one goal, one assist) and Brayden Schenn (zero points) has a collective minus-nine rating.
Blues captain Alex Pietrangelo, who set up Tarasenko's power-play goal in the third period on Tuesday, told reporters that the tight series was expected by his team.
"It's frustrating," said Pietrangelo, who has recorded a team-best five assists in the series and has set up 10 goals during his seven-game point streak.
"We knew it was going to be a hard series, right? We took two in their building, so regroup and hopefully steal another one in there."
Pietrangelo helped St. Louis record a pair of wins in Winnipeg. He set up Tyler Bozak's go-ahead goal with 2:05 remaining in a 2-1 win in Game 1 on April 10 before notching an assist on Patrick Maroon's tally in a 4-3 triumph two nights later.
Rookie goaltender Jordan Binnington has lost two in a row for the first time in his career despite answering a six-goal performance with a sterling 37-save effort on Tuesday. The 25-year-old stopped 50 of 54 shots in the Blues' two victories in Winnipeg.