Just the Stats: Kane and Ovechkin hot, Capitals ice-cold
TSN Stats guy Kevin Gibson dives into numbers from around the NHL to help you set your fantasy lineup.
Kevin Gibson, TSN Research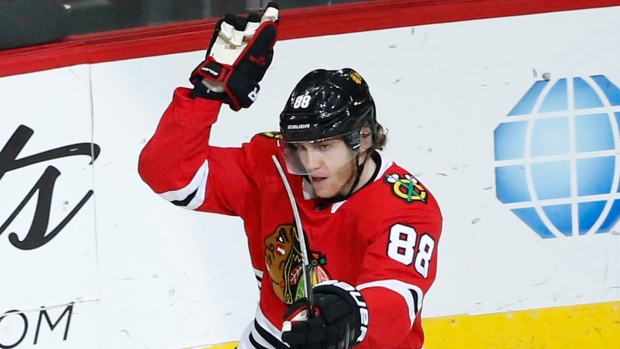 Welcome to Just the Stats with TSN Stats guy Kevin Gibson. Be sure to check back every week to find out who's hot and who's cold to help you set your fantasy lineup.
Hot
- Patrick Kane sits one point shy of 900 for his career. What a season the Chicago Blackhawks winger is having. Kane has only gone two straight games without a point once. He currently has a nine-game point streak where he's collected seven goals and 14 assists. This season he has five point streaks of at least five games. Kane has 71 points in 50 games played, after a season where he had 76 points in 82 games. His 29 goals this season already surpass the 26 he had all of last year. It sure looks like he'll hit the 30-goal mark for the fourth time in his career.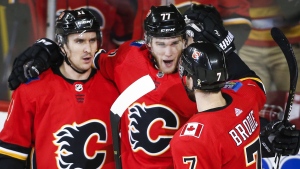 - The Calgary Flames are (obviously) hot. The Flames are on an 8-0-1 run in their last nine games, averaging 4.44 goals for per game in that span. Prior to their game against Carolina on Tuesday, Calgary had four players that had an active seven-game point streak or better. Elias Lindholm was the only one to come out of that game with his streak intact, now sitting at 10 points over eight games. The Flames are also the only team that has five players with more than 50 points. Calgary sits atop the Western Conference with 71 points, five points behind the Lightning for best record in the league. Flames last won the Presidents' Trophy in 1989, the year of their only Stanley Cup victory.
- Alex Ovechkin has 37 goals in 50 games at the all-star break – the second most he's had at the all-star break in his career. Ovechkin had 39 goals in 50 games at the break in 2007-08, finishing the year with 65 goals – his only 60-goal season. Ovechkin had a hat trick versus San Jose on Tuesday, making the Sharks the 15th different team he has scored three goals against. The 33-year-old is skipping the all-star game to get some rest and he'll serve a one-game suspension for that decision. He won't play against the Flames on Feb. 1 as the Capitals begin a six-game homestand.
Not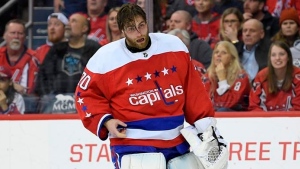 - Ovechkin is hot, but his Washington Capitals are ice-cold. The Capitals are 0-5-2 in their past seven games and they have just three wins in their last 13. Their goals-against average during this slump resembles that of the inaugural edition of the Capitals back in the 70s. They've been lit up in four of their past five games, giving up seven against Nashville, eight (including one empty-net goal) to Chicago, seven against San Jose and six (including one empty-netter) to Toronto. The all-star break couldn't come at a better time for goaltender Braden Holtby. He's 0-2-1 over his past five starts (including getting pulled twice) with a 4.98 GAA and .849 save percentage.
- The San Jose Sharks had a tough four-game road trip heading into the break, where they allowed six goals in each game and their penalty kill gave up eight goals in 15 attempts. They did manage to win one of the four, beating the struggling Capitals 7-6 in overtime. Martin Jones was in net for three of the four games (1-2-0), with a 6.11 GAA and a .802 save percentage. Prior to this road trip, the Sharks had won seven in a row, giving up just 14 goals during the run. Jones had an eight-game win streak going into the road trip, with a 2.26 GAA and a .918 save percentage. It looks like he's another goalie who could use some rest.
Kevin Gibson has been TSN's Stats Guy for more than a decade. He has also written many non-leather-bound books. Follow him on Twitter @TSNResearch.