Walker rolling at Scotties after making tough decision in off-season
Team Alberta is just one of two undefeated rinks left at the Scotties Tournament of Hearts heading into Monday night's action at Mosaic Place.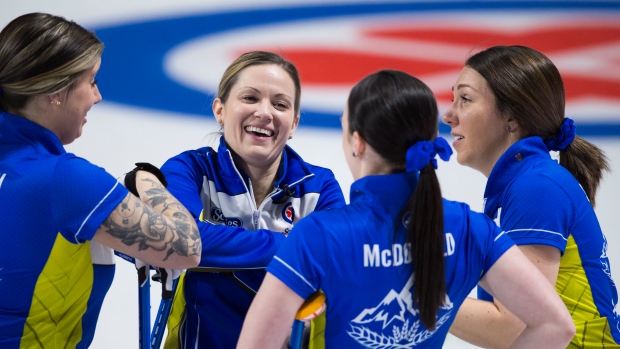 MOOSE JAW, Sask. – Team Alberta is just one of two undefeated rinks left at the Scotties Tournament of Hearts heading into Monday night's action at Mosaic Place.
You can watch Alberta's game against Saskatchewan tonight at 7:30 p.m. ET on TSN 1/3/4 and streaming on TSN.ca, the TSN App or TSN Direct.
It's a fantastic start to the national championship for the team, especially since three of the four members (skip Laura Walker, second Taylor McDonald and lead Nadine Scotland) are competing in the first Scotties of their career as regulars.
But the foursome may have never even made it to Moose Jaw if it weren't for their skip deciding to remain on the pebbled ice.
After wrapping up a subpar year with another team last season, Walker, 29, contemplated stepping away from the sports to focus on her career as a mortgage broker and possibly starting a family with her husband, Geoff Walker, lead for Team Brad Gushue in St. John's, Nfld.
"I was thinking about maybe just playing some mixed doubles and taking a little bit of a break and my former teammate and friend Taylor McDonald was starting a team with Kate Cameron," Walker told TSN.ca.
McDonald and Walker, who also work together as mortgage brokers, spent four seasons together, from 2014-2018, playing for Chelsea Carey in Manitoba and Kelsey Rocque in Alberta before parting ways last season.
McDonald and Kate Cameron played for Allison Flaxey, while Walker skipped a veteran squad of Cathy Overton-Clapham, Lori Olson-Johns and Laine Peters.
After both teams disbanded, McDonald had a plan to form a new squad.
"I knew that Kate and I wanted to play together. I knew Laura's team was kind of disintegrating there, so I was hoping we could maybe pick her up. I had to do a little bit of sweet-talking, but she thankfully wanted to curl," explained McDonald.
At first, Walker wasn't sold at coming back to play on curling's top circuit. The time and effort required to compete with the best in Canada doesn't leave a whole lot of time for everything else during a season.
"They approached me and I first said maybe not and was kind of thinking about it for a while," said Walker.
So, what changed for Walker to take the leap of faith with another season of curling and put starting a family on hold?
"Taylor had said to me that she hates that women feel like they have to choose. Those words were kind of what changed it for me," said Walker.
McDonald was thrilled to hear Walker was sticking with the sport.
"I convinced her that she was in her prime right now and she's too good to step back," said McDonald. "Thankfully, she was up for the challenge and wanted to stay on board with us.
"She's definitely a very dedicated person so she wanted to be all-in if she was going to do it."
Team Walker has played a ton this season, holding a 51-20 record on the World Curling Tour, with event victories at Mother Club Fall Curling Classic and DEKALB Superspiel before producing an undefeated run at an emotional Alberta playdowns.
"It was definitely the most emotional [win] of my career," said Walker. "We kind of felt like a lot of hours coming together in one moment and finally achieving something I've been working towards for so many years. So it definitely felt like a flood of emotions at the end."
Cameron, 28, has the most Scotties experience on the squad after making the 2017 final with Michelle Englot before returning as Team Canada in 2018 after Rachel Homan's rink qualified for the Olympics.
"We're just treating this as another event and trying not to put any pressure on the actual outlook of what could come from this," said Cameron. "All of us have played in national championships – whether it's juniors, universities or Scotties."
Alberta is 3-0 going into Monday night's draw against the hometown squad skipped by Robyn Silvernagle. After picking up wins against lower-ranked opponents like Quebec, New Brunswick and Nunavut, McDonald knows the tougher part of the schedule is ahead of them.
"I think we definitely have some hard games ahead of us. We'll have to buckle down and hopefully ramp up the same way we did at provincials," she said.
Coach Chick
Walker wasn't the only new addition to the team this season.
Brian Chick, author of the book Written in Stone - A Modern History of Curling, was also brought along to coach after making connections with members of the team through various curling camps.
"I guess when they were sitting around talking about who may be a good fit to bring in as a coach, they both had personal experience dealing with me already and so they gave me the call," he said.
Chick says he's just another set of eyes to help the team when he can from a different perspective.
"They've all been successful already, so they know what it takes to run a good team. By the time they brought me on board they knew what they wanted to do and how they were going to do it. They really needed an extra set of eyes to help manage that experience," Chick explained. "All four of them are all capable and talented and they just needed the one more piece to help them push over the edge. They were mostly ready to go before I got there."
Alberta is no stranger to success at both the men's and women's Canadian championships, having won eight Scotties titles and a record 28 Brier Tankards.
Chick says it all comes down to numbers.
"There's a ton of curling clubs in Ontario, Manitoba, Saskatchewan, Alberta, so those have traditionally been the provinces that have performed the best. If you can make it out of those provinces, you're probably good enough to win the nationals and if you can win the nationals, you can win the worlds," said Chick. "You look at Kevin Koe a bunch of years ago; he spent so many years in the shadow of Kevin Martin. As soon as he got out of Alberta, he won the worlds."