Habs erase three-goal deficit to complete comeback against Leafs
Paul Byron scored in the shootout as the Montreal Canadiens defeated the Toronto Maple Leafs 6-5 on Saturday for their first win of the season.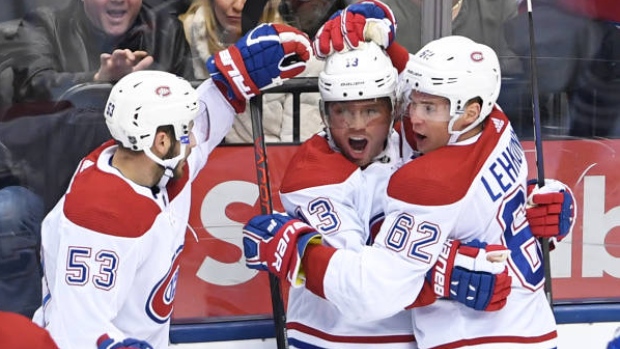 TORONTO — Jeff Petry was chatting with teammates about penalty shots Saturday morning.
Hours later, he found himself in just that scenario — and under strange circumstances.
The veteran defenceman tied the game on a penalty shot after Toronto winger Kasperi Kapanen threw his broken stick at Petry, then Paul Byron buried the only goal of the shootout as the Montreal Canadiens fought back from 4-1 down to beat the Maple Leafs 6-5 for their first win of the season.
Carey Price made 32 saves, including a couple huge ones in overtime and the shootout, to secure the victory.
Montreal trailed 4-1 just over five minutes into the third period, but scored twice in quick succession to set up Petry's penalty shot. With the Canadiens on a power play, Petry saw his slapshot blocked by Kapanen, who broke his stick on the play and inexplicably threw it at the blue-liner.
"I've seen guys throw a stick at the puck, but never at somebody," Petry said. "No one knew the ruling on it. I saw the ref's arm go up. They originally said anybody can take it, and then they changed it and said anybody on the ice.
"And then they said it had to be me, so it was a weird way it played out."
Petry, who had never taken a penalty shot in the NHL and failed to score on his only shootout attempt, beat Leafs goalie Michael Hutchinson low to the glove side for his first of the season to make it 4-4.
Montreal winger Brendan Gallagher said he'd seen his teammate take a couple of penalty shots in practice and was confident he'd deliver.
"That was pretty silly," he said of the stick throw. "Petey made him pay."
Kapanen said fatigue played a factor in his brain cramp.
"I guess you get a penalty shot for that," he said. "I take full responsibility."
"I've never seen that play by anybody ever," Toronto head coach Mike Babcock said. "We've all got to learn from it."
Gallagher had a goal and two assists for Montreal (1-0-1), while Phillip Danault and Max Domi, with a goal and an assist each, and Jonathan Drouin also scored. Shea Weber added two assists.
Auston Matthews had two goals — his fourth and fifth of the season — while Alexander Kerfoot had a goal and two assists for his first three points with Toronto (2-0-1). Trevor Moore added a goal and an assist. William Nylander also scored for the Leafs, who got 37 saves from Hutchinson. Tyson Barrie had two assists.
After that wild third period that saw Toronto blow that 4-1 lead before tying the game 5-5 late, Price robbed Marner on a breakaway in overtime before the Canadiens came close at the other end on a scramble that resulted in a slashing penalty to John Tavares.
The Leafs managed to kill that one off and Tavares had a chance on another partial break coming out of the box, but Price snagged his effort.
Domi then hit the crossbar on a 2-on-1 rush and Price denied Tavares again late to cap a frantic extra session.
"He's unbelievable," Domi said. "He's the best goalie in the world for a reason."
Byron beat Hutchinson on the Canadiens' first shootout attempt, while Price denied Matthews and Marner before Tavares shot wide to end it.
"Things were looking a little bleak going into the second intermission, but we were able to stay positive, rally the troops and have a big third," Price said. "I think that was fun to watch."
Toronto appeared to have the game in hand when Nylander made it 4-1 at 5:16 of the third on a power play, but Montreal scored 11 seconds later when Drouin's pass in front went in off Leafs defenceman Morgan Rielly.
Gallagher then made it 4-3 at 6:29 after an icing, banging home a Weber rebound.
And after Petry's successful penalty shot, Danault put Montreal ahead by burying another rebound with 4:40 left as the Canadiens scored four times in less than 10 minutes.
But Matthews tied the game with 75 seconds remaining and Hutchinson on the bench to send Scotiabank Arena into a frenzy. The 22-year-old now has 12 goals in 12 career games against Montreal.
The Leafs came in off Friday's 4-1 road victory in Columbus over the Blue Jackets following their 5-3 defeat of the Ottawa Senators in Wednesday's curtain-raiser on the 2019-20 NHL campaign. The Canadiens dropped their season opener 4-3 to the Carolina Hurricanes in a shootout on Thursday.
Montreal got on the board just 68 seconds into the first when Domi took a feed from Artturi Lehkonen on a 2-on-1 and beat Hutchinson.
Toronto tied things up at 5:57 on sequence that started when Nylander created a turnover at the Canadiens' blue line. The puck eventually found its way to Matthews, who ripped his fourth on bullet a one-timer.
The home side grabbed the lead at 15:54 when Moore stripped Canadiens rookie winger Nick Suzuki behind Price's goal and fed Kerfoot, who snapped his first in blue and white after coming over with Barrie from the Colorado Avalanche in the Nazem Kadri trade this summer.
Moore scored his second at 1:29 of the middle period and Nylander got on the board himself on the power play early in the third before Montreal woke up to spur on the chaotic finish.
"After the first two periods we were an extremely frustrated team," Canadiens head coach Claude Julien said. "It was a matter of refocusing and trying to get our game back on track."
This report by The Canadian Press was first published Oct. 5, 2019.
___
Follow @JClipperton_CP on Twitter