McElhinney, Hurricanes spoil Weber's return
Curtis McElhinney stopped 48 shots as the visiting Carolina Hurricanes defeated the Canadiens 2-1 on Tuesday night in Shea Weber's return from injury for Montreal.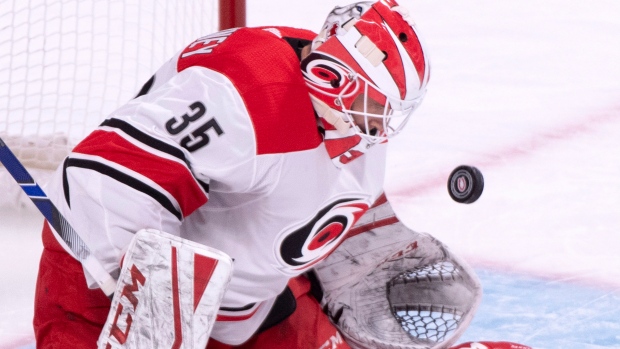 MONTREAL — Shea Weber's return from injury gave a big boost to the Montreal Canadiens even though they couldn't come away with the victory.
Weber played in his first game since Dec. 16, 2017 as the Canadiens lost 2-1 to the Carolina Hurricanes on Tuesday night on a 48-save effort by Curtis McElhinney.
The 33-year-old Weber missed 73 games after having two surgeries — one on his right knee and another to repair a torn tendon in his left foot.
"Definitely felt better as the game went on," said the Canadiens defenceman, who wore the captain's "C" on his Montreal sweater for the first time. "I think it's going to keep getting better as we go here. Obviously practice is different, so being in those actual situations where you have to react, and things are happening quickly, will be good as we go.
"Was nervous before the game and anxious to get my first shift out of the way."
Weber, who received a nice ovation from the Bell Centre crowd when he stepped onto the ice, got on the scoresheet by assisting on Montreal's third-period goal. He also had three shots on net, eight shots blocked and one hit in 25:19 of ice time.
The 22 shots allowed by the Canadiens is tied for the fewest given up all season. Despite the loss, Montreal conceded fewer than three goals for just the seventh time in 25 games this season.
"You notice him all over the ice," said Brendan Gallagher of Weber's return. "The amount of time we spent in our own zone was definitely less. His presence in front of our net was seen as well. And his shot. He got off at least five or six one-timers tonight.
"He's the leader of our group so it's good to have him back."
Montreal's scoring woes continued, with Claude Julien's men only managing seven goals in their last four games.
Down 2-0 heading into the third period, the Canadiens (11-9-5) fired everything they could at Carolina's McElhinney, who made 21 saves in the final frame alone.
Phillip Danault scored the only goal for Montreal. After a shot from Weber fell to Artturi Lehkonen, the Finnish winger found Danault in the slot for his second goal of the year at 9:29.
Max Domi hit the post with 1:41 remaining in the game as the Canadiens extended their losing streak to five games (0-3-2).
"We just all kind of jumped on (McElhinney) back there," said Trevor van Riemsdyk, who scored Carolina's second goal. "He made some special saves. He stole that one for us. He's great to play in front of. He's so calm."
Carolina (12-9-3) jumped out to a 1-0 lead at 7:45 of the first period when Victor Rask deflected a shot by Jaccob Slavin past Carey Price for his first goal of the season.
The Hurricanes improved to 9-2-0 when scoring the game's first goal.
The visitors doubled their lead at 11:59 of the second period on another deflection when van Riemsdyk's shot went off Montreal defenceman Victor Mete's skate and in.
McElhinney did the rest, especially in a busy third period, to lead Carolina to its fourth victory in its past five games.
"Things are rolling for myself personally," said McElhinney, who's emerging as the top goaltender in Carolina. "I feel great personally. We got a couple of lucky breaks and that's the way it goes sometimes.
"It's nice to be busy. Obviously we don't want to be giving up 48 shots but I felt good in there."
Notes: Price made 20 saves in defeat. … Carolina's Jake Bean made his NHL debut. ... To make room for Weber's return, defenceman Karl Alzner was put on waivers and then assigned to the American Hockey League's Laval Rocket.