MLS ON TSN Unveils Exclusive 2019 Broadcast Schedule, Kicking Off March 2
TSN's exclusive English-language coverage of MLS includes all Toronto FC and Vancouver Whitecaps FC matches, 12 Montreal Impact matches, and marquee matchups from throughout the league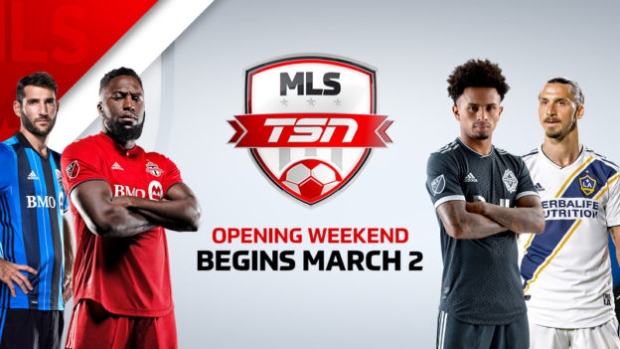 TORONTO (February 28, 2019) – TSN is primed for a new season of soccer action, as Canada's Sports Leader today announced the broadcast schedule for its exclusive English-language coverage of MLS ON TSN, beginning this Saturday, March 2. The 2019 regular season broadcast schedule features all Toronto FC and Vancouver Whitecaps FC matches, 12 Montreal Impact matches, and marquee matchups from throughout the league, plus eight Saturday afternoon matchups featuring Canadian teams on CTV. The complete broadcast schedule can be found here.
The season kicks off with three games on opening weekend, beginning with Toronto FC visiting the Philadelphia Union on Saturday, March 2 at 12 noon ET on TSN1 and TSN4, followed by Vancouver Whitecaps FC hosting Minnesota United FC at 6 p.m. ET on TSN1 and TSN4. On Sunday, March 3, reigning MLS CUP champion Atlanta United opens their season with a visit to DC United at 6 p.m. ET on TSN2. MLS ON TSN's exclusive live coverage includes the MLS CUP PLAYOFFS and the 2019 MLS CUP.
This season, MLS ON TSN continues its MLS FRIDAY NIGHT tradition, with Friday night games in 10 consecutive weeks featuring Canadian teams, starting March 29 when Toronto FC hosts New York City FC at 8 p.m. ET on TSN.
The new MLS ON TSN season schedule also includes:
2019 MLS ALL-STAR GAME on Wednesday, July 31 from Orlando City Stadium
Rivalry Week Matchups – Saturday, Aug. 24

Toronto FC vs. Montreal Impact at 7:30 p.m. ET on TSN
Vancouver Whitecaps FC vs. San Jose Earthquakes at 10 p.m. ET on TSN

MLS Decision Day – Sunday, Oct. 6 – Kickoffs at 4 p.m. ET on TSN

Toronto FC vs. Columbus Crew SC
Vancouver Whitecaps FC vs. Real Salt Lake
Montreal Impact vs. New York Red Bulls
Returning to helm MLS ON TSN's coverage is the popular trio of host Luke Wileman alongside analysts Steven Caldwell and Kristian Jack. The 2019 season also features analysis and commentary from Vic Rauter, Kelcey Brade, Terry Dunfield, Peter Schaad, Paul Dolan and Greg Sutton.
MLS ON TSN is available for live streaming and on-demand viewing to TSN and TSN Direct subscribers via TSN.ca/Live and the TSN app. Fans can continue to find comprehensive soccer analysis, previews, scores and columns on the TSN app and TSN.ca
MLS on TSN Radio
TSN Radio has soccer fans covered throughout the season, as TSN Toronto 1050 delivers select Toronto FC matches, TSN Montreal 690 carries select Montreal Impact matches, and TSN Vancouver 1040 and BNN Bloomberg Radio 1410 combine to broadcast every Vancouver Whitecaps FC match. The complete radio broadcast schedule can be found at TSN.ca/Radio.