Moore not expecting to re-sign with Leafs
Veteran centre Dominic Moore remains unsigned a month into free agency, but the 37-year-old plans to play this season and waiting for a contract is nothing new for him. He is not, however, expecting that contract to come from the Toronto Maple Leafs.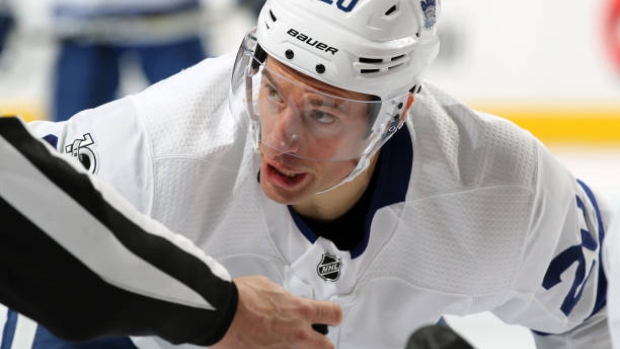 Veteran centre Dominic Moore remains unsigned a month into free agency, but the 37-year-old plans to play this season and waiting for a contract is nothing new for him.
"I've been through a lot of these kind of summer seasons before, I mean I've been mostly on one-year deals my entire career so this, weirdly, is nothing new for me," Moore told OverDrive on TSN 1050 Radio Toronto on Thursday. "Two years ago, when I signed in Boston, I didn't sign until the end of August. [In] 2009, or whatever it was, I didn't sign until after the season started, so we'll see how things play out.
"I just am patient for the right situation, I think when you get to this point in your career, you want to put yourself in a good situation that's going to work for you on a bunch of different fronts and obviously we'll see how this plays out. I've had conversations and it's a bit of a patient game right now."
Moore, who his hosting his charity table tennis event SmashFest in downtown Toronto on Wednesday, played for his hometown Maple Leafs for the second time in his career last season, but is not expecting to play with the team this fall.
"I'm not holding out hope on that," Moore said of re-signing with the Maple Leafs. "I think obviously they will be an exciting team to follow this year for sure. Obviously, adding John (Tavares) to the program is an amazing piece to an already impressive puzzle there. I wish the Maple Leafs the best of luck. Obviously, I enjoyed my time being a part of the team and a great bunch of guys, many of whom will be at SmashFest."
Moore beat out Eric Fehr for the Maple Leafs' fourth-line centre role early last season, but was subbed out at times early in the season for Frederik Gauthier and eventually replaced by trade deadline acquistion Tomas Plekanec. A veteran of 897 career games, Moore had missed just 11 games over the previous four seasons before dressing for just 50 games with the Maple Leafs last year.
"That role is not easy when you get into that situation, which I had never been in my career, I'd never been the healthy scratch," Moore said. "So it's not something that I'd been used to and not something I would plan on getting used to. It was new for me and definitely an adjustment, but you just prepare the best you can as a player to do your job well."
The Maple Leafs now boast one of the top centre groups in the league heading into this season with Tavares, Auston Matthews and Nazem Kadri, a trio that averaged a total of 54:50 in ice time per game last season. The team's fourth-line centre remains up in the air but Moore, who averaged 10:18 of ice time last season, said not to discount the importance of the role.
"Probably won't be a ton left, will there?" Moore said when asked about ice time. "We'll see what happens, (the teams that) have success in this league these days tend to be four-line teams.
"We wish them luck, we'll see how it plays out."
Moore had six goals and 12 points in 50 games with the Leafs this past season, appearing in just three games during the regular season after the Plekanec trade. He appeared in two playoff games - joining the lineup after Nazem Kadri was suspended.
He signed with the Leafs last July on a one-year, $1 million deal.