Onslaught of threes lead Blackjacks past Shooting Stars
The Ottawa BlackJacks hit 18 threes at a 64 percent rate on Tuesday night to earn a decisive 93-82 victory over the Scarborough Shooting Stars at TD Place.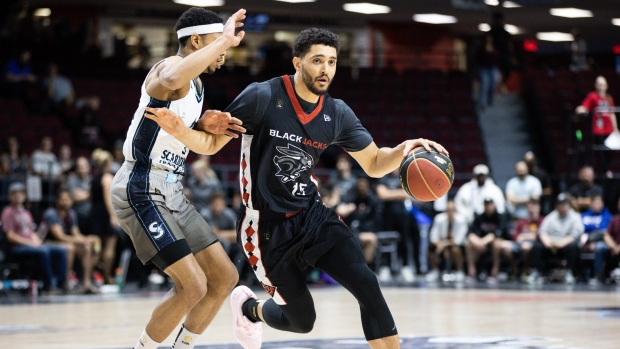 The Ottawa BlackJacks hit 18 threes at a 64 percent rate on Tuesday night to earn a decisive 93-82 victory over the Scarborough Shooting Stars at TD Place.
In a nationally televised game on TSN, the BlackJacks fell behind early but quickly stormed back and led the rest of the way. Michael Flowers connected on six threes and scored a team-high 22 points to power Ottawa to the win.
"We were the more resilient team. We came out slow but we came up [big] on the defensive end," Flowers said.
Five BlackJacks reached double figures and six players made three-pointers in an impressive offensive effort. Maxime Boursiquot contributed 18 points and Tyrrel Tate added 10 for the BlackJacks, while Kadre Gray and Jackson Rowe each picked up double-doubles. Gray had 11 points, 11 assists and the game-winner on a goaltend, while Rowe scored 15 points and grabbed 11 rebounds.
"The guys were in a nice rhythm tonight. I think they challenged a couple of our shooters, in particular Max [Boursiquot] and he answered the call," BlackJacks' head coach James Derouin said.
The duo of Cat Barber and Kameron Chatman carried the Shooting Stars' offence in the absence of Jalen Harris, who was in Salt Lake City working out for the Utah Jazz. Barber scored a game-high 30 points for Scarborough on 11-23 shooting to go along with 4 rebounds, 5 assists and 3 steals. Chatman netted 26 points on 10-18 shooting in the loss.
Ottawa shot better from three than the field and stayed perfect at the free throw line on Tuesday night. The BlackJacks also won the rebounding battle and assisted on over 60 per cent of their field goals. However, Ottawa tallied 26 turnovers and shot 15 fewer free throws than Scarborough. The Shooting Stars finished the game at 45 per cent from the field and 35 per cent from three.
"I think it was a combination of good shooting and we were bad on a few rotations that got them comfortable," Shooting Stars' head coach Chris Exilus said. "At this level if you let pro players get comfortable and get into a rhythm, it's hard."
The Shooting Stars started the game on an 11-2 run thanks to a pair of putbacks and Barber buckets. However, the Ottawa BlackJacks caught fire from three and closed the quarter on a 17-3 run to take a 22-17 lead into the second quarter.
The BlackJacks continued their stellar shooting from beyond the arc in the second and extended their lead to as much as 22 points. Flowers knocked down three of his four first-half triples in the second and showed off his incredible catch-and-shoot footwork. Scarborough cut the deficit to three at one point in the quarter, but transition offence and outside shooting led Ottawa to a 56-38 lead at halftime.
The BlackJacks were 12-17 from three at the half at 70 per cent and 60 per cent from the field. Scarborough shot well in their own right at 42 per cent from the field, but couldn't keep pace with Ottawa. Flowers led all scorers at the half with 14 points, while Rowe and Boursiquot added 11 and 10 respectively. Chatman had a team-high 13 points for Scarborough at halftime.
Scarborough was able to force 8 turnovers in the third quarter to slowly climb back into the game. Barber commanded the Shooting Stars' offence in the third, scoring 15 points and showing off his ability as a three-level scorer. Late in the frame, Barber intercepted an Ottawa pass and dished to David Muenkat in transition to cut the BlackJacks lead to 72-63 heading into the fourth.
Barber continued to assert himself offensively in the final quarter, but Scarborough went back and forth with Ottawa as target score time approached. A Thomas Kennedy hook shot cut the BlackJacks' lead to 84-75 going into the TV timeout with a target score of 93.
Ottawa looked poised for a quick finish in target time with seven points from Gray free throws, a Zena Edosomwan slam and an off-dribble triple from Flowers. However, Scarborough showed some late fight and cut the deficit back to nine points before the game ended in interesting fashion. A goaltend on a Gray putback ended the game and improved Ottawa's record to 2-1 while the Shooting Stars drop to 1-1 to start the season.
Next up for Ottawa is a matchup with the Montréal Alliance at TD Place on Thursday at 7:30 p.m. ET. Meanwhile, Scarborough plays Winnipeg in their home opener on Friday at 8 p.m. ET at Toronto Pan Am Sports Complex.