NHL salary cap set at $79.5M
General managers looking to make moves at the NHL draft found out the salary cap for next season will be $79.5 million, an increase of $4.5 million from last year.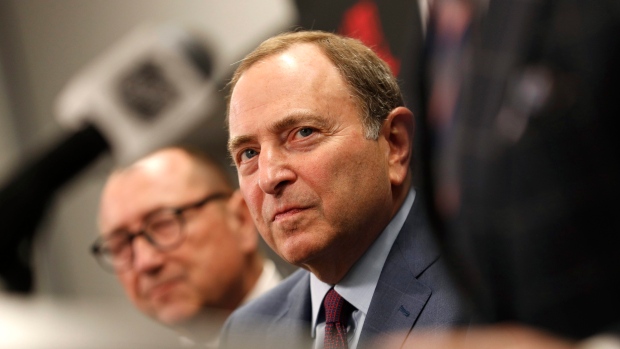 DALLAS — A year after shaking up his team with trades at the draft that altered the landscape of the NHL, Stan Bowman isn't letting on that he'll make the same kinds of moves now.
"I learned to never try to predict the future," the Chicago Blackhawks general manager said. "It's difficult to predict the magnitude of changes as we go forward."
With teams like the Blackhawks eager to get back to the playoffs, the New York Rangers always in position to make a splash and plenty of big-name players in trade discussions, it's hard to predict but easy to expect an eventful weekend of movement. Ottawa captain and No. 1 defenceman Erik Karlsson, Montreal winger Max Pacioretty, Buffalo centre Ryan O'Reilly and Pittsburgh winger Phil Kessel are among the stars being bandied about in trade talk that could come to a head at or before the first round of the draft Friday night.
"There's been a lot of chatter this week," Edmonton Oilers GM Peter Chiarelli said Thursday. "We're involved in a lot of the chatter. I've said publicly we'd put our (10th overall) pick in play particularly for a defenceman. That, of course, has led to teams asking what we would put in play for. There's been discussions on that."
A lot of discussions are ongoing on the trade front apart from the draft itself, which is expected to feature smooth-skating Swedish defenceman Rasmus Dahlin going first to Buffalo, Russian winger Andrei Svechnikov second to Carolina and a whole lot of uncertainty after that.
GMs finally got some certainty on the 2018-19 salary cap when the NHL and NHLPA announced it would be $79.5 million with a floor of $58.8 million. As Bowman said, the $4.5 million increase is "better than it staying flat," and it gives teams more room to manoeuvr on re-signing players or exchanging them.
Aside from the deadline, there's no better time of the year for trades than the draft, right ahead of the free agent negotiating period next week and with free agency opening July 1. Karlsson is the most attractive target by far because he can be a free agent a year from now, but the Senators aren't showing their hand.
"We have a good game plan," Ottawa GM Pierre Dorion said. "We aren't going to talk (publicly) about specific players, i.e., Mark Stone, Cody Ceci, Chris Wideman, Erik Karlsson."
Florida's Dale Tallon said he had spoken to about a dozen fellow GMs and is hearing mostly talk about so-called "hockey trades" that are neither buying nor selling moves. Because players like O'Reilly and Kessel have many years left on their contracts, they're more complicated moves.
"Most of those big names are tied up for a long time," Tallon said. "I haven't heard a lot about big names. It's mostly deals that fill needs for teams, either a stay-at-home defenceman or a third-line or a fourth-line guy or a specialty player of some sort. Somebody's trying to shake things up."
Shake things up? Sounds like the Rangers in most years, though they've gone into rebuilding mode after a fire sale at the trade deadline. They're usually involved in rumours on big players, but GM Jeff Gorton wants to quell the speculation that he's going all-in on trying to win now.
"We're going to investigate everything," Gorton said. "That's what the job is. That's what we want to do. If there is an opportunity to get a player and the price wasn't too high then we're going to look at it, but for anybody that would be skeptical of a rebuild all you have to do is look at the last several months and over the trade deadline some of the things we've done. I think it's pretty obvious that we're trying to accumulate young players and assets and trying to get better and going to give these players an opportunity."
___
Follow Hockey Writer Stephen Whyno on Twitter at http://twitter.com/SWhyno
___
More AP NHL: https://apnews.com/tag/NHLhockey