River Lions earn spot in Eastern final with win over Alliance
The Niagara River Lions are headed to Vancouver for CEBL Championship Weekend after a 98-91 win over the Montréal Alliance at Meridian Centre on Friday.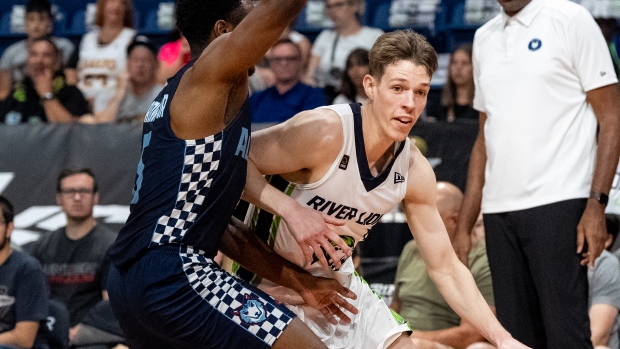 The Niagara River Lions are headed to Vancouver for CEBL Championship Weekend after a 98-91 win over the Montréal Alliance at Meridian Centre on Friday.
Reigning CEBL MVP Khalil Ahmad netted a game-high 33 points and drilled his league-best eighth game winner of the season to lead the team to victory.
The win clinches first place in the Eastern Conference for Niagara with one game to spare. In turn, it also guarantees a spot in the Eastern Conference Final in Vancouver on August 11.
"I thought we would be tight early and I know how good Montréal is. They're a tough basketball team that causes lots of problems," Niagara head coach Victor Raso said. "If you are not really prepared to cover, they're gonna cause problems…I was happy with how resilient we were [and] how we turned up the defensive pressure."
A timely 11-2 run at the beginning of the fourth quarter helped the River Lions take control of the game as target score time approached. Sharpshooting guard Jahvon Blair was a massive part of that run, dialing long distance three times to give his squad their largest lead of the night. He finished with 18 points on 6-12 shooting from the field and 5-9 from deep.
While Blair was effective from the perimeter, Edward Ekiyor was a force in the paint for Niagara. He scored 14 points on 5-11 shooting while hauling in seven rebounds. Antonio Davis Jr. and Kimbal Mackenzie each hit double-digit points as well with 11 apiece.
TJ Lall struggled from the field for Niagara with five points on 1-8 shooting but excelled everywhere else. He tallied 12 rebounds, eight assists, three blocks and one steal while finishing with the game's best plus/minus at 14.
Meanwhile, Ahmed Hill made history for Montréal in the loss by becoming the first CEBL player to score 1,000 career points. He entered the contest at 996 with former teammate and Scarborough guard Cat Barber close behind at 993. Hill hit the landmark less than a minute into the game and finished with a team-high 26 points in the loss.
Barber will still have a shot at finishing the season as the CEBL's all-time leader in points. In the final two games of the season, he needs 29 points to tie Hill and 30 points to surpass him.
The Alliance were eliminated from playoff contention prior to the matchup but showed fight throughout. Nathan Cayo capped off a spectacular season with 20 points on 7-16 shooting from the field and 6-7 from three. Treveon Graham chipped in 13 points, eight rebounds and seven assists for Montréal while Christian Rohlehr was rolling off the bench with 11 points.
"We didn't just lay down and get blown out by 20. I just told them we're here to win," Alliance head coach Derrick Alston Sr. said. "Hill made history tonight. We were trying to get him a win to go on top of that. It didn't work out that way but it was a competitive game."
Montréal shot a higher percentage from the field and three while winning the rebounding and points in the paint battle. However, they suffered 13 turnovers that led to an advantage in points from turnovers for Niagara at 13-6.
"We compete. Through all the injuries and all people we don't have, we compete," Alston said. "We gave ourselves a chance to win. I felt we had opportunities in the game where we were winning and we had some control."
Both teams started the game piping hot. Blair drained a pair of early triples for Niagara, while Hill quickly got the four points he needed to reach 1,000. However, the River Lions slowed on offence after the midway point of the quarter and Montréal took advantage. The Alliance closed the quarter on a 7-0 run to take a 25-14 lead into the second.
The River Lions punched back to begin the following quarter with a 9-2 run to cut the deficit to four points. Montréal's Kemy Ossé stopped the bleeding with a timely three but Niagara had another run in them before halftime. Ahmad took control of the game with 12 points in the quarter and powered the River Lions to a 14-2 run that gave them a six-point lead. Cayo connected on a much-needed triple to take the game to halftime with Niagara leading 41-38.
In the third quarter, the teams traded scores for almost seven minutes with neither squad stringing together consecutive buckets. The stars showcased their spectacular shotmaking, with Ahmad, Ekiyor, Hill, Graham and Cayo all connecting on tough shots. Montréal finally picked up consecutive field goals and took back the lead, but the River Lions hit back and regained the advantage themselves. They took a 69-64 lead into the fourth.
Niagara began the final frame with an 11-2 run fuelled by three trifectas from Blair. Hill scored eight straight Montréal points to pull closer but Ahmad took the game into target score time with a layup to give the River Lions an 89-79 lead.
Montréal started target time on a 7-2 run but an Ahmad three pulled Niagara closer to an important win. Davis powered home a two-handed slam from the baseline and left the River Lions just a bucket away. Ahmad missed three free throws to win — one intentionally – but curled for a catch-and-shoot mid-range jumper to claim victory in the next possession