Nicholson: Koskinen extension was approved by organization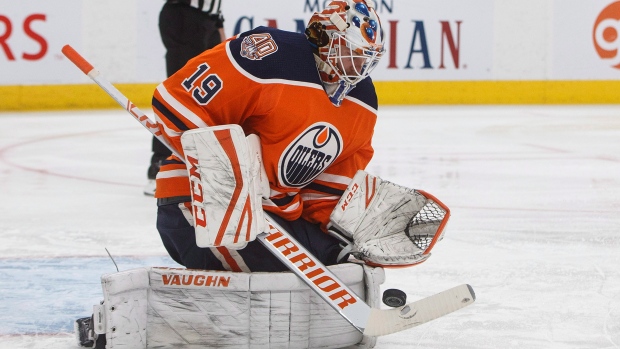 Edmonton Oilers president of hockey operations and CEO Bob Nicholson said Wednesday that former general manager Peter Chiarelli didn't sign goaltender Mikko Koskinen to a contract extension on his own.
Koskinen was extended by the Oilers Monday on a three-year, $13.5 million deal – just one day before TSN's Ryan Rishaug reported Chiarelli's firing. Nicholson said Wednesday that the decision was approved by the organization, including the pro scouts.
"Peter did not make that deal all by himself. This deal really started when we got together with our pro scouts in Palm Springs in our meetings. We looked at the depth of the goalies that would be available next year. We really believe in Mikko. We had to make a decision between Mikko and Cam [Talbot]. We made that decision to go with Mikko and sign him to a three-year deal," Nicholson said.
"Cam Talbot is still a big part of this team and he's been a great teammate and we hope that Cam will continue to play well for the team," he added.
According to TSN Hockey Insider Darren Dreger, the Oilers spoke to fellow goaltender Cam Talbot a few days ago about the Koskinen deal because they didn't want him to be blindsided.
In 27 games so far this season, Talbot has a save percentage of .894 and a goals-against average of 3.27. Koskinen has been better, posting a save percentage of .910 and a GAA of 2.79 in 28 games played.
Meanwhile, Nicholson said the organization will begin the search for their next general manager immediately but didn't offer a timetable for when they will name a replacement. In the meantime, Keith Gretzky will serve as the club's general manager.
"There's something in the water here in Edmonton that we don't have right. And we got to get that figured out," Nicholson said.
Edmonton will return to action from the break on Saturday Feb. 2 against the Philadelphia Flyers.