Off-Season Watch: How many side deals does McPhee have lined up?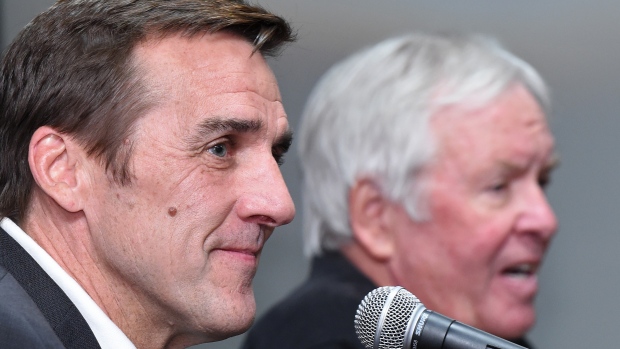 Each day through the Vegas expansion draft and up until free agency on July 1, TSN.ca breaks down the latest news and rumours around the NHL.
--
Vegas Golden Knights general manager George McPhee made it clear once the expansion lists were released on Sunday that he was willing to pass over players in return for draft pick compensation.
McPhee then set a deadline for Monday night to make side deals with the team before he made his selections on Tuesday.
Bruce Garrioch of the Ottawa Sun reports as many as eight teams may have beaten the clock to make side deals.
UPDATE: McPhee told reporters on Tuesday the team has "at least" six transactions completed, with more discussions to come including with Leafs general manager Lou Lamoriello. Frank Seravalli and Craig Button both projected the Golden Knights to select Kerby Rychel from the Maple Leafs in the expansion draft.
TSN Hockey Insider Bob McKenzie tweeted Tuesday that if he were to speculate, teams with deals in place would be the Columbus Blue Jackets, New York Islanders, Anaheim Ducks, Chicago Blackhawks, Pittsburgh Penguins and Tampa Bay Lightning.
The Blue Jackets and Islanders are both believed to be parting with first-round draft picks to keep players.
UPDATE: McPhee said the Golden Knights will be making deals to move defencemen after their team is announced because the team will claim "a bunch."
Bolting to Make a Deal?
Joe Smith of the Tampa Bay Times reports he's hearing the Tampa Bay Lightning also made a side deal for the expansion draft. Smith tweeted Tuesday the Lightning's deal would be protect their young defencemen who were left exposed.
The Lightning exposed 23-year-olds Jake Dotchin and Slater Koekkoek in the expansion draft, while Andrej Sustr, 26, and Luke Witkowski, 27, were also left available. Smith notes the Lightning have a stockpile of forward prospects they could part with and two second-round picks in this week's entry draft that could be used as fodder.
Tampa Bay used their three defensive protection slots on Victor Hedman, Anton Stralman and Braydon Coburn.
Lightning general manager Steve Yzerman would not confirm to TSN Hockey Insider Pierre LeBrun whether or not the team made a deal. The NHL told general managers not to leak the details of trades with the Golden Knights. All trades having to do with the expansion draft will be made official on Wednesday at 10am et.
--
Hamonic on the Block?
Arthur Staple of Newsday reports that New York Islanders general manager Garth Snow is pursuing a high-end offensive player this off-season and he's believed to be willing to part with Travis Hamonic to get it.
Staple reports the Islanders covet Colorado Avalanche centre Matt Duchene and Edmonton Oilers winger Jordan Eberle above all others. Another target for the team is Canadiens restricted free agent Alex Galchenyuk, who could be on his way out of Montreal after the Jonathan Drouin trade.
Islanders head coach Doug Weight said earlier this month the team's goal was to add a top-six forward to help improve the team around John Tavares. According to Staple, Tavares has told the team he plans to wait to sign an extension - or not - until he has a better feel for the team's future.
Both Duchene and Eberle own $6 million cap hits to Hamonic's $3.86 million hit, but the Islanders could have $5 million extra in cap space to work with if Mikhail Grabovski ($5 million cap hit) is traded to the Golden Knights.
--
Carried Away?
Mike Harrington of the Buffalo News believes the Buffalo Sabres exposed 22-year-old William Carrier as part of a deal to make sure the Vegas Golden Knights did not select goaltender Linus Ullmark.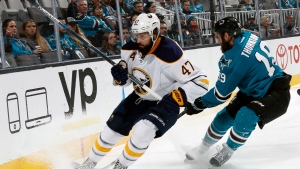 Harrington writes the obvious choice for the Sabres would have been to simply expose Tyler Ennis, since Vegas would be unlikely to touch his $4.6 million contract after a five-goal season. He adds the Sabres are already thin when it comes to goaltending and Knights general manager George McPhee told Jason Botterill he would take Ullmark unless Carrier was exposed.
Carrier was a second-round pick of the St. Louis Blues in 2013 and scored five goals and added three assists in 41 games with the Sabres last season.
Both Frank Seravalli and Craig Button placed Carrier on their expansion rosters, which were released Monday.
--
Take Who You Want
Detroit Red Wings general manager Ken Holland confirmed to Ansar Khan of MLive that he did not make a deal with the Golden Knights ahead of the expansion draft.
Holland also declined to give reason as to why 25-year-old Petr Mrazek was exposed over 33-year-old Jimmy Howard. Howard posted a .927 save percentage last season to Mrazek's .901, though Mrazek made 20 more starts.
Button placed defenceman Ryan Sproul on his projected Golden Knights roster, while Seravalli pick defenceman Xavier Ouellet.
--
Not Even Close
The Boston Bruins were rumoured to be in the bidding for Minnesota Wild defenceman Jonas Brodin before Saturday's trade freeze, but Michael Russo of the Minneapolis Star-Tribune reports nothing was ever close between the two teams.
The Wild were believed to be interested in moving one of their defenceman before the expansion draft, but instead left Matt Dumba and Marco Scandella exposed.
--