Oilers sign KHL G Koskinen to $2.5M deal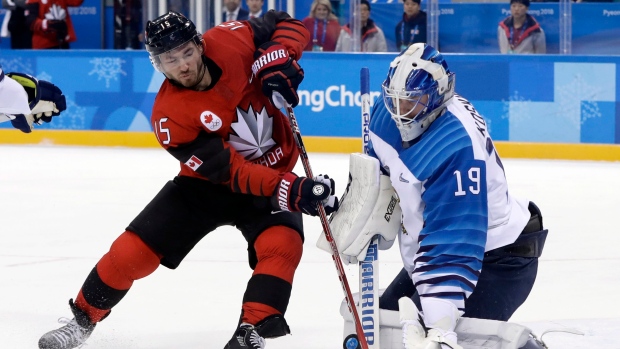 The Edmonton Oilers have reached a one-year contract agreement with KHL goaltender Mikko Koskinen.
According to TSN Hockey Insider Pierre LeBrun, the deal with Koskinen is worth $2 million in salary plus a $500,000 signing bonus, but he can't be signed until July 1.
Oilers general manager Peter Chiarelli identified goaltending as an early need for the team this off-season and struck quickly in adding the former New York Islanders prospect.
Koskinen, a second-round pick (31st overall) of the Islanders in 2009, appeared in four NHL games during the 2010-11 season, posting a 2-1 record.
The 29-year-old spent the past four seasons with SKA St. Peterburg. He posted a dominant 24-4-1 record this season with a .931 save percentage and a 1.69 goals-against average.
Koskinen made five starts for Finland during the Olympics earlier this year, posting a .932 save percentage and a 1.62 GAA.
The Oilers ranked in the bottom five of the NHL this season in goals-against per game, allowing an average of 3.20. Starter Cam Talbot took a step backward from a year ago and had a 31-31-3 record with a .908 save percentage - he posted a career-best .919 mark in 2016-17. Behind Talbot, Laurent Brossoit and Al Montoya both saw starts. Montoya finished the year with a 2-2-2 record with a .906 save percentage, while Brossoit went 3-7-1 with a .883 save percentage.
Brossoit is set to become an unrestricted free agent this summer, while Montoya and Talbot are both signed through next season.