Podkolzin plummets in TSN Hockey's Mock Draft 3.0
Russian winger drops out of a top 10 dominated by American-born players in TSN Director of Scouting Craig Button's latest NHL mock draft at the conclusion of the second round of the playoffs.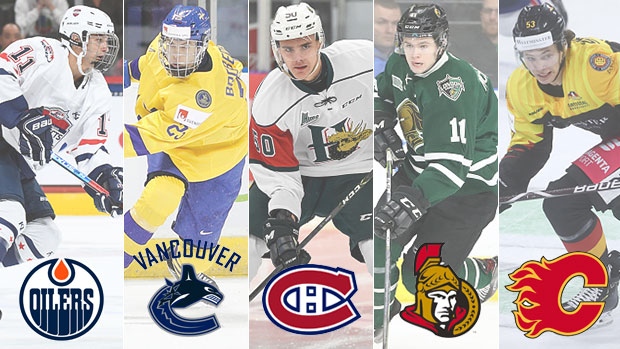 By Darren Yourk
Russian right wing Vasili Podkolzin, who was once projected as a top-three prospect in this draft class, has fallen out of a top 10 dominated by American-born players in TSN Director of Scouting Craig Button's latest NHL mock draft at the conclusion of the second round of the playoffs.
Podkolzin, who turned heads at the 2018 Hlinka Gretzky Cup and played at three different levels for SKA St. Petersburg this season, was the third-overall pick in TSN Hockey's post-lottery mock draft. He has now slid all the way down to the Florida Panthers at No. 13.
"Podkolzin just doesn't have as much high-end skill as others at the top of this class have demonstrated," Button said. "He's more of a bulldog-type player. He might end up being a lot like Lawson Crouse."
USNTDP centre Jack Hughes and Finnish right winger Kaapo Kakko remain virtual locks to go first and second, respectively, to New Jersey and the New York Rangers.
The two top prospects in this draft class will face each other on Monday, May 13 when Finland plays the United States at the IIHF World Hockey Championship in Slovakia. The game will be shown live on TSN 1 and 4 at 10 a.m. ET.
Vancouver Giants defenceman Bowen Byram has solidified his hold on the No. 3 spot with an impressive showing in the WHL playoffs, where he's tied for the scoring lead with seven goals and 16 assists in 19 games. Byram is projected to be both the first Canadian and the first blueliner off the board, giving the Chicago Blackhawks a potential dynamic top pairing for the future with 2018 first-round pick Adam Boqvist.
"Bowen is a number-one defenceman who controls play in all areas," Button said. "He's strong defensively and an excellent skater who excels in transition. He has the vision, poise and puck skills to be a standout offensive player. He and Boqvist could be a dynamic pair, perhaps in a similar light to [Duncan] Keith and [Brent] Seabrook."
Saskatoon Blades centre Kirby Dach is up one spot to the Colorado Avalanche at No. 4, while diminutive American scoring phenom Cole Caufield, who netted 14 goals on his way to being named MVP of the U-18 World Hockey Championship, goes to the L.A. Kings to round out the top five.
The Edmonton Oilers are the first Canadian team with a pick, and Button sees dynamic USNTDP centre Trevor Zegras as a good fit at No. 8. The Vancouver Canucks are the other Canadian franchise with a selection in the top 10, and Button projects the team will take smooth-skating Swedish defenceman Philip Broberg at No. 10.
As in our first two mock drafts, Button has Halifax Mooseheads winger Raphael Lavoie going to his hometown team Montreal at No. 15. The 6-foot-3 1/2, 191-pounder is second in QMJHL playoff scoring with 19 goals and 30 points in 21 games.
The Ottawa Senators have the No. 19 pick as part of the Matt Duchene trade with Columbus, where Button has them adding centre Connor McMichael. The Ajax, Ont., native had 36 goals and 36 assists in 72 games for the OHL's London Knights this season.
The Calgary Flames have the 26th pick, where Button thinks German defenceman Moritz Seider makes a lot of sense. The 6-foot-3 1/2, 183-pound, right-shot blueliner plays for Adler Mannheim of the Deutsche Eishockey Liga and will represent his country at the IIHF World Hockey Championship this month.
"Seider is a very good skating defenceman and positionally strong," Button said. "I like his competitiveness and feel for the game. I think he can be a strong second-pair defenceman in the NHL, perhaps in the mould of Adam Larsson."
The Top 27

1. Jack Hughes (Last Mock: 1)
Centre | USA NTDP (USHL) | 5'10 | 168 lbs. | May 14, 2001
2018-19 Statistics
GP

50

G

34

PTS

112

+/-

46

2. Kaapo Kakko (Last Mock: 2)
Centre/Right Wing | Turku (SM Liiga) | 6'2 | 194 lbs. | Feb. 13, 2001
2018-19 Statistics

3. Bowen Byram (Last Mock: 3)
Defence | Vancouver (WHL) | 6'1 | 194 lbs. | Jun. 13, 2001
2018-19 Statistics

4. Kirby Dach (Last Mock: 5)
Centre/Right Wing | Saskatoon (WHL) | 6'4 | 199 lbs. | Jan. 21, 2001
2018-19 Statistics

5. Cole Caufield (Last Mock: 8)
Right Wing | USA NTDP (USHL) | 5'7 | 162 lbs. | Jan. 2, 2001
2018-19 Statistics
GP

64

G

72

PTS

100

+/-

41

6. Dylan Cozens (Last Mock: 4)
Centre | Lethbridge (WHL) | 6'3 | 181 lbs. | Feb. 9, 2001
2018-19 Statistics

7. Matthew Boldy (Last Mock: 7)
Left Wing | USA NTDP (USHL) | 6'2 | 187 lbs. | Apr. 5, 2001
2018-19 Statistics

8. Trevor Zegras (Last Mock: 13)
Centre | USA NTDP (USHL) | 6'0 | 166 lbs. | Mar. 20, 2001
2018-19 Statistics

9. Alex Turcotte (Last Mock: 12)
Centre | USA NTDP (USHL) | 5'11 | 189 lbs. | Feb. 26, 2001
2018-19 Statistics

10. Philip Broberg (Last Mock: 9)
Defence | AIK (SWE-Als) | 6'3 | 199 lbs. | Jun. 25, 2001
2018-19 Statistics

11. Peyton Krebs (Last Mock: 11)
Centre | Winnipeg (WHL) | 5'11 | 180 lbs. | Jan. 26, 2001
2018-19 Statistics
GP

64

G

19

PTS

68

+/-

-50

12. Arthur Kaliyev (Last Mock: 18)
Centre | Hamilton (OHL) | 6'1 | 190 lbs. | Jan. 26, 2001
2018-19 Statistics
GP

67

G

51

PTS

102

+/-

-13

13. Vasili Podkolzin (Last Mock: 6)
Right Wing | St. Petersburg (MHL) | 6'1 | 183 lbs. | Jun. 24, 2001
2018-19 Statistics

14. Thomas Harley (Last Mock: 10)
Defence | Mississauga (OHL) | 6'3 | 188 lbs. | Aug. 19, 2001
2018-19 Statistics
GP

68

G

11

PTS

58

+/-

-15

15. Raphael Lavoie (Last Mock: 15)
Left Wing/Right Wing | Halifax (QMJHL) | 6'4 | 191 lbs. | Sept. 25, 2000
2018-19 Statistics

16. Alex Newhook (Last Mock: 16)
Centre | Victoria (BCHL) | 5'10 | 190 lbs. | Jan. 28, 2001
2018-19 Statistics

17. Victor Soderstrom (Last Mock: 14)
Defence | Brynas (SHL) | 5'11 | 179 lbs. | Feb. 26, 2001
2018-19 Statistics

18. Phillip Tomasino (Last Mock: -)
Centre | Niagara (OHL) | 6'0 | 178 lbs. | Jul. 28, 2001
2018-19 Statistics

19. Connor McMichael (Last Mock: -)
Centre/Left Wing | London (OHL) | 5'11 | 172 lbs. | Jan. 15, 2001
2018-19 Statistics

20. Cam York (Last Mock: 17)
Defence | USA NTDP (USHL) | 6'0 | 175 lbs. | Jan. 5, 2001
2018-19 Statistics

21. Egor Afanasyev (Last Mock: -)
Left Wing | Muskegon (USHL) | 6'3 | 203 lbs. | Jan. 23, 2001
2018-19 Statistics

22. Spencer Knight (Last Mock: 19)
Goaltender | USA NTDP (USHL) | 6'3 | 193 lbs. | Apr. 19, 2001
2018-19 Statistics
GP

39

GAA

2.36

SV%

.913

SO

2

23. Ryan Suzuki (Last Mock: -)
Centre | Barrie (OHL) | 6'0 | 178 lbs. | May 28, 2001
2018-19 Statistics

24. Brayden Tracey (Last Mock: -)
Left Wing | Moose Jaw (WHL) | 6'0 | 177 lbs. | May 28, 2001
2018-19 Statistics

25. Matthew Robertson (Last Mock: -)
Defence | Edmonton (WHL) | 6'3 | 201 lbs. | Mar. 9, 2001
2018-19 Statistics

26. Moritz Seider (Last Mock: -)
Defence | Mannheim (DEL) | 6'4 | 183 lbs. | Apr. 6, 2001
2018-19 Statistics

27. Jamieson Rees (Last Mock: -)
Centre | Sarnia (OHL) | 5'10 | 173 lbs. | Feb. 26, 2001
2018-19 Statistics
GP

37

G

10

PTS

32

+/-

-10