Predators appear to be peaking for postseason run
All signs point to a talented Nashville roster elevating its game at the right time, Travis Yost writes.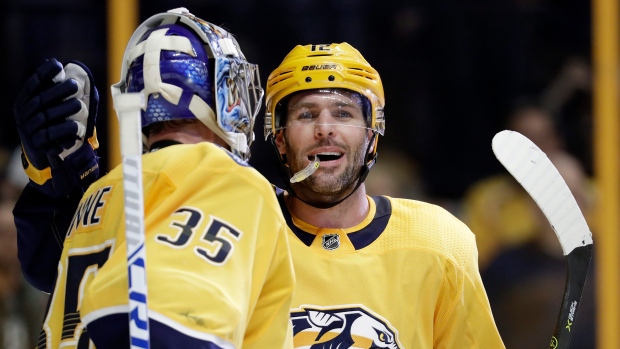 Perhaps the most exciting part of the 2017-18 regular season has been the establishment of multiple teams as legitimate Stanley Cup contenders.
In years past, there have been spots where we have put the prohibitive Stanley Cup odds on two or three teams. The field feels a bit more open this year. I think it's fair to say that five teams – Tampa Bay, Boston, Nashville, Winnipeg and Vegas – have positioned themselves as championship hopefuls, with another batch of teams not far behind.
Of this group of five, there are two teams that have really stepped on the accelerator down the stretch. Boston has blitzed the entire Eastern Conference, playing to a 128-point pace over their last 25 games. You might think that's insanely high and that the Bruins are easily the league leader in point accumulation over the measured interval. You would be wrong.
Nashville has played to a 131-point pace over same that period, running roughshod over the competition. The scary part is that the wins they've picked up over this stretch are completely legitimized by how much they've improved from earlier parts of the season to become a dominant team today.
If you take a look at some key team performance metrics over a 25-game average, you can see how the Predators have upped their game. Below are three measures on this front – the percentage of shots they are getting versus their opponents, the percentage of expected goals they are getting versus their opponents and the percentage of actual goals they are getting versus their opponents. (Data via Corsica)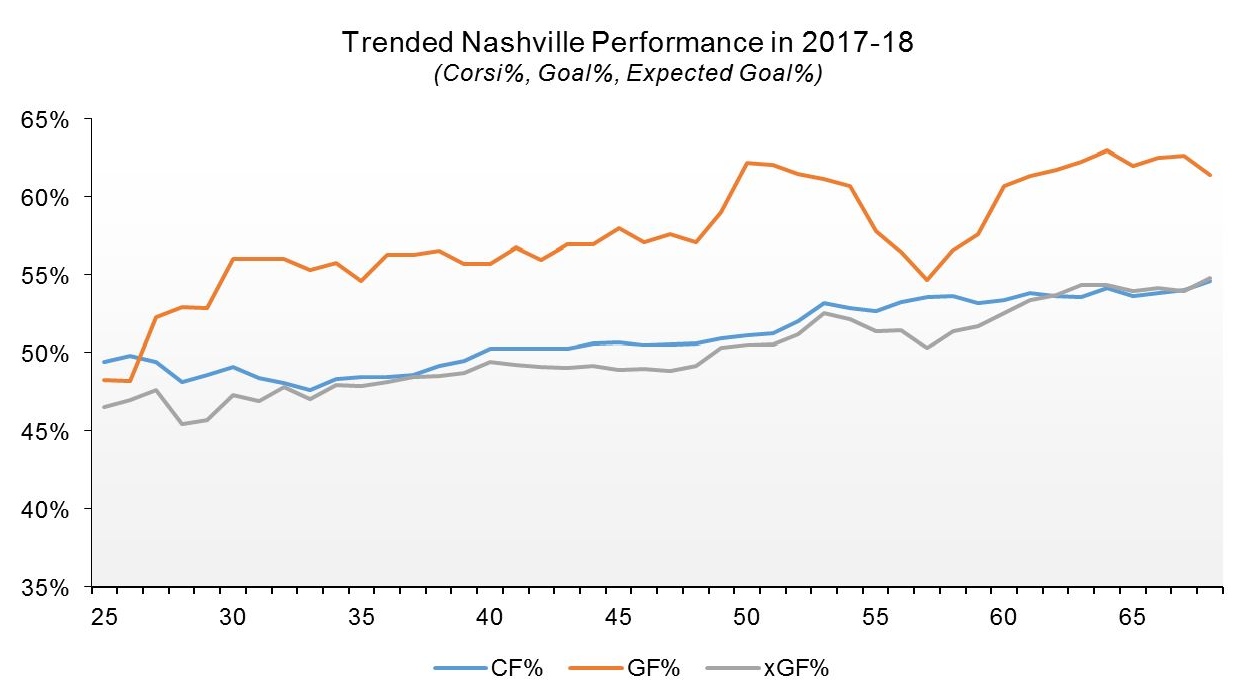 That is just insane linear growth from the first couple of months of the season through today. The thing to keep in mind here isn't just that they've consistently improved with each passing game; it's that the numbers they are now posting on a routine basis are the type of numbers you always see from Stanley Cup contenders.
Over the last 25 games, that means 55 per cent of the shots and expected goals, and 61 per cent of actual goals. With that type of performance, it's virtually impossible to lose.
One of the things I was curious about though is what, if anything has changed in Nashville during the season. The roster is generally the same as last year, though the Kyle Turris acquisition in November was a notably impactful move. And it's not as if the team was dreadful in the first couple months of the year – they just weren't performing with nearly the same level of competency that they are now.
I went and looked at ice-time variances from the first 25 games of the season to the last 25 games of the season to get a quick snapshot of personnel changes in Nashville. I think the more compelling story is on the defensive side, so we can start there: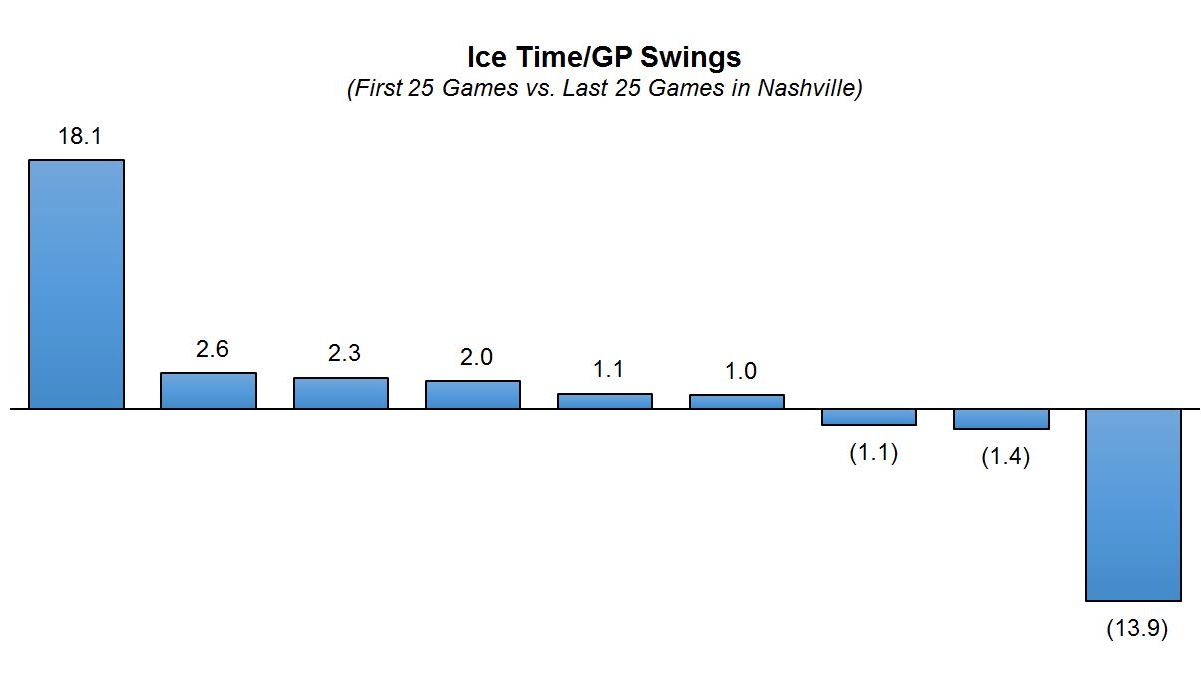 The two big numbers are unexpected but noteworthy – the return of Ryan Ellis from off-season knee surgery has been huge for the Predators. He's now one of four guys on the Nashville blueline playing more than 18 minutes of 5-on-5 time a night. Ellis has 57 per cent Corsi% and 66 per cent Goal% splits in his last 25 games. Not only is he playing big minutes, he's dominating in them. (Girard's ice time swing is the result of him being traded to Colorado as part of the Kyle Turris package.)
As a very brief aside, the other thing that surprised me a bit is how the majority of key Nashville blueliners have seen ice time increases over the interval. Nashville is actually spending more time lately at 5-on-5 and away from killing penalties, which is generally great news for them and bad news for their competition.
Since the start of the year, they have seen a 35 per cent reduction in penalty-kill time per game. The more time the Predators spend at even strength, the more chances they have at grinding you down into submission. They are just that good at evens.
You'll note this is also true for the forward group, more or less. Here's how their ice-time breaks out: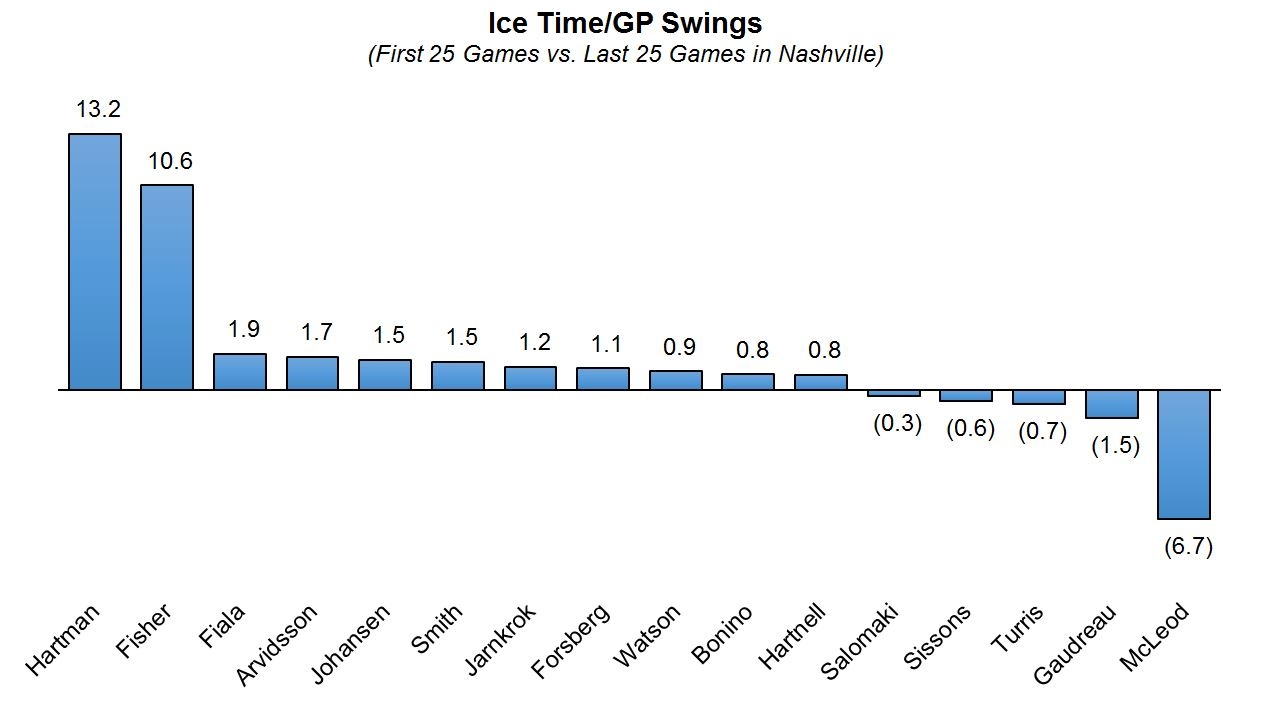 Ryan Hartman and Mike Fisher are very recent additions for the Predators – Hartman acquired at the trade deadline, and Fisher returning from retirement to play down the stretch. Both guys give a team that's already flush with depth another layer, though they are playing reasonably far down the lineup.
But look at the incremental minutes Nashville has been able to allocate to some of their best attackers. Kevin Fiala, Viktor Arvidsson, Ryan Johansen, Craig Smith, Calle Jarnkrok, and Filip Forsberg have added anywhere from two to four additional shifts per game individually. Add that up and you have a handful of more minutes per game where Nashville's speed and depth continue to create matchup problems.
One note – the two guys that Nashville has managed out over this time period are Frederick Gaudreau and Cody McLeod. Gaudreau (49 per cent Corsi% and 36 per cent Goal%) looked a bit out of place in a defensive-minded role to start the year and the results were, in all fairness, killing Nashville's performance. McLeod's numbers are hardly worth referencing, as they were as dismal as you could find around the league. McLeod was waived in January and claimed by the Rangers.
To me, all signs point to a talented Nashville roster elevating its game at the right time. The lineup has constructed in a way that's optimizing performance across both skater groups, and in the few instances where they have had underperforming players, they've either managed them back into their developmental team or out of the system entirely.
Add that to the fact that Nashville appears to be playing a much more disciplined game on the penalty front, and you have the emergence of a real Stanley Cup favourite.