Jays trade suspended closer Osuna to Astros for Giles, prospects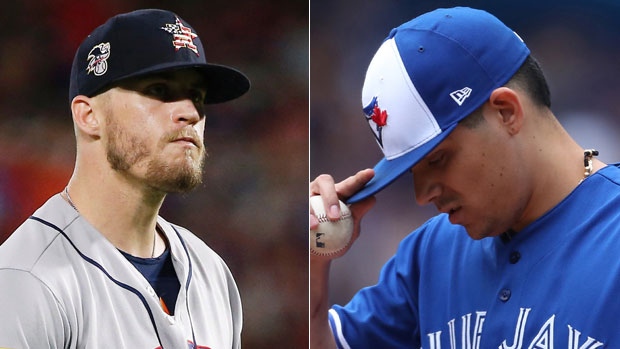 The Toronto Blue Jays have traded suspended closer Roberto Osuna to the Houston Astros in exchange for pitcher Ken Giles as well as minor league right-handed pitchers Hector Perez and David Paulino.
Osuna, who is eligible to return from a 75-game suspension under the league's joint domestic violence policy on Aug. 5, is currently on a rehab assignment in triple-A Buffalo and has yet to allow a run in six innings pitched across rookie ball, high A and triple-A.
"We do feel a responsibility to the fans and we do feel empathy for the fans and we ultimately work for the fans," Blue Jays general manager Ross Atkins said. "That's how we do our jobs. We are human and it is very difficult for accusations not to influence us in some way.
"Having said that, this made sense for the organization from a baseball perspective."
Despite the 23-year-old's suspension, players suspended for domestic violence are eligible to play in the post-season, unlike those suspended for performance-enhancing drug use.
Osuna's lawyer Domenic Basile made a statement to CP24 following the news of the trade on Monday.
"The Toronto Blue Jays just made a decision to trade Roberto Osuna to the Houston Astros. As I have said on prior occasions, Roberto loved playing for the Toronto Blue Jays and he loves the city of Toronto," Basile told CP24.
"In my view, he is a young superstar who will succeed wherever he pitches. I remind everyone that he is presumed innocent and that our focus is to continue to deal with his court matter."
"The due diligence by our front office was unprecedented. We are confident that Osuna is remorseful, has wilfully complied with all consequences related to his past behaviour, has proactively engaged in counselling, and willfully comply with our zero tolerance policy related to abuse of any kind," Astros general manager Jeff Luhnow said.
Osuna has not pitched in the majors since May 6, two days before he was put on administrative leave when he was charged with one count of assault in Toronto. The native of Mexico, who has lost more than $2.5 million of his $5.3 million salary this season, has a court appearance scheduled in Toronto on Wednesday.
In 15 games with the Blue Jays this season, Osuna has nine saves and an ERA of 2.93.
Giles, 27, is 0-2 with a 4.99 ERA, 31 strikeouts and 12 saves over 34 games this season for the defending World Series champion Astros.
The right-handed pitcher was demoted to the minors on July 11 after appearing to get in a verbal altercation with manager A.J. Hinch. Giles made headlines earlier this season when he punched himself in the face after a rough outing.
Over 279 career relief appearances with the Philadelphia Phillies and Astros, Giles is 12-14 with a 2.72 ERA, 367 strikeouts and 77 saves in 91 opportunities. Giles is making $4.6 million in 2018 and has two years of arbitration left.
Perez, 22, is 3-4 with a 3.73 ERA over 21 games, including 13 starts, in single-A and double-A this season. The Dominican Republic native was the seventh ranked prospect in Houston's system.
Paulino, 24, was at one time the top-ranked prospect for the Astros, but after Tommy John surgery and an 80-game suspension last season after testing positive for steroids, the Dominican Republic native has dropped to No. 10. He's 2-1 with a 6.25 ERA over 36 innings pitched with the Astros during the 2016 and 2017 seasons.
"This was one (deal) that made sense form a baseball perspective," Atkins said on a conference call Monday. "Extremely excited about Giles, Perez and Paulino joining the organization. I think for many reasons this deal made sense and it starts with the talent we're acquiring."