Report: Sens table 'serious' offer to Stone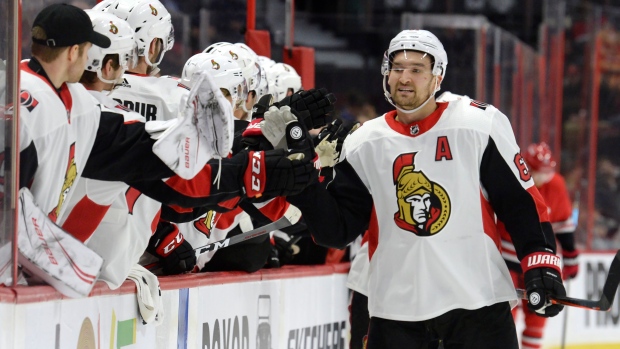 According to Bruce Garrioch of Postmedia, the Ottawa Senators tabled a "serious and comprehensive" offer to Mark Stone last week and are hopeful they'll receive an answer back from the pending unrestricted free agent in the next 48 hours.
Stone, 26, is the team's leading scorer this season with 28 goals and 61 points in 59 games. The alternate captain signed a one-year, $7.35 million contract with the team last summer to avoid arbitration and has spent his entire career in Ottawa since being drafted by the club in 2010.
TSN Hockey Insider Darren Dreger reported Sunday that, barring a last-minute change, the Senators are expected to trade fellow pending unrestricted free agent Matt Duchene before the Feb. 25 deadline.
Garrioch reports Duchene "isn't ready" to sign an eight-year deal with the Senators, which would have been worth more than $65 million over the length of the deal.
Dreger said Monday that the Senators never got into hard negotiations with Duchene, which led them to pursue Stone harder. He speculates the team may have raised the average annual value in their latest offer to Stone and also believes the team will have an answer back from the winger by Wednesday.
"Initially it was all about the likelihood of Matt Duchene signing," Dreger told TSN Radio 1050 Toronto. "And we were reporting about the dialogue between (Duchene's agent Pat) Brisson and (Senators general manager Pierre) Dorion, and Brisson flew to Ottawa to meet with Dorion and all of those things.
"And then I think they decided, 'Look, before we try and sign off on Duchene…' - and in fairness to Duchene, at no point did he ever say, 'Alright, we're getting closer. Let's just button a few things down.' So there was good talk. There was never a hard negotiation with Matt Duchene.
"And then Ottawa turned and said, 'Alright, well if Matt Duchene needs more time to think about this, let's take another run at Mark Stone and see if we can't get that locked up.' And so that's probably been going on now for the last 10 days to two weeks.
"And late last week, our sense is Ottawa took another run - a very creative run - at Mark Stone; creative in the sense of term, maybe a higher AAV, and it made that group stop and think.
"But they need an answer. It's game day today, so Mark Stone probably isn't worrying about that. They're off tomorrow, they don't play Wednesday, and then they play Thursday, Friday, Sunday.
"So educated speculation, I mean he's probably going to tell Ottawa (Tuesday) or Wednesday he's willing to continue to negotiate or he's out."
The Senators, who lost 8-7 to the Chicago Blackhawks on Monday, sit last in the NHL with 49 points in 59 games this season.