Sandin soaking it all in at Leafs development camp
Toronto's latest first-round pick happy to listen and learn during first taste of life as a Maple Leaf, Kristen Shilton writes.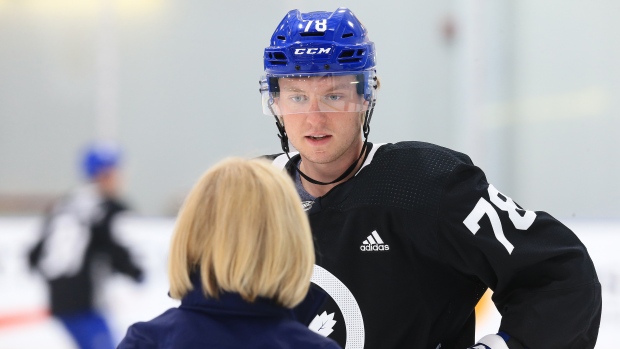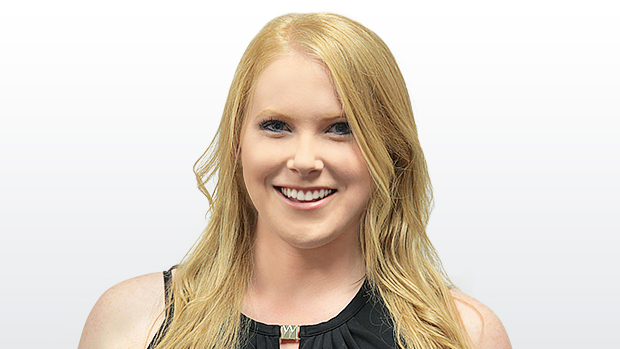 TORONTO – Admittedly, not much has changed for Rasmus Sandin since the Maple Leafs picked him 29th overall in the 2018 NHL Entry Draft one week ago in Dallas. But that suits him fine for now. Being selected was only the beginning of Sandin's journey.
In the immediate chaos following the draft's first round, Sandin fielded text messages from current Leafs (and potential future teammates) Auston Matthews, Nazem Kadri and Patrick Marleau, each offering the same advice: Take it all in, kid. This is a once-in-a-lifetime experience.
Arriving to Toronto's development camp just days after the draft concluded, Sandin has strived all week to follow the wisdom of his fellow first-round draftees.
"It's an exciting time that's come now," Sandin said after Friday's practice. "Coming to Toronto is a cool experience, seeing all the guys and the management and just to see how everything works. It's a little different from playing in the OHL. It's one step closer to the best league in the world."
When Leafs' general manager Kyle Dubas plucked Sandin from the draft board (after trading down four picks and acquiring a third-round choice in the process), he said the 18-year-old Swedish defenceman has about "two years of runway" left in the minors before competing for a job in the pros.
Until then, Toronto has options. Sandin could return to the OHL's Sault Ste. Marie Greyhounds, where he put together a successful freshman campaign last season (45 points in 51 games), or Sandin could head home to re-join Rogle BK of the Swedish Hockey League and honour the final year of his SHL contract.
Coming to North America was easier for Sandin than some of his countrymen, at least as far as language is concerned. Sandin abandoned studying Spanish and German in school to take up English, and made a point of honing his skills further last season in the Soo.
Plus, Dubas has a longstanding history with the Greyhounds – he was the team's general manager for four years before joining the Leafs – and as with most top picks, keeping Sandin close to home is sure to be a top priority.
Sandin, meanwhile, has been steadfast in his desire to go back to Sweden; he returned for one camp with Rogle already after the Scouting Combine earlier this month.
Ultimately, Sandin said at the draft he now feels more ready to play against men again. His sole experience in that category is five games with Rogle early last year before the OHL pit stop, but that's where the tips and tricks of development camp come in. Toronto's attention to the individual facets of a player's game will be invaluable for Sandin as he eyes a potential new challenge next season.
"Those smaller details, those crossover moves and how you're supposed to use your stick a little bit more. Just overall pretty much everything [has been good] but especially those smaller things," he said. "We've worked on our skating a bit, and those step back moves. It's just very professional overall. We learned some smaller [things] but also some bigger details of the game."
Described by Toronto's director of player development Scott Pellerin, who heads the camp's on-ice activities, as a "great character kid" Sandin said from the outset he didn't have any specific expectations set to be reached by the time Saturday's scrimmage wraps up camp.
Beyond just sponging everything he can from a plethora of coaches that includes former NHLer Stephane Robidas and four-time Olympic gold medalist Hayley Wickenheiser, Sandin was also hoping to get to know the other invitees.
"I knew [Owen Sound Attack defenceman] Sean Durzi a little bit before this but I've bonded with him very well," Sandin said. "And also [2017 second-round pick] Eemeli Rasanen. I didn't know him at all but he's a funny guy for sure."
"He's such a great guy," added 2017 draftee Fedor Gordeev. "We've played against each other [in the OHL] and now we've gotten to know each other here. There have been quite a few jokes back and forth. It's been fun."
One of the running jibes on Sandin since he was drafted has been how close his last name is to that of a particularly well-known Swede (not to mention Leafs' legend) Mats Sundin. Sandin said he met both Sundin and fellow Leafs' icon Borje Salming as a child, with the pictures and autographs somewhere to prove it.
And as Sandin attempts to climb the Leafs' ranks himself, he'll be with another compatriot on a similar trajectory in the form of Toronto's 2017 first-round pick, defenceman Timothy Liljegren. If all goes well, Sandin and Liljegren could even be teammates as soon as next winter.
Both are scheduled to attend Sweden's U-20 Showcase in Kamloops, B.C. at the end of July, a precursor to potentially playing in the IIHF World Junior tournament come December. Liljegren won silver with Sweden in last year's tournament, and Sandin would be all too happy to join him in search of gold this time around – all the while taking another step towards forging his own career with the Leafs.
"It's very cool for sure," Sandin said of being part of Toronto's Swedish contingency. "Two of the best Swedes that ever played hockey have been in the organization, so it's a cool experience to be in the organization as well. I'm here to learn. Just take all the tips we're getting and then try to develop further this summer.