Shooting Stars head back to Championship Weekend after comeback win over BlackJacks
A fourth-quarter comeback from the Scarborough Shooting Stars helped them defeat the Ottawa BlackJacks 77-72 at TD Place on Sunday to earn a spot in CEBL Championship Weekend.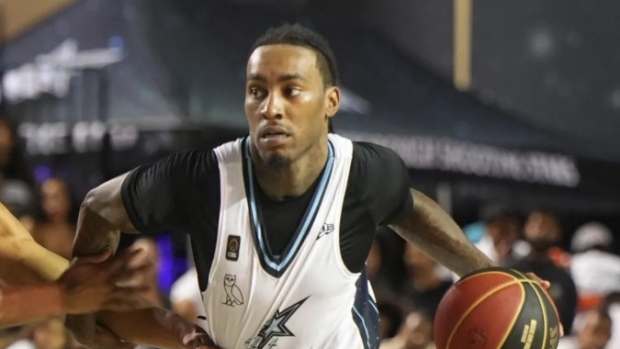 A fourth-quarter comeback from the Scarborough Shooting Stars helped them defeat the Ottawa BlackJacks 77-72 at TD Place on Sunday to earn a spot in CEBL Championship Weekend.

The BlackJacks led by 12 points after three quarters and four points at the start of target score time but the Shooting Stars played smothering defence to earn the win in the Eastern Conference Semifinal. Scarborough will face off against the Niagara River Lions in the Eastern Conference Final on August 11 at CEBL Championship Weekend (CW23) in Langley BC.

"We all sacrificed a lot throughout the season, we've all pushed hard, and we wanted to play. We wanted to win," Scarborough head coach Chris Exilus said of the final stretch. "You saw a lot of guys in there who just buckled down and said, 'You know what, we're winning this game and we're gonna fight all the way to the end until we get that last score.'"

In his first game against Ottawa this season, Isiaha Mike dropped a game-high 24 points to lead Scarborough back to CW23 for the second straight season. Mike shot well from the field at 9-15 and secured a double-double with another game-high 13 rebounds.

"We just dug in. We got in a hole in that third quarter. They went on a really good run – they kept that 10 [to] 12-point lead for a while," Mike said. "Once we dug in and got a few stops in a row, we got out in transition. They were fouling [and] we started hitting some shots. I think that late defensive push is really what secured the win for us tonight."

After a 32-point performance in Friday's play-in, Scarborough star Cat Barber cooled off against the BlackJacks. However, he still tallied 16 points, nine rebounds, three assists, two steals and the game-winning layup.

Big man Kalif Young also earned a double-double in the victory with 10 points, 11 rebounds, three assists, a block and a steal. Meanwhile, Kyree Walker chipped in nine points, six rebounds and three assists to round out the Scarborough attack.

On the other side, Jakeenan Gant came off the bench to pace the Ottawa offence. Gant filled the stats sheet with 21 points, six rebounds, three assists, two steals and two blocks. Guard Matthew Coleman had a big first half for Ottawa and finished the game with 15 points, six rebounds, five assists and two steals.

The BlackJacks' go-to duo of Kadre Gray and Deng Adel didn't meet their usual efficiency from the field but still produced. Gray scored 18 points on 6-19 shooting while Adel added 13 points on 5-17 shooting.

Both teams struggled from the field in what was a defensive battle from the opening tip. Scarborough shot 40 per cent from the floor, 25 per cent from three and 69 per cent at the line, while Ottawa finished at 39-25-61.

"I thought our guys play great," Ottawa head coach James Derouin said. "Maybe not great in terms of how we're used to seeing this team play but we had to play differently. We were shorthanded and they're loaded up. We had to defend. We had to fight. We had to compete…I just thought [Gray] and [Adel] ran out of gas down the stretch."


The game began with both teams locking down defensively and different faces contributing. The first 10 buckets came from 10 different scorers. Ottawa was able to contain Barber for the majority of the first quarter, but the Shooting Stars' guard impacted the game on the perimeter in the closing minutes of the frame. He connected on back-to-back threes and was fouled on another to give Scarborough a 15-14 lead after 10 minutes.

The Shooting Stars forced Derouin into a timeout early in the second quarter and went on a 10-0 run stretching back to the first. However, Gray stopped the bleeding with a trifecta for Ottawa. Coleman made some big plays for the BlackJacks to cut the deficit to three and force an Exilus timeout.

Ottawa closed the half on a 13-2 run to carry a 37-30 lead into the locker room. The BlackJacks were efficient from three in the opening 20 minutes at 50 per cent, while the Shooting Stars connected at just a 20 per cent rate. Coleman led all scorers at halftime with 13 points, while Gant and Barber each had 10.

In the third quarter, Mike started to heat up for the Shooting Stars. He cut the deficit down to six. However, the BlackJacks went on a 10-2 run to take a 12-point lead and force an Exilus timeout. Elijah Lufile scored back-to-back buckets for Scarborough after the team talk, but Ottawa answered with a 4-0 run of their own to head into the final frame with a 62-50 advantage.

The Shooting Stars started the fourth quarter with some urgency. They turned steals into scores on consecutive possessions and forced a Derouin timeout after a 6-0 run. Ottawa bounced back after the brief chat to extend the lead back to 10, but the Shooting Stars went on a 7-1 run before target score time. The BlackJacks carried a 67-63 advantage into the final stretch with a target of 76.

Gant finished strong at the rim to kick off target time but the Shooting Stars took control from there. Mike banked in a floater before Kassius Robertson faded off the dribble and connected on a clutch three. Walker and Mike hit from the line while the defence shut down Ottawa.

After an offensive rebound, Walker drove to the rim and finished an and-one to put the Shooting Stars one point away from victory. Adel completed an old-fashioned three-point play of his own to make it a one-possession game again, but a reverse layup at the other end for Barber completed the Scarborough comeback.

With the win, the Shooting Stars book a trip to Vancouver for CEBL Championship Weekend for the Eastern Conference Final against the Niagara River Lions at 8 p.m. ET on Friday (Aug. 11).