Senators' assistant GM Lee resigns
Ottawa Senators assistant general manager Randy Lee has resigned amid charges of harassment stemming from an incident at the NHL scouting combine in May. The team announced Lee's resignation on Tuesday. Lee, who had been suspended by the Senators, says in a statement he is not in a position to fulfil his obligations with the team while his legal case is ongoing.
The Canadian Press, with TSN files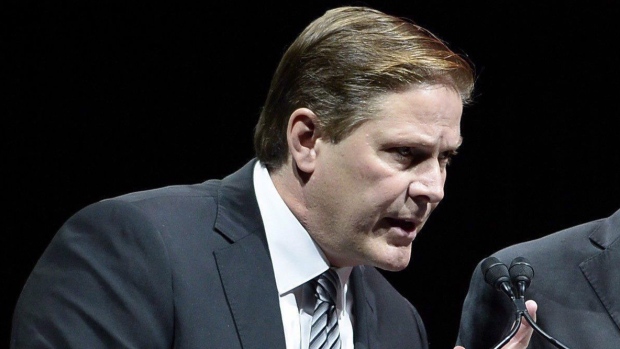 Ottawa Senators assistant general manager Randy Lee, who had been suspended by the organization while facing harassment charges, has resigned.
The team made the announcement shortly before 6 p.m. ET Tuesday in a brief press release.
Lee is accused of making lewd comments and rubbing the shoulders of a 19-year-old male shuttle driver when he was in Buffalo, N.Y., for the NHL's pre-draft scouting combine this spring.
Lee, who also served as GM of Ottawa's AHL affiliate, was arrested May 31 after prosecutors say he continued placing his hands on the man's shoulders even after being told to stop. He also allegedly made a reference to his genitalia.
The 56-year-old said in a statement Tuesday he is not in a position to fulfil his obligations with the Senators while his legal case is ongoing.
Lee has pleaded not guilty, and his lawyer is seeking to have the charges dismissed.
The club initially didn't suspend Lee until two weeks after he was charged.
"We felt we made the right decision with Randy Lee," Ottawa GM Pierre Dorion said at June's NHL draft of the delay. "In 23 years with the organization, there's never been an incident recorded. It's an on-going process.
"Randy will have his due process, and from there we will re-evaluate."
The Senators said in Tuesday's press release that they would have "no further comment on the matter."
Ottawa's assistant GM the last five seasons, Lee was scheduled to appear in a Buffalo court Wednesday to argue motions, but that was pushed back to Sept. 13.
Paul Cambria, Lee's attorney, told The Associated Press: "We're just waiting on the judge to rule on the motion to have the case dismissed."
When asked about Lee's resignation, Charles Desmond, attorney for the shuttle driver, told the AP: "The (Senators) organization is doing the right thing to protect the public, its employees and other individuals who can be subjected to his actions."
Lee's story was just one of a number of ugly headlines to seep out of the nation's capital since Ottawa got to within a goal of reaching the 2017 Stanley Cup final.
Senators owner Eugene Melnyk threatened to move the team on the eve of the team's showcase outdoor game in December, while the wife of captain Erik Karlsson alleged the couple had been cyberbullied by Monika Caryk, the partner of former teammate Mike Hoffman.
Caryk and Hoffman, who was subsequently traded, have denied the allegations.
Just before the Lee and Karlsson-Hoffman stories broke, Daniel Alfredsson, the most popular player in franchise history, was quoted as saying he hopes the team is sold to ensure its future in Ottawa.
Meanwhile, a baby garment featuring the Senators logo was recalled because of a potential choking hazard.
Lee issued a statement to TSN following his resignation:
"My hearing in Buffalo has been postponed until Sept. 13. While my case continues to be reviewed by the courts, I do wish to address my future with the Senators. My suspension has given me more time to spend with my loved ones than ever before. For the past 23 years, my family has taken a back seat to my career. My focus is now on putting them first.
At that same time, I have to think about my obligations to the hockey team. They need an assistant general manager who can focus completely on the coming season. Until this matter is behind me, however, I'm not in a position to that.
For this reason - in consultation with the Ottawa Senators and my family - I have chosen to resign as assistant general manager of the Ottawa Senators and general manager of the Belleville Senators"