Stroman disappointed in lack of long-term offer from Jays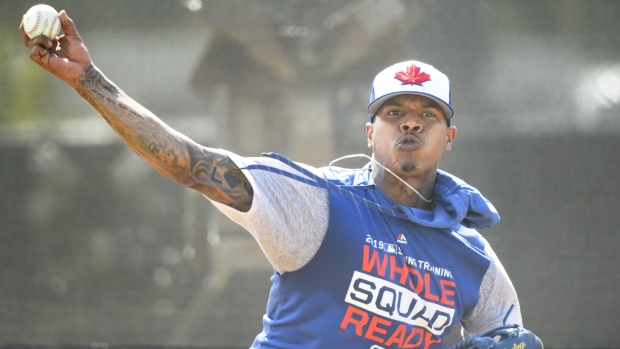 Toronto Blue Jays starter Marcus Stroman met with the media on Sunday in Dunedin and touched on many topics, including his disappointment that the team has not offered him a long-term deal.
"I want to play here," Stroman said to the media. "I've been wanting to play here for a long time. I've been waiting to sign a long-term deal. I've been offered nothing."
"Would it bother you? I play year to year pretty much, it's a business, like I said. It doesn't affect my relationship with the country of Canada. I'm able to disconnect the two now, between business and people."
The Jays and Stroman avoided arbitration this offseason, settling on a one-year, $7.4 million contract in January.
On Sunday, Blue Jays general manager Ross Atkins declined to comment on specifics of his talks with Stroman's agent, but did say there has been dialogue.
"Any negotiation, any discussion I'm not going to comment on," said Atkins. "We've had lengthy discussions with Marcus' representation."
"I'm excited to have Marcus Stroman as a Toronto Blue Jay and extremely excited about his health, the way he has performed thus far, the way he looks, his energy," said Atkins. "He's been awesome in the clubhouse."
Stroman struggled through 2018, making 19 starts and posting a 4-9 record with a 5.54 ERA, a career worst in 102.1 innings.
The 27-year-old also admitted that his shoulder never totally felt right during the 2018 season, but that he feels ready to go for the upcoming season.
Stroman suffered through right shoulder inflammation during Spring Training last season, but after a tough start to the season, was placed on the 10-day DL with right shoulder fatigue.
He also commented on a lack of veteran presence in the Jays' clubhouse.
"Those young guys want to pick those guys brains more than anybody, but they're nowhere to be seen," Stroman said. "So whose brain are they supposed to pick?"
The Medford, New York native is entering his sixth season with the Blue Jays, after they selected him 22nd overall in the first round of the 2012 MLB Draft.
He has posted a 41-34 record with a 3.91 ERA since making his debut with the team in 2014.