The 7-Eleven Power Rankings: Lightning back on top
Presented by:

The Tampa Bay Lightning have the league's best penalty kill, allowing just two power play goals in their first 10 games of the season, and are the No. 1 team this week in TSN`s 7-Eleven Power Rankings.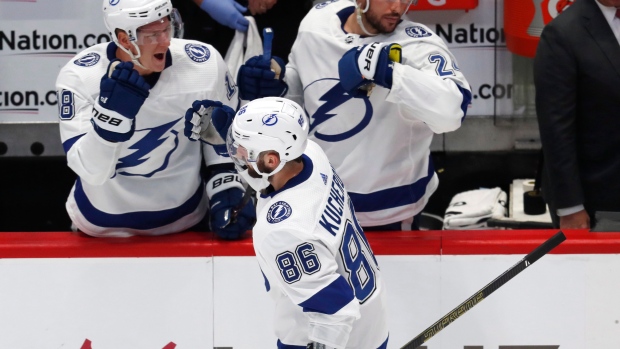 Forget about Saturday's 7-1 blowout loss to the Arizona Coyotes – after all, it was the Lightning's fifth road game in eight nights – Tampa Bay is tops in TSN`s 7-Eleven Power Rankings this week.
The Lightning have the league's best penalty kill (95.1 percentage), allowing just two power play goals in their 7-2-1 start to the season, and are this week's best team in TSN`s 7-Eleven Power Rankings, according to consensus rankings formulated by the TSN Power Ranking panel of Ray Ferraro, Jeff O'Neill, Jamie McLennan, Craig Button and Darren Dreger.
Tampa Bay, which was also ranked No. 1 in our first two Power Rankings of the 2018-19 season, went 3-1-1 on its road trip to move up two spots from last week. The No. 2 Nashville Predators fall out of first place following losses to the improving San Jose Sharks and the surging Edmonton Oilers. Nashville is really starting to miss the services of Pekka Rinne as backup Juuse Saros went 1-2 last week, giving up three third-period goals to the Sharks in just over five minutes last week before losing to the Oilers at home on Saturday.
The Toronto Maple Leafs climb to No. 3 this week from No. 5 a week ago after snapping a two-game skid with consecutive wins over the No. 8 Winnipeg Jets. But Saturday's win over the Jets at Scotiabank Arena came at a cost as the Maple Leafs lost star centre Auston Matthews to a left shoulder injury for at least four weeks.
Rounding out the top five teams this week are the rejuvenated Pittsburgh Penguins at No. 4, following a sweep on their four-game Canadian road trip, and the No. 5 Colorado Avalanche, who slip three spots from a week ago after going .500 last week. The Avs have placed in the top 10 in our panel's last four Power Rankings thanks to plenty of scoring from the NHL's hottest line of Mikko Rantanen, who leads the league in scoring with 21 points, Nathan MacKinnon (18 points) and Gabriel Landeskog (16).
Making the biggest leap this week are both the Penguins and Oilers who catapult 15 spots – Pittsburgh from No. 19 last week and Edmonton to No. 10 from No. 25 a week ago. In fact, the Oilers were ranked No. 29 by our panel just two weeks ago.
The No. 6 Minnesota Wild move up six spots from last week after winning five straight following a subpar 1-2-2 start that had them ranked at a lowly No. 28 in our second Power Rankings of the season three weeks ago. Rounding out the other top-10 teams this week are the Boston Bruins at No. 7; the No. 8 Jets, the Montreal Canadiens at No. 9 and the Oilers in 10th spot following three straight wins, including victories over the defending Stanley Cup-champion Washington Capitals (No. 13) and Presidents' Trophy winning Predators.
The less than mighty Anaheim Ducks at No. 24 make the biggest plunge of the week, dropping 16 spots from No. 8 a week ago after losing five straight following a strong 5-1 start to the campaign.
The top Canadian team this week is Toronto followed by Winnipeg, Montreal and Edmonton. The Vancouver Canucks plunge to No. 22 after sitting at No. 11 last week while the No. 23 Calgary Flames drop seven places and the Ottawa Senators take a dive to No. 25 from their No. 13 position a week ago.
The Florida Panthers are hoping their two-game series in Finland with the Jets later this week will lift them out of their misery and the No. 27 spot. The other NHL teams hiding in the league's basement this week include: the No. 28 Philadelphia Flyers, who have lost three straight; the Los Angeles Kings, stuck in the No. 29 spot despite ending a six-game skid; the No. 30 New York Rangers, who slip three spots from last week; and the Detroit Red Wings at No. 31, splattered on the cellar floor for a third straight week.

RECORD

7-2-1

POSSESSION

53.4%

LAST WEEK

3
A 7-1 loss to Arizona ended a five-game road trip on a sour note, but prior to that they were 3-0-1. They lead the league in penalty-killing percentage at 95.1, having allowed just two power play goals.

RECORD

8-3-0

POSSESSION

51.9%

LAST WEEK

1
The loss of Pekka Rinne to injury is starting to hurt the Predators. Backup Juuse Saros earned a shutout in his first replacement start, but then went 1-2, allowing 12 goals in those three games.

RECORD

8-3-0

POSSESSION

50.7%

LAST WEEK

5
The Maple Leafs rebounded from two straight losses with consecutive wins over Winnipeg to maintain a perfect 5-0 record on the road. But now they must deal with a shoulder injury to Auston Matthews.

RECORD

6-1-2

POSSESSION

49.1%

LAST WEEK

19
If you haven't seen Sidney Crosby's incredible overtime goal against Edmonton, where he undressed Ryan Strome, check out the highlight. He had eight points (5-3-8) in Pittsburgh's 4-0 trip to Canada.

RECORD

7-3-2

POSSESSION

49.2%

LAST WEEK

2
There's no debate about the best line in the NHL this year. Mikko Rantanen (5-16-21) leads the league in scoring, Nathan MacKinnon (9-9-18) is in third and Gabriel Landeskog (10-6-16) is close behind.

RECORD

6-2-2

POSSESSION

45.8%

LAST WEEK

12
The same night that the Wild celebrated Ryan Suter's 1,000th NHL game they also won their fifth game in a row, especially impressive considering their mediocre 1-2-2 start. Devan Dubnyk has a .945 SV %.

RECORD

6-3-2

POSSESSION

52.1%

LAST WEEK

6
Two days after shutting out Philadelphia 3-0, the Bruins were shut out themselves 3-0 at the hands of Montreal. Jaroslav Halak (1.43 GAA) has two shutouts for Boston and a 3-0-2 record.

RECORD

7-4-1

POSSESSION

49.8%

LAST WEEK

4
The Jets lost twice to Toronto in a three-game span. In Winnipeg last week, their 15-game regular season home point streak ended, and in Toronto they were stunned by two late goals in 26 seconds.

RECORD

6-2-2

POSSESSION

52.4%

LAST WEEK

7
They've scored at least three goals in seven straight games to go 5-1-1. Carey Price (2.13 GAA, .922 SV %) picked up his 290th career win to pass Patrick Roy for second all-time as a Canadien.

RECORD

6-3-1

POSSESSION

47.4%

LAST WEEK

25
In a tough four games, the Oilers earned a point against Pittsburgh and beat Washington, Nashville and Chicago for a 6-1-1 record after their 0-2 start. Connor McDavid is fifth in NHL scoring with 17 points.

RECORD

6-3-2

POSSESSION

58.7%

LAST WEEK

15
They're coming on - via a five-game point streak. Most impressive was the Sharks' 5-4 win in Nashville where they scored three goals in the final 8:20. Winger Timo Meier has six points in his last three.

RECORD

6-3-3

POSSESSION

52.6%

LAST WEEK

9
Special teams haven't helped the Blackhawks (28th in power play and 22nd in penalty killing) but a league-leading 11 goals by Patrick Kane, who's No. 2 in NHL scoring, certainly has early in 2018-19.

RECORD

5-3-2

POSSESSION

50.5%

LAST WEEK

18
Pheonix Copley stopped three shootout attempts in Calgary to earn his first NHL win. The Capitals continued their strong offensive play and lead the league with a 37.1 power play percentage.

RECORD

6-4-1

POSSESSION

61.5%

LAST WEEK

14
Forty shots is usually considered a good game, but the Hurricanes are taking an average of 41.5 per game. That's impressive enough but they also lead the league with the fewest shots against at 23.9.

RECORD

6-4-1

POSSESSION

48.9%

LAST WEEK

20
An OT loss at Columbus ended a three-game winning streak but they ran their four-goal scoring streak to a fourth game. Jeff Skinner has five goals in those four games and Jason Pominville has four.

16. Columbus Blue Jackets
RECORD

6-4-0

POSSESSION

50.6%

LAST WEEK

21
Despite a winning record, they can't be happy with their goals against. They've allowed 3.80 goals per game, fifth worst in the NHL and a full goal more than last year's 2.76 goals against.

RECORD

5-2-1

POSSESSION

50.8%

LAST WEEK

10
Things are about to get a lot tougher for the Devils. They've built their early season success on seven of their eight games being at home. They now hit the road for seven straight starting Tuesday in Tampa.

RECORD

5-4-1

POSSESSION

42.3%

LAST WEEK

24
The Islanders scored three goals in 2:52 of the third against Philadelphia to pull away for the 6-1 win. Anders Lee has eight points (2-6-8) in the last four game while Josh Bailey has five in his last three.

RECORD

5-5-0

POSSESSION

53.2%

LAST WEEK

30
The Coyotes have recovered from their early ailments. In their first five games they scored a total of three goals. In their next five games they scored 22. Their record also reversed from 1-4 to 4-1.

RECORD

5-5-1

POSSESSION

57.8%

LAST WEEK

17
A poor start can be traced to a lack of goal scoring – at just 2.27 per game only L.A. is worse. In eight of their 11 games they've scored two or fewer goals. A year ago they started their first season at 8-3.

RECORD

5-5-0

POSSESSION

50.9%

LAST WEEK

23
The Stars have been decent at home where they have a 5-2 record and have averaged 3.86 goals per game. On the road, however, they are 0-3 and averaging just 1.0 goals per game.

RECORD

6-6-0

POSSESSION

43.1%

LAST WEEK

11
Consecutive losses after being outscored 9-1 is bad, but the return of rookie star Elias Pettersson and Brock Boeser is good. But now more bad news – Anders Nilsson and Alex Edler are out with injuries.

RECORD

5-5-1

POSSESSION

52.4%

LAST WEEK

16
An embarrassing 9-1 loss to Pittsburgh in Calgary worsened their home goals against per game to a league worst 4.60 goals per game. They then rebounded to earn a point in a shootout loss to the Caps.

RECORD

5-5-2

POSSESSION

40.7%

LAST WEEK

8
This isn't something you see very often. The less than mighty Ducks, losers of five in a row (one in overtime) are last in average shots for per game at 24.5 and last in shots against at 39.1.

RECORD

4-4-2

POSSESSION

42.6%

LAST WEEK

13
Matt Duchene scored twice in a losing effort in his return to Colorado and the Senators have lost three in a row (once in overtime on a penalty shot in Vegas) after their three-game winning streak.

RECORD

3-4-3

POSSESSION

46.7%

LAST WEEK

26
It's been up and down for the Blues, unable to win consecutive games. For Zach Sanford it's been all good since his call up - he's 3-3-6 in five games playing in the NHL for the first time since 2016-17.

RECORD

2-4-3

POSSESSION

53.9%

LAST WEEK

28
The Panthers are winless in three games at home (0-2-1) and have yet to earn a regulation win in six road games. They'll see if they can do better in Finland against Winnipeg on Thursday and Friday.

RECORD

4-7-0

POSSESSION

49.5%

LAST WEEK

22
Their three-game losing skid is bad enough, but in those three games they've been outscored 13-2. They're dead last in the NHL in goals against per game at 4.18 and also No. 31 on the penalty kill.

RECORD

3-7-1

POSSESSION

47.7%

LAST WEEK

29
They ended their six-game skid when Alex Martinez scored late in the third to give them a 4-3 win. Dustin Brown returned from a broken finger to score and deliver seven hits in that Sunday victory.

RECORD

3-7-1

POSSESSION

46.1%

LAST WEEK

27
The Rangers are winless on the road where they've been outscored 23-13. In their first of three on the West Coast they allowed a goal with 55 seconds remaining in regulation time to lose to L.A.

RECORD

2-7-2

POSSESSION

47.0%

LAST WEEK

31
It's not difficult to see why they have the league's worst record. They can't score (tied with Vegas at 2.27 for second worst) and can't stop their opponents from scoring (3.82 for fourth worst).