The 7-Eleven Power Rankings: Flames top Western Conference
Presented by:

The Calgary Flames have been lighting up the league - going 9-2-1 in their last 12 games - to land atop the Western Conference standings and in the No. 3 spot in TSN's weekly 7-Eleven Power Rankings. Three of the top-five teams this week are Canadian: the No. 2 Toronto Maple Leafs followed by the Flames and the No. 4 Winnipeg Jets.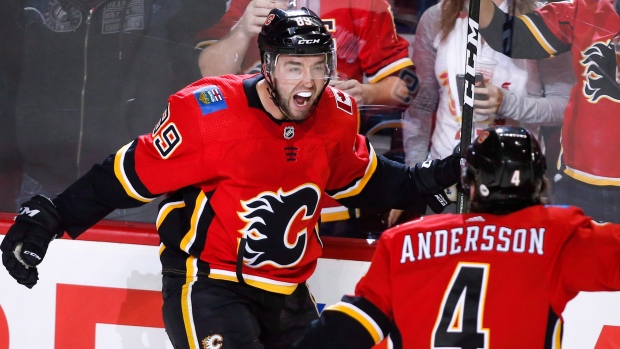 The Calgary Flames, as you recall, missed the playoffs last season. Well, it's a different story in 2018-19 as they've been torching the league in the last three weeks, going 9-2-1 in their last 12 games to climb into first place in the Western Conference.
Despite missing key parts of their puzzle during the first 31 games of the season – captain Mark Giordano sat out for a two-game suspension (the first in his 13-year career) and defensive centre Mikael Backlund is now gone with a concussion, for example – the Flames continue to dig deep and rack up points, relying on a veteran roster as well as AHL call-ups such as rookie blueliner Oliver Kylington to get the job done. Kylington, a 21-year-old Swede drafted 60th overall by Calgary in 2015, scored his first NHL goal and added an assist in the Flames' 5-2 win over the Nashville Predators on Saturday.
Last Tuesday, the Flames rallied to outscore the Columbus Blue Jackets 9-6, with team leading scorer Johnny Gaudreau registering four points. Veteran goaltender Mike Smith has also returned to form lately, winning six straight games after going through a slump when he recorded six losses in eight games.
As such, Calgary moves up five spots to No. 3 in our weekly 7-Eleven Power Rankings, according to consensus rankings formulated by the TSN Power Ranking panel of Ray Ferraro, Jeff O'Neill, Jamie McLennan, Craig Button and Darren Dreger.
Last week's No. 2-ranked team, the Tampa Bay Lightning, is the unanimous No. 1 team this week after winning six straight games. The Bolts lead the NHL in wins (23), points (47), have the league's second best power play (29.0 percentage) and are scoring a league-high 3.94 goals a game.
Three of the top-five teams in this week's rankings are Canadian, with the No. 2 Toronto Maple Leafs – who will be without the services of suspended forward Zach Hyman for two games – followed by the Flames and the Winnipeg Jets in the No. 4 position. The Jets, who have won five of six, are ranked just ahead of the No.5 Predators, who have lost two straight and are winless in their last six road games (0-5-1).
Most of Canada's other teams moved up in our rankings this week, with the Edmonton Oilers landing four spots higher (No. 12) after going 3-1-0 last week. The Montreal Canadiens climb to No. 15 from No. 18 a week ago after three straight victories, including back-to-back wins over the No. 23 Ottawa Senators, who slip a spot from last week. The Vancouver Canucks had a positive week (2-1-0) to jump out of our panel's bottom five and into the No. 26 spot after sitting No. 29 a week ago.
The Pittsburgh Penguins make the biggest leap of the week, to No. 17 from No. 24, after earning five of a possible six points in their last three games while the Blue Jackets register the most significant drop of the week, falling six spots to No. 16 following a 1-2-0 week after being ranked No. 10 last week.
The NHL's worst teams this week, according to our panel, include the No. 27 Philadelphia Flyers, New Jersey Devils at No. 28, the No. 29 Los Angeles Kings, St. Louis Blues at No. 30 and the best-before-date-has-expired Chicago Blackhawks dead last at No. 31. The Blackhawks, who have problems galore including the league's worst power play, have lost seven straight and are now 3-11-2 under young coach Jeremy Colliton.

RECORD

23-7-1

LAST 10

9-1-0

LAST WEEK

2
Their six-game winning streak has featured an average of 5.0 goals scored per game. Nikita Kucherov leads in points with 11 in the six games; Steven Stamkos leads with five goals.

RECORD

20-9-1

LAST 10

6-3-1

LAST WEEK

1
They have just four road losses, but two have been to potential playoff foe Boston, with scores of 5-1 and 6-3. In the latest loss, a Leaf goalie (Frederik Andersen) was replaced for the first time this season.

RECORD

19-10-2

LAST 10

7-2-1

LAST WEEK

8
The Flames had won five straight games before losing 1-0 to Edmonton but still lead the Western Conference. Johnny Gaudreau had 11 points in the five games and Elias Lindholm had 10.

RECORD

18-9-2

LAST 10

6-4-0

LAST WEEK

6
A shutout against the Jets (1-0 by St. Louis) is rare enough, especially when they averaged 4.5 goals in their previous six games (5-1-0). Their next game was a 7-1 defeat of Philadelphia.

RECORD

19-10-1

LAST 10

5-5-0

LAST WEEK

3
The Predators continued their losing ways on the road with losses in Vancouver and Calgary. That's six straight road losses (0-5-1) after starting out with a franchise-record eight straight road wins.

RECORD

17-8-5

Last 10

7-2-1

LAST WEEK

5
After six consecutive road wins they've lost two of three in convincing style, 6-3 to Pittsburgh and 7-1 to Tampa Bay. Even so, at 3.74 road goals scored per game they're second only to Toronto at 4.07.

RECORD

17-9-3

LAST 10

8-2-0

LAST WEEK

7
A 4-0 defeat of Columbus was Braden Holtby's first shutout since their opening game of the season. The Capitals have won six of their last seven on the road and nine of their last 11 overall.

RECORD

17-9-4

LAST 10

5-3-2

LAST WEEK

4
So much for that 10-game winning streak. The Sabres have lost five in a row, scoring just 12 goals, with the only notable offensive contributions coming from Sam Reinhart (five goals) and Jack Eichel (four).

RECORD

16-11-5

LAST 10

8-2-0

LAST WEEK

9
Anaheim's five-game winning streak – with four of the games on the road – ended with a home loss to Carolina. They followed that up with a shootout win over New Jersey in their next home game.

RECORD

16-10-4

LAST 10

5-4-1

LAST WEEK

11
The Bruins ended a three-game skid by beating Toronto 6-3. In their previous 11 games they had failed to score more than three goals, averaging 1.7 per game as they miss injured star Patrice Bergeron.

RECORD

17-14-1

LAST 10

8-2-0

LAST WEEK

17
Marc-Andre Fleury had a nice run before losing 5-1 to L.A. In the eight previous games he was 7-1-0 with two shutouts, a .933 save percentage and a 2.00 GAA. He now leads the NHL in wins with 17.

RECORD

16-12-2

LAST 10

7-2-1

LAST WEEK

16
The Oilers continued their perfect record at home under Ken Hitchcock with a 1-0 win over Calgary to give them five straight in Edmonton. Prior to Hitchcock taking over they were 4-4-1 at home.

RECORD

16-11-3

LAST 10

5-4-1

LAST WEEK

12
The Stars ran their winning streak to four with a 3-2 defeat of San Jose before losing at Vegas on Sunday. Brett Ritchie scored consecutive game-winning goals, his only two goals on the season.

RECORD

15-11-5

LAST 10

4-4-2

LAST WEEK

15
The Sharks allowed 40 shots against Carolina, only the third time this season they've allowed 40 or more, and twice against the Hurricanes. They rank fifth in fewest shots against at 27.9 per game.

RECORD

15-10-5

LAST 10

4-4-2

LAST WEEK

18
Back-to-back games against Ottawa resulted in back-to-back wins, both by the same 5-2 score. Jonathan Drouin has been a hot scorer, with 16 points in 15 games since Nov. 8.

16. Columbus Blue Jackets
RECORD

16-11-2

LAST 10

5-5-0

LAST WEEK

10
For whatever reason, the Blue Jackets allow a lot of home goals – including nine in a blowout loss to Calgary. They're giving up 3.57 goals per game at home, second most in the NHL behind St. Louis.

RECORD

12-10-6

LAST 10

5-2-3

LAST WEEK

24
In the nine games since Sidney Crosby returned to the lineup, the Penguins are 5-2-2 and Crosby has scored seven goals, leading the team with 15. They have five players with goals in the double digits.

RECORD

15-12-2

LAST 10

3-7-0

LAST WEEK

13
Defensive problems have been an issue for the Wild lately. They have just one win in their last six games and have allowed 22 goals in the five losses. Devan Dubnyk has just one win in his last five.

RECORD

14-11-3

LAST 10

4-5-1

LAST WEEK

14
The Islanders scored their first power play goal in 10 games in a 3-2 win over Detroit after going 0-for-19 in their previous nine. They also improved their record to 4-0 when giving up 20 or fewer shots.

RECORD

13-11-4

LAST 10

5-4-1

LAST WEEK

19
The Hurricanes killed off five power plays in their 4-1 win over Anaheim. Since Nov. 8 they have killed off 31 of 33 shorthanded situations for a league-best 93.9 percentage during that time span.

RECORD

14-12-3

LAST 10

5-4-1

LAST WEEK

23
It was an odd week for the Rangers, with just one game, a shootout win at Florida. Even odder is that it was their fourth road win of the season, all four of them coming in a shootout.

RECORD

13-13-4

LAST 10

4-4-2

LAST WEEK

20
A home loss to the N.Y. Islanders means the Red Wings have just one home win in their last six (1-3-2). On the positive side, Gustav Nyquist has nine points in the team's last five games.

RECORD

13-14-4

LAST 10

4-5-1

LAST WEEK

22
A 2-1 overtime victory over Pittsburgh gave the Senators their third win in their last four home games and their fifth in their last eight in Ottawa. They're 10-5-3 at home and 3-9-1 on the road.

RECORD

13-13-2

LAST 10

4-5-1

LAST WEEK

21
It's a season of ups and downs for the Coyotes. After losing four in a row, they won four straight. They're currently in losing mode, with two losses in a row and they've lost six of seven games at home.

RECORD

11-11-6

LAST 10

3-4-3

LAST WEEK

25
It was a strange eight-game homestand for the Panthers, going 3-2-3 but five of the eight games went to OT, one of those to a shootout. They had at least one power play goal in all eight games.

RECORD

13-16-3

LAST 10

3-6-1

LAST WEEK

29
They went over a month between home wins, defeating Nashville 5-3 to end an eight-game home skid (0-7-1). They followed that up with a 6-1 win in St. Louis, with Elias Pettersson netting five points.

RECORD

12-13-3

LAST 10

3-5-2

LAST WEEK

26
Is Anthony Stolarz the answer to the Flyers' net woes? He's 2-1-1, which included a 28-save win over the Sabres on Saturday, ending Buffalo's nine-game home point streak with a 6-2 win.

RECORD

10-12-6

LAST 10

2-4-4

LAST WEEK

27
The Devils have managed to earn points in five of their last eight, but only one of those games was a win. Three were OT losses and one was a shootout loss. Kyle Palmieri has four goals in two games.

RECORD

11-18-1

LAST 10

4-6-0

LAST WEEK

30
Nikita Scherbak scored 8:12 into his Kings debut to help Los Angeles to a 5-1 win over Vegas and their largest margin of victory of the season. Five times they've been defeated by at least four goals.

RECORD

10-14-4

LAST 10

3-6-1

LAST WEEK

31
Hot and cold goalie Jake Allen recorded his first shutout of the season, 1-0 over Winnipeg. Hot Allen became Cold Allen when he had to be pulled in a 6-1 loss to Vancouver on home ice in his next start.

RECORD

9-17-5

LAST 10

1-9-0

LAST WEEK

28
The Blackhawks' losing streak is now at seven games, all in regulation. They've been outscored 30-17 in those games and have a measly two power play goals in 24 attempts (8.3 percentage).