Leafs call up Liljegren, Ceci out indefinitely
The Toronto Maple Leafs have called up defenceman Timothy Liljegren and announced that that defenceman Codi Ceci will be out indefinitely with an ankle injury and re-evaluated in one month.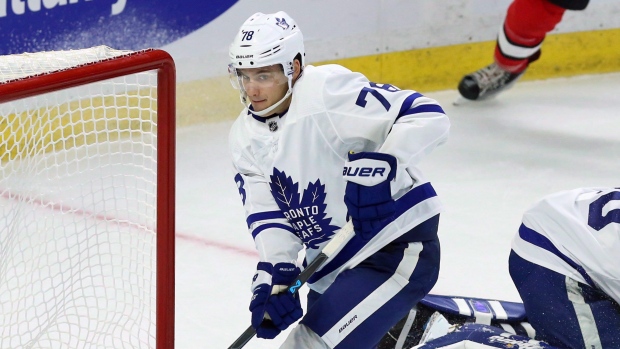 The Toronto Maple Leafs placed defenceman Cody Ceci on injured reserve and recalled blueliner Timothy Liljegren from the team's American Hockey League affiliate Friday.
Ceci, out indefinitely with an ankle injury, will be re-evaluated in a month, the club said in a Twitter post.
It's expected the 26-year-old will be placed on long-term injured reserve, which would give the Leafs some salary cap relief ahead of the NHL trade deadline on Feb. 24, but means Ceci would be forced to sit out at least 10 games or 24 days.
The six-foot-two, 210-pound Ottawa native suffered the injury in Wednesday's 5-3 road loss to the New York Rangers.
Ceci, who has taken some heat in the Toronto market for his play since being acquired from the Senators over the summer, has one goal and seven assists in 54 games this season.
"He's very consistent with how he plays with his competitiveness and his ability to help us on the penalty kill," Leafs head coach Sheldon Keefe said. "Below the dots in our zone, he's as competitive and strong a guy as we have."
The club is also minus injured defenceman Morgan Rielly (broken foot). The 25-year-old has been sidelined since the middle of January and will be re-evaluated next week.
Liljegren, who played one game for the Leafs this season, has five goals and 29 points in 37 games with the Toronto Marlies in 2019-20.
The 20-year-old former first-round pick is expected to suit up Friday against the Anaheim Ducks in Ceci's spot alongside fellow rookie Rasmus Sandin.
"You get a real opportunity for a young player to take a big step and get some experience," Keefe said of Liljegren.
The Leafs (28-19-7) entered Friday fourth in the Atlantic Division with 63 points, one back of the Florida Panthers.