TSN's top Blue Jays prospects: 1-10
TSN's Scott Mitchell digs into the farm system to rank the top 50 Blue Jays prospects in a series of three pieces. After 31-50 debuted Tuesday and Wednesday's list included 11-30, here are the top 10.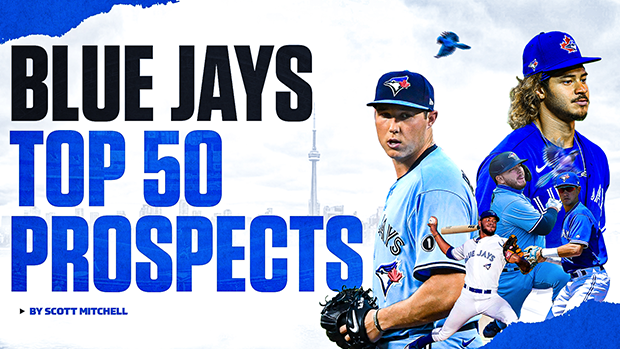 By: Scott Mitchell
TORONTO — These are the names you already know the most about, but that doesn't make them any less interesting.
Some of these players will eventually help accentuate the core in Toronto that's already in place, while a handful could be used as trade chips to get something they need — pitching.
Figuring out which is which will depend on what trade partners are interested in, but there are a few redundancies in the system — lots of catching is one of them — that can be capitalized on.
After taking a look at 31-50 on Tuesday and 11-30 yesterday, here are my top 10 Blue Jays prospects for 2021, led off by a very familiar name that I can guarantee you will not see at No. 1 next year.
Enjoy!
TOP 50 BY POSITION
Catchers: 7
Corner infielders: 4
Middle infielders: 10
Outfielders: 5
Pitchers: 24
HOW THEY WERE ACQUIRED
Trade: 5
MLB Draft: 21
International free agency: 22
Rule 5 Draft: 1
Undrafted free agent: 1
GRADUATED (3): LHP Anthony Kay (6); SS Santiago Espinal (18); RHP Thomas Hatch (20).
GONE (8): RHP Kendall Williams (11; traded to Los Angeles Dodgers in Ross Stripling deal); OF Griffin Conine (13; traded to Miami Marlins in Jonathan Villar deal); RHP Josh Winckowski (22; traded to New York Mets in Steven Matz deal); OF Anthony Alford (27; claimed off waivers by Pittsburgh Pirates); RHP Hector Perez (32; traded to Cincinnati Reds for cash/PTBNL); RHP Yennsy Diaz (33; traded to New York Mets in Steven Matz deal); OF Alberto Rodriguez (HM; traded to Seattle Mariners in Taijuan Walker deal); LHP Travis Bergen (HM; traded to Arizona Diamondbacks in Robbie Ray deal).
FELL OFF (7): LF/1B Ryan Noda (34); 2B/SS Logan Warmoth (38); OF Forrest Wall (39); SS Kevin Vicuna (42); 3B/2B Cullen Large (43); RHP Kyle Johnston (44); OF Robert Robertis (49).
2021 AFFILIATE LEVELS
Triple-A: Buffalo Bisons
Double-A: New Hampshire Fisher-Cats
High-A: Vancouver Canadians
Low-A: Dunedin Blue Jays
Dominican Summer League: One full affiliate/one shared affiliate
Complex league in Florida: Replacing short-season affiliates

2019 RANK

4

2020 RANK

1

AGE

24

ACQUIRED

2017 Draft
Expected starting affiliate: MLB Toronto
2020 GOSSIP: Last year, this blurb area was called "2019 rewind." While Nate Pearson doesn't really fit because he was in the big leagues all year, I've changed it to "2020 gossip" since there was no minor league season, no statistical profiles to delve into and, really, no concrete info on how young players progressed. Even at the best of times, concrete and trustworthy info on prospects isn't easy to track down. Many of the names high on this list showed up at the Jays' alternate site in Rochester, which featured a few standouts, but it's a murky picture for prospects across the league heading into 2021. When it comes to Pearson, it was health that got in the way. After debuting with a whole lot of fanfare on July 29 against the Washington Nationals, striking out five across five high-octane innings, Pearson suffered a flexor tendon strain in mid-August and didn't return until the postseason. That two-inning stint against the Tampa Bay Rays was exciting because Pearson's stuff was back — even in a short stint — and he looked like the potential ace he is.
2021 OUTLOOK: This is a tricky one and Pearson's workload and usage will be a story all season long. The Jays will be careful with their prized possession due to the elbow scare, but throwing just 20 total innings last year doesn't exactly put Big Nate in a position to ramp up in a big way in 2021. I've never looked at the bullpen as a near-term option for Pearson, but there's an argument to be made that 100-ish high-octane innings either as a short-stint starter or a multi-inning 'pen weapon would best serve his development this season — I repeat: this season only — and put him on track to be a full-time rotation piece in 2022. The stuff is scary good when he's healthy and the ceiling is huge, but patience may be a virtue here.
ETA: Debuted in 2020

2019 RANK

N/A

2020 RANK

N/A

AGE

21

ACQUIRED

2020 Draft
Expected starting affiliate: High-A
2020 GOSSIP: After agreeing to the largest bonus in franchise history at just north of $7 million, Martin would've likely made his way to High-A as an advanced college bat. That would've set him up to start 2021 in Double-A and leave him a hot couple of months away from a quick big-league debut. That's the pie-in-the-sky scenario if he adapted quickly to professional pitching, which most think he will. His time at the alternate site seemed to reinforce that. Everything matched up with the college scouting report. Martin was having good at-bats against far more advanced pitching than he would've faced in the minors in a normal year, showing a line drive approach but not much game power.
2021 OUTLOOK: It will be interesting to track Martin's statistical profile, especially the pop, when minor league games start, but the clear storyline for Martin is his position. The versatility he brings was an attraction, allowing the Jays to develop him at a number of spots and then fit him into the major league lineup when the time comes. The Jays' philosophy is to keep amateur shortstops at that spot as long as possible, so Martin will see time at shortstop, but there isn't much belief that's where he'll end up long-term. When he showed up at summer camp in Toronto in July, he immediately worked at third base and took reps in left field. Third and outfield seem to be the priority as they work to get him comfortable, but a lot of scouts see a second baseman. How the power manifests will decide whether he's a star or more of an across-the-board valuable player. My personal comp for him since the draft has been Alex Bregman … if the power shows up. Bregman faced similar questions about the pop as the second-overall pick in the 2015 draft and then went out and erased those concerns with 14 homers in his first 62 games at Double-A, taking off from there and arriving in the big leagues at the tail end of his first full professional season.
ETA: Late 2022

2019 RANK

7

2020 RANK

2

AGE

21

ACQUIRED

2018 Draft
Expected starting affiliate: Double-A
2020 GOSSIP: Groshans falls one spot on this list from last year, but that has everything to do with Martin just being that good and that advanced. Groshans actually had an impressive year, showing a whole lot of pop and generally impressing in every which way for a player who only has 96 plate appearances in full-season ball and missed most of 2019 with a foot injury. I can make a case for Groshans being the best prospect in this system and a full season of minor league production could have him eyed as one of the best prospects in the game a year from now.
2021 OUTLOOK: Like Martin above and Orelvis Martinez below, Groshans has been developed as a shortstop up to this point, but the body type and skillset fit like a glove at third base. At summer camp in July, just like Martin, Groshans immediately was sent to the hot corner for reps and he just looks the part. With Pearson graduating from this list relatively quickly, it's Martin and Groshans vying for the title of top prospect in the system a year for now and you can make a strong case for either one. Getting game reps and at-bats in the high minors is important for Groshans this year. Could Groshans go out and mash in the first half of the season and force his way into the conversation earlier than 2022? Definitely. The reports from Rochester were that good.
ETA: Late 2022

4. 3B/SS Orelvis Martinez
2019 RANK

14

2020 RANK

3

AGE

19

ACQUIRED

IFA 2018
Expected starting affiliate: Low-A Dunedin
2020 GOSSIP: This type of gossip is the good stuff right here. As the story goes from a number of witnesses when Martinez arrived at the alternate site late in the season just to get some experience, the then-18-year-old swung and missed on the first nine pitches he saw, striking out four times in his first four at-bats. The next day, he at least made some contact. On the third day, a couple hard hit balls including his only home run during the short ALT site experience.
2021 OUTLOOK: That anecdotal evidence of a young player learning on the job against the most advanced pitching he's ever seen — don't forget, the ALT site was littered with major-league depth arms and pitchers with tons of big-league experience, not teenagers — is type of incremental progress coaches love to see, even if it doesn't mean much. Other than that, Martinez's profile hasn't changed a lot. His exit velocities are big for a player his age and loud contact from the right side of the box is a regularity with the 6-foot-1, 190-pound teenager. It's not breaking any news to say his prospect status could really take off nationally in full-season ball this summer.
ETA: 2023

2019 RANK

43

2020 RANK

7

AGE

22

ACQUIRED

IFA 2016
Expected starting affiliate: MLB Toronto
2020 GOSSIP: The hype train started when he was given an invite to big-league spring training last February and impressed. Then, at the ALT site, the portly right-handed hitter with the .315 career average in the minors continued to find barrel after barrel, forcing Blue Jays' decision-makers to reevaluate the production they were getting from their MLB catching trio of Danny Jansen, Reese McGuire and Caleb Joseph. Kirk ended up debuting Sept. 12 against the New York Mets, and then really stood out a little more than a week later when he went 4-for-4 against the Yankees with his first career homer.
2021 OUTLOOK: Kirk's debut was splashy, and teams have been after him in trade talks for well over a year now, but all you have to do is look at the ZiPS projections on FanGraphs to understand just how valuable the bat can be as the 22-year-old is currently projected to be the seventh most valuable catcher in baseball this coming season. The ability to put the barrel on the baseball is simply special and it might even out any concern the Jays have about his ability to control a running game over the course of a long season. Getting in better shape will be a priority and Kirk has apparently already received that message this winter.
ETA: Debuted in 2020

2019 RANK

37

2020 RANK

8

AGE

20

ACQUIRED

IFA 2016
Expected starting affiliate: Double-A New Hampshire
2020 GOSSIP: There wasn't a bigger off-the-radar star internally for the Blue Jays than this young Venezuelan backstop, one who's just now starting to scratch the surface of his potential at the plate. Not only was he described multiple times as the "best hitter" in Rochester last summer, but apparently even the rehabbing Bo Bichette were stunned by his loud contact. The former infielder is also athletic enough to not look out of place at third base, and he's expected to continue taking ground balls in the future just as a way to maybe develop a little bit more versatility. But don't get it twisted, he's a catcher. Potentially a very good one with some more polish.
2021 OUTLOOK: Added to a loaded 40-man roster at the catcher position, Moreno has Jansen, McGuire, Kirk and Riley Adams ahead of him. He's also never had a minor-league at-bat above Low-A, so despite his drool-worthy summer, the Jays will take this one slow. Considering the situation, he might be used as a trade chip and teams have already been clamouring to get their hands on him. Based on the reports, he's too low on this list, but the guys ahead of him have done nothing to be bumped down.
ETA: 2023

7. RHP Simeon Woods Richardson
2019 RANK

N/A

2020 RANK

4

AGE

20

ACQUIRED

2019 Trade
Expected starting affiliate: Double-A New Hampshire
2020 GOSSIP: Woods Richardson showed up at summer camp in Toronto in July and immediately impressed in intrasquad and live BP sessions, showing an advanced idea of what he's doing on the mound for a pitcher who was still just 19 at the time. During his time in Rochester at the ATS, there were flashes, but the focus was on breaking ball command. He's throwing both a curveball and slider, two pitches that are behind his fastball/changeup combo.
2021 OUTLOOK: This year will be about Woods Richardson refining and putting it all together in the upper minors during what still will be just his age-20 season. If he finds a dominant strikeout pitch, look out. With any young pitcher, when he gets a big league opportunity will depend a lot on what happens ahead of him and the health of others, but SWR doesn't seem to be far off even if he begins in Double-A.
ETA: Late 2021

2019 RANK

N/A

2020 RANK

5

AGE

23

ACQUIRED

2019 Draft
Expected starting affiliate: Double-A New Hampshire
2020 GOSSIP: Manoah arrived late at the ALT site in Rochester due to some pandemic-related issues, so it wasn't a heavy workload for their 2019 first rounder last summer. His slight fall on this list has everything to do with Austin Martin being drafted and two catchers having sensational summers, rather than anything Manoah did or didn't do. He also attended a throwing camp in the fall to get some more work.
2021 OUTLOOK: The organization's lone goal with the hulking and confident 6-foot-6, 260-pounder this season is to get him used to pitching every fifth day and go from there. The combination of his power fastball and slider gives him a great base to start with and considering his age and college pedigree, there's no reason not to test him, despite his relative lack of experience with just 17 pro innings thanks to the pandemic. Like most young power pitchers, how the changeup develops will be key to his rotation future, but many still point to a high-leverage reliever role, especially if the Jays are contending. That's the new wrinkle with the developmental timelines of the Jays' young arms — the needs and goals at the big-league level have now changed and that will affect how they view some pitchers who could contribute sooner rather than later in maybe different ways than were originally planned.
ETA: Late 2022

2019 RANK

15

2020 RANK

10

AGE

20

ACQUIRED

IFA 2017
Expected starting affiliate: Low-A Dunedin
2020 GOSSIP: Forever ago, when the 2019 minor league season ended, Hiraldo and shortstop Leonardo Jimenez were elevated to Low-A for one game, introducing them to full-season ball for the first time. This summer, Hiraldo's goal was to add a little bit more loft to his swing, something that would help his bat-first profile add more pop. The pandemic wiped out any chance of really knowing if that happened, but like a large number of players on this list, it's a stock neutral situation from last year until these guys get back into games.
2021 OUTLOOK: Viewed by some as one of the top bats in the 2017 international class, Hiraldo doesn't get a lot of prospect buzz. The bat speed and contact ability, combined with emerging power, have made him one of my favourite prospects to track and ask about over the past couple of years and that won't change at all this summer. There's a glut of infielders around Hiraldo's level and he should continue to see time at both second base and third base.
ETA: 2023

2019 RANK

N/A

2020 RANK

N/A

AGE

22

ACQUIRED

2020 Draft
Expected starting affiliate: High-A Vancouver
2020 GOSSIP: Popped in the second round of last year's unique draft, the Jays brought Van Eyk to the Florida Development League in the fall where he threw one inning. It may have only been one frame, but it has many excited to see the Florida State product on the mound in game action this year. It was very apparent to those who saw him that Van Eyk had worked on his body between the June draft and arriving in Dunedin, where Van Eyk was showing a starter's repertoire with a four-pitch arsenal that includes a four-seamer, curveball, slider and changeup.
2021 OUTLOOK: Normally, a college arm would start his first full professional season in High-A, but this year is as murky as ever, especially with the start of the 2021 minor league season completely up in the air at this point and pitcher workloads in question at every level. Van Eyk is a breakout candidate.
ETA: 2023