TSN's top 50 Toronto Blue Jays prospects: 31-50
TSN's Scott Mitchell digs into the farm system to rank the top 50 Blue Jays prospects in a series of three pieces. Up today are names 31 through 50 with 11-30 coming Wednesday and the top 10 on Thursday.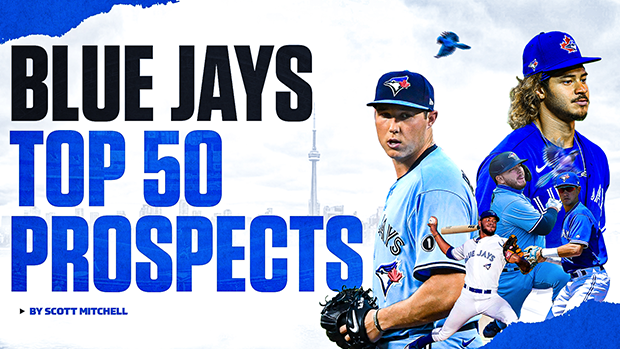 By: Scott Mitchell
TORONTO — At the major-league level, things have changed.
The Toronto Blue Jays have very clearly shifted from the teardown stage to the process of building, spending and adding, but that doesn't mean the rebuild is complete.
Far from it.
Rome wasn't built in a day, a season or one off-season, and that rings true for the Jays.
From Hyun-Jin Ryu a year ago to the coup that is George Springer this winter, the Jays have not yet reached the stage where they're employing an all-in approach like the San Diego Padres.
But that day will come, maybe as soon as this summer's trade deadline or possibly next winter, depending how things go.
There are a lot of variables at play.
One thing that hasn't changed — and won't — is the focus on drafting, signing and developing young players in order to build a sustainable winner, a year-in, year-out contender that can produce cheap, young talent.
The one thing that will change is what they do with that young talent.
It's a shift we've seen the Padres make and eventually the Jays will start using prospects as trade chips, something GM Ross Atkins & Co. have been hesitant to do up to this point because of the timing.
That day will come, and when it does, the Jays currently have a strong enough pipeline that will allow them to be in on every big name — very likely top-of-the-rotation starters — that hits the trade market.
For the third year in a row, this list runs 50 deep.
Two years ago, it was led off by those kids with the last names everyone couldn't stop talking about. Last year, it was Nate Pearson at the top.
This project is a labour of love and it seems to grow each and every year thanks to the interest.
A quick shout-out to you, the readers, for making it worth it, as well as the many sources who give me their time in December and January as I talk their ears off about a large group of players that usually runs about 75 deep when I begin.
This list is built with a combination of personal opinion, preference, and the knowledge of many baseball people who are much smarter than I am.
Instead of dropping it all at once like the last two years, this time around we'll roll out the 50 names in three instalments over the course of three days.
Today it's 31-50.
Enjoy!
TOP 50 BY POSITION
Catchers: 7
Corner infielders: 4
Middle infielders: 10
Outfielders: 5
Pitchers: 24

HOW THEY WERE ACQUIRED
Trade: 5
MLB Draft: 21
International free agency: 22
Rule 5 Draft: 1
Undrafted free agent: 1

GRADUATED (3): LHP Anthony Kay (6); SS Santiago Espinal (18); RHP Thomas Hatch (20).

GONE (8): RHP Kendall Williams (11; traded to Los Angeles Dodgers in Ross Stripling deal); OF Griffin Conine (13; traded to Miami Marlins in Jonathan Villar deal); RHP Josh Winckowski (22; traded to New York Mets in Steven Matz deal); OF Anthony Alford (27; claimed off waivers by Pittsburgh Pirates); RHP Hector Perez (32; traded to Cincinnati Reds for cash/PTBNL); RHP Yennsy Diaz (33; traded to New York Mets in Steven Matz deal); OF Alberto Rodriguez (HM; traded to Seattle Mariners in Taijuan Walker deal); LHP Travis Bergen (HM; traded to Arizona Diamondbacks in Robbie Ray deal).

FELL OFF (7): LF/1B Ryan Noda (34); 2B/SS Logan Warmoth (38); OF Forrest Wall (39); SS Kevin Vicuna (42); 3B/2B Cullen Large (43); RHP Kyle Johnston (44); OF Robert Robertis (49).

2021 AFFILIATE LEVELS
Triple-A: Buffalo Bisons
Double-A: New Hampshire Fisher-Cats
High-A: Vancouver Canadians
Low-A: Dunedin Blue Jays
Dominican Summer League: One full affiliate/one shared affiliate
Complex league in Florida: Replacing short-season affiliates

2019 RANK

46

2020 RANK

25

AGE

25

ACQUIRED

2016 Draft
Expected starting affiliate: Triple-A Buffalo
2020 GOSSIP: Last year, this blurb area was called "2019 rewind," but in this very unique year, I've changed it to "2020 gossip" since there was no minor-league season, no statistical profiles to delve into and, really, no concrete info on how young players progressed. Even at the best of times, concrete and trustworthy info on prospects isn't easy to track down. A large group of the names on this list showed up at the Jays' alternate site in Rochester, which featured a few standouts, but it's a murky picture for prospects across the league heading into 2021. Palacios was one of those standouts. The good reports on the left-handed hitter started early last summer, as he impressed coaches at the alternate site in Rochester right off the hop. Some thought he was one of the most impressive bats there and it earned him a promotion to the big club's taxi squad as outfielder insurance in September. By all accounts, the former Auburn Tiger used his time wisely and really cemented his stock in the organization's eyes over the past calendar year with his work ethic.
2021 OUTLOOK: Added to the 40-man roster in November, Palacios is on the doorstep of the big leagues and the depth chart ahead has him an injury away. The lefty hitter may never profile in an everyday role and is best suited for left field, but he's hit same-side arms very well during his minor-league career and got back to spraying the ball around the field against the most advanced pitching he's ever seen last summer. A right-handed heavy big-league roster may help him earn opportunities this year.
ETA: Late 2021

2019 RANK

N/A

2020 RANK

48

AGE

18

Acquired

IFA 2019
Expected starting affiliate: Complex
2020 GOSSIP: When Blue Jays' decision-makers saw Brito for the first time in the Dominican Republic, he put on a power display that was hard to forget. Using a wide base stance that you could compare to Jeff Bagwell if you're as old as me, Brito's penchant for hard contact is the allure here.
2021 OUTLOOK: The Jays' plan is to develop Brito as a third baseman, but he could land in right field one day. Keep in mind, even if it works out, that day is going to be a long way away. Set your timers and check back in a couple years. The fact he's already this high says a lot.
ETA: 2026

2019 RANK

N/A

2020 RANK

N/A

AGE

25

ACQUIRED

2018 Draft
Expected starting affiliate: Double-A New Hampshire
2020 GOSSIP: This is a pitcher where there was a tangible change in stuff that was covered up by the obscurity of 2020 pandemic baseball. Drafted in the 12th round in 2018 out of the University of Iowa, the left-hander wasn't really on the radar after producing a 3.95 ERA across 22 starts as a 23-year-old at High-A Dunedin in 2019. But this past summer, Allgeyer experienced a velocity bump, going from 89-91 mph to touching 95 and sitting 92-93, thanks in part to the focus he was able to put into it during the pandemic. Previously, he was seen as an athletic pitcher who showed control and pitchability, but nothing close to the stuff he started to show in 2020.
2021 OUTLOOK: Described as one of the hardest workers in the system, the stuff playing up last year makes him one of the arms to watch early on when minor-league games start. If the velocity bump stabilizes and he comes out touching mid-90s from the left side again, the Jays might have an eventual No. 4 starter on their hands.
ETA: 2023

2019 RANK

22

2020 RANK

23

AGE

20

ACQUIRED

2018 Rule 5 Draft
Expected starting affiliate: Double-A New Hampshire
2020 GOSSIP: Remember this guy? Thrown into an impossible situation in 2019 as a 19-year-old Rule 5 draft pick who had to stick the whole year on the major league roster or be returned to the Kansas City Royals, the Jays — thanks to not caring one bit about results during a 67-win season — managed to keep him around, which would have allowed them to send Luciano back to the minors in 2020 to continue his development as a starter. While that didn't quite happen thanks to the pandemic, by all accounts Luciano made strides at the alternate site, finding some consistency with both his breaking ball and changeup. He then looked pretty good in the Dominican Winter League in a small sample size.
2021 OUTLOOK: The smooth delivery and all the reasons the Jays liked him enough to take a chance — outlined here and here — are still there. Getting into a starter's routine and workload is the goal this year.
ETA: Late 2022

2019 RANK

N/A

2020 RANK

N/A

AGE

26

ACQUIRED

Undrafted FA 2018
Expected starting affiliate: Triple-A Buffalo
2020 GOSSIP: Handed a measly $1,000 to sign out of the University of Hawaii, Rees came out of nowhere in 2019 to post a ridiculous 0.73 ERA across two levels, finishing the year against top prospects in the Arizona Fall League. You're probably asking why he wasn't ranked on last year's list then. Well, the answer is human error — and I'm that human. There are two reasons for that. First, he doesn't feature a power arsenal, instead using deception and a funky delivery to strike out 88 batters and limit the damage to just 40 hits across 61.2 innings in 2019. Secondly, Rees is strictly a one-inning reliever, and those types are inherently pushed down on prospect lists for higher-upside types. With bullpens taking on more prominent roles around baseball and the Jays one of the teams looking to use good pitchers creatively, potential quality relievers — whether it's one-inning guys or multi-inning weapons — will show up here more often. I promise.
2021 OUTLOOK: Rees has to simply get outs in the high minors and prove the deception works. Easier said than done. At the age of 26 and needing to be added to the 40-man next winter, there's no reason to think Rees won't show up in the majors soon if he's getting results at Triple-A.
ETA: Late 2021

2019 RANK

N/A

2020 RANK

N/A

AGE

25

ACQUIRED

2019 Trade
Expected starting affiliate: Triple-A Buffalo
2020 GOSSIP: Dealing with an elbow injury at the time he was acquired from the Rays in the Eric Sogard trade, the Port Coquitlam, B.C., product showed up on the Fall Development League roster and finally pitched in a Jays' uniform. The 6-foot-6, 240-pounder reportedly didn't stand out by any means, but he was healthy and on a mound. That's the important thing.
2021 OUTLOOK: When the Jays traded for Taylor, he was already being groomed by those crafty Rays as a multi-inning reliever, throwing two-to-three innings at a time. That hasn't changed in the Jays org and the pie-in-the-sky scenario is a power arm who gets strikeouts in bunches across a couple of innings. Taylor, when healthy, has already had success at Double-A so he's not far off.
ETA: Late 2021

2019 RANK

33

2020 RANK

37

AGE

23

ACQUIRED

2016 Draft
Expected starting affiliate: Double-A New Hampshire
2020 GOSSIP: Despite the shutdown, Young managed to get hurt twice, including his Australian winter league stint with the Canberra Cavalry ending due to a foot injury that, as of right now, isn't expected to impact his season. The switch-hitter profiles a bit differently depending which side of the box he's standing in. A product of the Bahamas who will be a Kevin Pillar-type diamond-in-the-rough draft story if he makes it, Young is a better hitter from the left side but shows more pop from the right.
2021 OUTLOOK: The speed and defence will carry him, but Young's bat is far from light and if he can get back to the approach that led him to a .285/.363/.445 slash line in Low-A Lansing in 2018 in the upper minors, he'll be firmly on the radar as a major-league bench piece.
ETA: 2022

2019 RANK

45

2020 RANK

36

AGE

22

ACQUIRED

2017 Trade
Expected starting affiliate: Double-A New Hampshire
2020 GOSSIP: Taylor is polarizing. Some love him, some aren't very high on him at all. Acquired from Cleveland way back in 2017 at the trade deadline in exchange for reliever Joe Smith, Taylor's game is built on two things: speed and the ability to work a walk. With that in mind, the Jays feel like he made big strides with controlling the zone and his contact rate with some behind-the-scenes adjustments this past year.
2021 OUTLOOK: A productive stint in the Australian Baseball League this winter produced a slash line of .288/.376/.397 with a homer and three steals in 21 games, but Taylor's bat will be tested in a big way at Double-A. After spending the majority of his minor league time at second base, Taylor also put his wheels to use in centre field for the first time Down Under, as the Jays attempt to develop his defensive portfolio.
ETA: 2023

2019 RANK

N/A

2020 RANK

40

AGE

21

ACQUIRED

IFA 2015
Expected starting affiliate: Double-A New Hampshire
2020 GOSSIP: Listed at 6-foot-2, 256 pounds, the best way to describe Castillo is he simply has the ability to pitch. The stuff isn't sexy, but he induces weak contact, and he knows how to get results, posting a 2.69 ERA across 130.1 innings in High-A in 2019.
2021 OUTLOOK: The type of prospect that we be forced to prove it at every level along the way, Double-A will be a stiff challenge for Castillo as he starts to face more advanced hitters. If he continues to get results with his sinker in New Hampshire, he'll have more believers.
ETA: 2023

2019 RANK

N/A

2020 RANK

N/A

AGE

19

ACQUIRED

IFA 2018
Expected starting affiliate: Low-A Dunedin
2020 GOSSIP: One of the youngest players to show up in the Northwest League in 2019, the 5-foot-10, 165-pounder impressed in his one start against competition more than four years older than him on average, striking out four, walking a pair and allowing just four hits across five one-run innings.
2021 OUTLOOK: Everyone loves comparisons, so here's one: Components of Garcia's delivery, stature and competitiveness remind some of prospect-era Marcus Stroman. That's a compliment, and it also notes his small stature, even if he's not 5-foot-7 like the Stro Show. Currently sitting 91-92 mph with two emerging secondary pitches, he's one to watch this year.
ETA: 2024

41. RHP Roither Hernandez
2019 RANK

N/A

2020 RANK

N/A

AGE

22

ACQUIRED

IFA 2016
Expected starting affiliate: High-A Vancouver
2020 GOSSIP: With a 4.91 ERA across three very short seasons in rookie ball, Hernandez hasn't exactly produced results just yet. Across 12 starts in 2019 in the Appalachian League, the wiry 6-foot-4 righty limited the hard contact, but the command escaped him frequently, nothing new for a rookie-ball arm. He's a fastball/slider pitcher and while he's regularly been clocked in the upper-90s, one unconfirmed radar gun reading had him touching 101 mph and he threw in Dunedin in the Fall Development League to finish out 2020.
2021 OUTLOOK: Consistency is the key for Hernandez and the Jays will work to harness the velocity that's likely to land him in a bullpen role eventually.
ETA: 2023

2019 RANK

N/A

2020 RANK

N/A

AGE

20

ACQUIRED

IFA 2016
Expected starting affiliate: Complex
2020 GOSSIP: A converted outfielder, Paulino best's attribute is that he's a southpaw, but his ability to throw strikes has been impressive relative to his experience level. Suspended 72 games in November of 2017 for PEDs — Jol Concepcion, found in the honourable mention section below was also suspended for the same substance, Boldenone — the undersized lefty threw 40 frames for Bluefield in 2019, before showing up in the developmental league in Florida this past fall.
2021 OUTLOOK: Paulino's development will take time, but he's the type of prospect the Jays like, with a fastball that plays up more than the 90-mph radar gun readings would suggest.
ETA: 2024

2019 RANK

38

2020 RANK

31

AGE

20

ACQUIRED

IFA 2017
Expected starting affiliate: Complex
2020 GOSSIP: Pushed up this list the last couple of years as a potential breakout arm within the organization, the 6-foot, 175-pound righty is still really raw, and it has shown. At times, there has been flashes of explosive stuff, but the command and consistency come and go, as with many young arms.
2021 OUTLOOK: He could start on the backfields, but after struggling as an 18-year-old with 15 walks in 21 innings at rookie-level Bluefield, this year is all about refining and smoothing out just about everything for the young Venezuelan. He's still one tweak away from a breakout, but you can say that for just about everyone.
ETA: 2025

2019 RANK

N/A

2020 RANK

41

AGE

21

ACQUIRED

2019 Trade
Expected starting affiliate: Low-A Dunedin
2020 GOSSIP: Picked up from the Rays in the Sogard trade at the deadline in 2019, Gonzalez's numbers from the New York Penn League that season jump off the page. Across 62.1 innings, the slight Panamanian — he's listed at just 5-10, 160 pounds — ran up a 11.1 K/9 and limited the walks at just 1.9 BB/9, leading to a shiny 2.45 ERA.
2021 OUTLOOK: Despite those numbers, Gonzalez is more polish than projection and stuff. He's the type of prospect that could sneak up on everyone or be off this list completely next year. Full season ball will help unfold the next chapter of his prospect status.
ETA: 2024

2019 RANK

50

2020 RANK

47

AGE

19

ACQUIRED

IFA 2018
Expected starting affiliate: Low-A Dunedin
2020 GOSSIP: We start a catcher run here, and for context you need to consider the progress of the two guys atop this list — Kirk (No. 43 in 2019) and Moreno (No. 37 in 2019) — to understand how quickly these next two names could move up if things click. It's pretty clear the Jays have an eye for catchers, especially on the international market, and even though D'Orazio struggled with the bat during his 34-game cameo in the GCL back in 2019, the long, lean, 6-foot-1 Venezuelan is very raw, so it's not a surprise.
2021 OUTLOOK: After finishing in the GCL in 2019, D'Orazio will likely appear in full season ball at some point this year, depending how the catcher depth chart takes shape in front of him.
ETA: 2026

2019 RANK

N/A

2020 RANK

N/A

AGE

18

ACQUIRED

IFA 2019
Expected starting affiliate: Complex
2020 GOSSIP: At 5-foot-9, Mesia has all the tools needed to be an everyday backstop, showing exciting pop at a young age from the right side and at a premium position. His name came up repeatedly when asking about potential breakouts, but it may be 2022 rather than this year.
2021 OUTLOOK: Within the new minor-league restructuring, the majority of young players who aren't ready for the four full-season affiliates will spend their time in Dunedin honing skills on the backfields and playing games against other young prospects or being sent to the Dominican Summer League, where the Jays have one full affiliate as well as a shared co-op affiliate with another MLB club. Mesia has a chance to make a Gabby Moreno-like rise.
ETA: 2026

2019 RANK

N/A

2020 RANK

46

AGE

22

ACQUIRED

2019 Draft
Expected starting affiliate: High-A Vancouver
2020 GOSSIP: Nicknamed 'The Hitman' during his time at Vanderbilt, Clarke is another name that gets a bit buried on a deep catching depth chart in this organization. Picked in the ninth round two years ago, Clarke was handed fourth-round money by the Jays, showing just how much they like him. There's power, plate discipline and he doesn't strike out a whole lot, evidenced by his quick trip to Vancouver to finish out 2019.
2021 OUTLOOK: The lefty bat is well ahead of the glove at this point, but there's a chance 2021 could be a breakout year for Clarke and he'll end up being way too low on this list. He's a name to pay attention to.
ETA: 2023

2019 RANK

N/A

2020 RANK

N/A

AGE

22

ACQUIRED

2020 Draft
Expected starting affiliate: Low-A Dunedin
2020 GOSSIP: Pushed up the draft board in order to save some money for fifth-overall pick Austin Martin's record signing bonus, the Jays nabbed Britton with their final pick in the shortened five-round draft last summer. A 6-foot-1, left-handed bat out of the University of Louisville, Britton was having a productive campaign through 17 games last spring for the Cards, slashing .322/.446/.542, before the shutdown.
2021 OUTLOOK: Britton showed up to Louisville as a catcher/outfielder/first baseman, but he hasn't been behind the plate since 2018. The Jays, however, will try him as a catcher in his first professional season this year, and he's also likely to dabble in the outfield.
ETA: 2024

2019 RANK

N/A

2020 RANK

N/A

AGE

16

ACQUIRED

IFA 2021
Expected starting affiliate: Complex
2020 GOSSIP: A wiry 6-foot-3 already, Gimenez won't even turn 17 until a few days after this list lands on the World Wide Web. The last couple of years I've reserved the last couple spots on this list for the newly-signed international class and this year is no different. There's a very good chance the right-handed hitter isn't a shortstop when all is said and done in half a decade, but the bat could project at multiple spots if it works out.
2021 OUTLOOK: The Venezuelan teen will spend the year on the backfields, developing his skills and dealing with the transition to the professional ranks.
ETA: 2027

2019 RANK

N/A

2020 RANK

N/A

AGE

16

ACQUIRED

IDA 2021
Expected starting affiliate: Complex
2020 GOSSIP: Signed last month alongside Manuel Beltre (No. 25) and Gimenez (No. 49) during the shifted J15 international signing period, Aponte is a Venezuelan defensive wizard, wowing onlookers during a showcase with his routes and feel in centre field at such a young age. There were even Jackie Bradley Jr. comps thrown around.
2021 OUTLOOK: See Gimenez above. Aponte won't be seen or heard from — except maybe on lists like this — for a couple years.
ETA: 2027
HONOURABLE MENTION: 1B Spencer Horwitz; RHP Adrian Hernandez; RHP Michael Dominguez; LHP Jimmy Robbins; RHP Hobie Harris; LF/1B Ryan Noda; 2B/SS Logan Warmoth; SS Kevin Vicuna; 3B Cullen Large; RHP Jol Concepcion; RHP Luis Quinones; RHP Anders Tolhurst; OF Robert Robertis; OF Cristian Feliz; RHP Dahian Santos; LHP Zach Logue.
ARMS: RHP Ty Tice; RHP Anthony Castro; RHP Jiorgeny Casimiri; RHP Emanuel Vizcaino; LHP Rafael Monsion; RHP Juan de Paula; RHP Yunior Hinojosa; RHP William Gaston; RHP Kyle Johnston; RHP Justin Maese; RHP Nick Fraze; RHP Troy Watson; RHP Sean Wymer; RHP Andrew Sopko; RHP Mitch McKown; RHP Troy Miller; RHP Fitz Stadler; RHP Jon Harris; RHP Graham Spraker; RHP Alex Nolan; RHP Jackson McClelland; RHP Brad Wilson; LHP Kirby Snead; RHP Bryan Baker; RHP Cre Finfrock; RHP Mike Ellenbest; RHP Connor Law; RHP Maverik Buffo.
BATS: C Christopher Bec; C Ryan Sloniger; C/1B Hagen Danner; C Ryan Gold; 1B PK Morris; 2B L.J. Talley; 2B Adrian Montero; 3B Angel Camacho; 3B Davis Schneider; 3B Rainer Nunez; 3B Johnny Aiello; 3B Nick Podkul; SS Sebastian Espino; SS Glenn Santiago; SS Ronny Brito; SS Rafael Lantigua; SS Cameron Eden; SS Addison Barger; SS Jose Rivas; OF Brock Lundquist; OF Eric Rivera; OF Demi Orimoloye; OF Yhon Perez; OF Justin Ammons; OF Steward Berroa; OF Jhon Solarte; OF Gabriel Martinez; OF Amell Brazoban; OF Mc Gregory Contreras.