TSN's top 50 Blue Jays prospects: 11-30
TSN's Scott Mitchell digs into the farm system to rank the top 50 Blue Jays prospects in a series of three pieces. Up today are names 11 through 30 with the top 10 arriving on Thursday.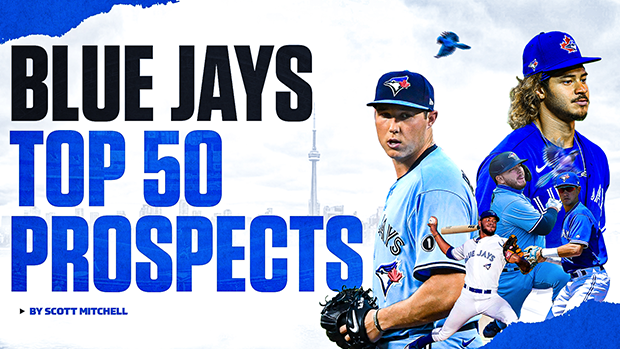 By: Scott Mitchell
TORONTO — After kicking things off with the back end of the list yesterday, we move to the meat of the top 50 prospects in the Jays' system and the group that's one breakout season away from moving into the top 10.
This area is highlighted by a number of potential breakout arms, something the club would desperately love to see happen, as well as a talented group of shortstops that should stay up the middle.
Without further ado, here's 11-30.
TOP 50 BY POSITION
Catchers: 7
Corner infielders: 4
Middle infielders: 10
Outfielders: 5
Pitchers: 24
HOW THEY WERE ACQUIRED
Trade: 5
MLB Draft: 21
International free agency: 22
Rule 5 Draft: 1
Undrafted free agent: 1
GRADUATED (3): LHP Anthony Kay (6); SS Santiago Espinal (18); RHP Thomas Hatch (20).

GONE (8): RHP Kendall Williams (11; traded to Los Angeles Dodgers in Ross Stripling deal); OF Griffin Conine (13; traded to Miami Marlins in Jonathan Villar deal); RHP Josh Winckowski (22; traded to New York Mets in Steven Matz deal); OF Anthony Alford (27; claimed off waivers by Pittsburgh Pirates); RHP Hector Perez (32; traded to Cincinnati Reds for cash/PTBNL); RHP Yennsy Diaz (33; traded to New York Mets in Steven Matz deal); OF Alberto Rodriguez (HM; traded to Seattle Mariners in Taijuan Walker deal); LHP Travis Bergen (HM; traded to Arizona Diamondbacks in Robbie Ray deal).

FELL OFF (7): LF/1B Ryan Noda (34); 2B/SS Logan Warmoth (38); OF Forrest Wall (39); SS Kevin Vicuna (42); 3B/2B Cullen Large (43); RHP Kyle Johnston (44); OF Robert Robertis (49).

2021 AFFILIATE LEVELS
Triple-A: Buffalo Bisons
Double-A: New Hampshire Fisher-Cats
High-A: Vancouver Canadians
Low-A: Dunedin Blue Jays
Dominican Summer League: One full affiliate/one shared affiliate
Complex league in Florida: Replacing short-season affiliates

11. RHP Adam Kloffenstein
2019 RANK

13

2020 RANK

12

AGE

20

ACQUIRED

2018 Draft
Expected starting affiliate: High-A
2020 GOSSIP: As I've noted off the top in each of these, this blurb area was called "2019 rewind" last year but for obvious reasons — no minor league season, no statistical profiles to delve into and, really, no concrete info on how young players progressed — it's now a "gossip" section. Even at the best of times, concrete and trustworthy info on prospects isn't easy to track down. Many of the names high on this list showed up at the Jays' alternate site in Rochester, which featured a few standouts, but it's a murky picture for prospects across the league heading into 2021. With no room at the alternate site for an arm as far away as the 6-foot-5 Kloffenstein, the Jays instead agreed to let the big right-hander pitch in the Constellation Energy League, an independent league in Texas that featured a team put together by Roger Clemens. Of the 120 or so players toiling in the thrown together circuit, more than half of them had some sort of Triple-A time or MLB experience. That gave Kloffenstein, who the Jays monitored closely via TrackMan data and many check-ins, a chance to test himself. The ERA ended up above 6.00 in a small sample size, but in the end both the young pitcher and the club thought it was a good overall experience, making the best of a bad situation.
2021 OUTLOOK: It's already been three years since Kloffenstein was drafted and handed a huge over-slot bonus in the third round, so 2021 will be an important year for him as he enters full season ball and will attempt to ramp up the workload. Kloffenstein noted his velocity had ticked up from the 91-93 mph fastball he showed at short-season Vancouver in 2019, and he might get a ticket back there now that it's the High-A affiliate.
ETA: 2023

2019 RANK

N/A

2020 RANK

17

AGE

22

ACQURIED

IFA 2016
Expected starting affiliate: Double-A New Hampshire
2020 GOSSIP: Born in the Dominican, Lopez spent four years of his childhood growing up in Montreal before his family moved back home. The first word you usually hear to describe the 5-foot-10, 160-pounder is competitive. Whether it's energy on defence or competitive at-bats in the box, his tools don't stand out, but his work ethic and versatility do. His 2019 numbers at High-A kind of tell the story. In 492 trips to the plate, Lopez slashed .324/.371/.425 with five homers and 20 steals, striking out just 12.8 per cent of the time and also showing the ability to take a walk.
2021 OUTLOOK: Added to the 40-man roster in the off-season to shield him from Rule 5 draft poachers, that says everything you need to know about what the Jays think of Lopez. He's ready for Double-A and has a four-position portfolio of second base — his best position — shortstop, third base and outfield. The safe bet is utility player, but everyone I talk to believes there could be more in the bat, which is why he's at No. 12. He's a personal favourite.
ETA: 2022

13. RHP Julian Merryweather
2019 RANK

31

2020 RANK

35

AGE

29

ACQUIRED

2018 Trade
Expected starting affiliate: MLB Toronto
2020 GOSSIP: I promise I did not put Merryweather at No. 13 just because he's been perhaps the unluckiest prospect I've ever encountered. It's been setback after setback with his right arm for the 6-foot-4, 215-pounder, but when he finally did arrive on a major-league mound last August, Merryweather showed exactly why Jays' brass was so high on him two and a half years ago when they sent Josh Donaldson to Cleveland for him. He had unfortunately — and wrongly — become a punchline prior to that, but it's funny how debuting with a 98-mph fastball can change things. Once again, though, after punching out 12 hitters over his first 7.1 innings out of the bullpen for the Jays, Merryweather's fastball was down to 94-96 mph in his final two outings before he hit the IL with elbow tendinitis on Sept. 21.
2021 OUTLOOK: Despite yet another bump in the road for a prospect who will turn 30 years old in October — odds are I never write that sentence again in my life — Merryweather was trying to make it back for the postseason and the Jays are expecting him to be ready to go for spring training. The front office also wanted him stretched out as a starter coming into camp, but there's a high likelihood that's in an effort to use him in a multi-inning role, rather than as any sort of traditional 90-100 pitch starter. It's not a question of whether he's capable of that stuff-wise and delivery-wise, but the health concerns are obvious. If he can stay healthy, the high-octane fastball, smooth delivery and decent command will play at the back end of the bullpen for a long time, which, in this case, is into his mid-30s. I think he's a future closer, if those still exist.
ETA: Debuted in 2020

2019 RANK

N/A

2020 RANK

15

AGE

19

ACQUIRED

2019 Draft
Expected starting affiliate: Complex
2020 GOSSIP: The homegrown Oakville, Ont., kid possesses a rare combination of quick-twitch athleticism — think NFL cornerback here — elite speed, pop and plate discipline. It's the package of skills forced the Jays to hand him an over-slot bonus in the third round of the 2019 draft, desperately needing to add this type of outfield upside to the system. Right now, however, that package of skills is all just a tantalizing dream as the 19-year-old is about as raw as it gets.
2021 OUTLOOK: Still maturing physically, the right-handed hitter produced a .222/.444/.356 slash line with six steals in eight tries during his 14-game cameo in the GCL to finish out 2019. With the rookie-level affiliates now gone thanks to the MiLB restructuring, Brown will likely start his year on the complex backfields in Dunedin. Chances are good he lands in the same area of this list in 2022 and that's perfectly fine. The fact that he's at No. 14 already, ahead of a bunch of talented teenagers near the bottom of this list, shows just how high the ceiling is.
ETA: 2025

2019 RANK

N/A

2020 RANK

45

AGE

23

ACQUIRED

IFA 2019
Expected starting affiliate: Low-A Dunedin
2020 GOSSIP: If you're looking for a pitching prospect in this system who could break out in a big way and onto the national scene this summer, Zulueta is the guy. In some circles, he's already there. Signed in June of 2019 with the late international bonus pool money acquired by trading Kendrys Morales to the Oakland A's and Dwight Smith Jr. to the Baltimore Orioles, Zulueta underwent Tommy John surgery almost immediately — an issue the Jays were aware of at the time — so his prospect status hasn't had an opportunity to move much over the past year and a half. That started to change in the fall when the Cuban right-hander started ramping up when he was 15 or so months removed from surgery. In Dunedin, he was regularly touching high-90s with his heat, including one secondhand report of a session where he faced Vladimir Guerrero Jr. in November and hit 99 mph on the gun, drawing a bit of an oh-my look from Vladdy.
2021 OUTLOOK: Featuring high-90s heat and a hard curveball, the delivery is smooth enough to project as a starter. Being 23 years old, Zulueta is ready to be tested, even if the innings and pitch counts will be monitored closely in the early going.
ETA: 2023

2019 RANK

44

2020 RANK

30

AGE

24

ACQUIRED

2017 Draft
Expected starting affiliate: Triple-A
2020 GOSSIP: The catching prospect in the system no one talks about, Adams could have a long big-league career, albeit one that might not come with a lot of fanfare. There's also a chance he's much more than the 10-year backup many scouts see. A throwback-framed backstop at 6-foot-4, 225 pounds, Adams is athletic for his size and it serves him well in all areas, making him well-rounded across the board. If you see him in the box, the setup looks a lot like Kris Bryant's, a fellow University of San Diego alum. As far as the gossip goes, Adams bashed five home runs in the final couple weeks at the ALT site in Rochester, leading many to believe the best is yet to come with the bat.
2021 OUTLOOK: He doesn't possess the tantalizing upside of the two prized catching possessions ahead of him on this list, but Adams will be the primary backstop at Triple-A this season and is one call away from the big leagues after being added to the 40-man roster. His progress at the plate — particularly the power and strikeout rate — will be the aspect of his game to watch this summer.
ETA: 2022

2019 RANK

N/A

2020 RANK

19

AGE

24

ACQUIRED

2018 Draft
Expected starting affiliate: Triple-A Buffalo
2020 GOSSIP: The open-ended question I always start with is "Who should I be talking about more?" Murray's name always comes up. An unheralded eighth-round pick out of Kent State University, the Ohio native led the organization in strikeouts in 2019, whiffing 169 across 137.1 frames across three different stops. That's really good. But what's even better is he was doing that with a rising, high-spin fastball that was sitting in the 88-91-mph range. Last summer at the ATS, the goal was to simplify and clean up the delivery. He did that and his velocity jumped to the 91-93 range, according to multiple reports, even touching 95 at times. We'll see if that holds in 2021.
2021 OUTLOOK: The fastball and curveball really stand out in Murray's repertoire and he simply gets results. The Jays are hoping to get a traditional starter out of Murray in the end, but he could pitch in a valuable bat-missing multi-inning role thanks to the unique rising fastball that has given hitters fits up to this point.
ETA: Late 2021

2019 RANK

5

2020 RANK

16

AGE

24

ACQUIRED

2017 Draft
Expected starting affiliate: Triple-A Buffalo
2020 GOSSIP: Passed over in the Rule 5 draft back in December even though he's the type of profile teams love to take a chance on, Smith will get another chance to rebuild his prospect status with the organization that drafted him in the fourth round out of the University of Maryland in 2017. The 2018 breakout season that saw him hit 25 home runs and steal 29 bases feels like a long time ago now, and strikeout issues have plagued him since. After working with him at the ALT site, there are a few who believe he'll be able to tone down the swing-and-miss enough to be a glove-first utility player with some pop, which isn't a bad outcome.
2021 OUTLOOK: While strikeouts are a huge part of the game and completely accepted these days, striking out 32.3 per cent of the time in Double-A, as Smith did in 2019, is never a good sign. He'll get every opportunity to turn things around in Buffalo this year.
ETA: 2021

2019 RANK

N/A

2020 RANK

N/A

AGE

18

ACQUIRED

IFA 2019
Expected starting affiliate: Complex
2020 GOSSIP: Overshadowed during the 2019 international signing period by the $1.2 million bonus Rikelvin de Castro got, Machado has already taken a leap and proven to be the better hitter of the two, maybe by a wide margin. The Jays love the switch-hitter's swing from both sides of the plate and despite standing 5-foot-10, 170 pounds, there's some power potential here, too.
2021 OUTLOOK: It's going to be a while before Machado makes much of a mark on the national prospect scene as a potential top 100 candidate, but here's betting that happens. He's already looking like an exciting prospect.
ETA: 2025

2019 RANK

28

2020 RANK

28

AGE

19

ACQUIRED

IFA 2017
Expected starting affiliate: Low-A Lansing
2020 GOSSIP: The only bit of gossip you need to know on Jimenez is the fact he showed up to the Fall Development League in the Florida with added mass on a frame that was previously listed at 160 pounds, and then went out and hit a home run. That's notable because through 401 minor-league plate appearances in his two pro seasons, he had never popped one over the fence.
2021 OUTLOOK: There's an interesting glut of middle infielders the Jays will have to find reps for at the four affiliates this season, but Jimenez's glove and defensive instincts are by far his calling card. If the added strength manifests in more game power, he will find himself much, much higher on this list a year from now.
ETA: 2023

21. SS Rikelvin de Castro
2019 RANK

N/A

2020 RANK

29

AGE

18

ACQUIRED

IFA 2019
Expected starting affiliate: Complex
2020 GOSSIP: The glove is the calling card here, but before de Castro's prospect status has a chance of taking off, the skinny 150-pounder will have to mature and add some man strength to the frame. When that happens, there's an exciting package of tools to dream on, combined with excellent defensive instincts at shortstop.
2021 OUTLOOK: Having just turned 18 in January, de Castro is a slow burn prospect who'll probably have a stock neutral season and end up in a similar spot on this list next year.
ETA: 2025

2019 RANK

N/A

2020 RANK

N/A

AGE

21

ACQUIRED

2020 Draft
Expected starting affiliate: High-A Vancouver
2020 GOSSIP: Palmer was a bit of a surprise pick out of Jacksonville University, but the Jays went over-slot to sign him in the third round. At 6-foot-1, 230 pounds, he doesn't look like your prototypical starter, but he's athletic, repeats his delivery well and there are a ton of breakout markers here as his fastball can get up into the mid-90s.
2021 OUTLOOK: He's not Nate Pearson — not many are — but the fact Palmer has been seen more out of the bullpen than as a starter might leave some undiscovered upside, and one source even mentioned Big Nate's stock jump immediately after being drafted as a comparison. There are many people both inside and outside the Blue Jays' organization interested to see how he transitions into a full-time starter's role every fifth day.
ETA: 2023

2019 RANK

6

2020 RANK

9

AGE

20

ACQUIRED

IFA 2017
Expected starting affiliate: Rehabbing
2020 GOSSIP: After starring as a 15-year-old in the 2016 World Baseball Classic, the Jays handed the right-hander seven figures based on his smooth delivery and advanced pitchability. Through his first two professional seasons, the undersized Brazilian looked good but not great, and eventually underwent Tommy John surgery last February.
2021 OUTLOOK: Now about a year removed from the elbow surgery — and posting throwing progression videos on Twitter — the Jays will take things extremely slow with the 20 year old and he's not likely to see any sort of game action until May or June at the very earliest. If the stuff returns, combined with the smooth, repeatable delivery, he'll be a name to put back on the radar in 2022.
ETA: 2024

2019 RANK

N/A

2020 RANK

50

AGE

19

ACQUIRED

IFA 2019
Expected starting affiliate: Complex
2020 GOSSIP: Armed with a fluid delivery and pitching smarts beyond his years, the focus for Robberse is adding strength to his 6-foot-1, 160-pound frame. The velocity has already crept up from the high-80s to the low-90s and the projectable frame has many believing he's just scratching the surface.
2021 OUTLOOK: The Dutch right-hander won't be pushed hard, and changeup development will be the focus, but considering his impressive GCL debut in 2019, it wouldn't be surprising to see him succeed if he was sent to Low-A.
ETA: 2025

2019 RANK

N/A

2020 RANK

N/A

AGE

16

ACQUIRED

IFA 2021
Expected starting affiliate: Complex
2020 GOSSIP: He was the Jays' prize of last year's shifted July 2 international signing period, forcing the Dominican product to wait until Jan. 15 to officially sign. Ranked by MLB Pipeline as the 24th best prospect in this year's international class, when asking around about Beltre, the makeup was always the first aspect talked about. Beltre's personality is described as "infectious" and thanks to his extensive experience playing travel ball in the States, he's fluent in English and even acted as the translator for the rest of the 16-year-old J15 signings in Dunedin recently. That's impressive for anyone, let alone someone who's still working on his geography homework.
2021 OUTLOOK: Anyone who's been around Beltre raves about his love for the game, which bodes well for his ability to handle the inevitable failure that will come along with a long prospect journey. Skills-wise, the 5-foot-9, 155-pounder is seen as an advanced hitter for his age with the ability to stay up the middle defensively.
ETA: 2026

2019 RANK

24

2020 RANK

21

AGE

25

ACQUIRED

2013 Draft
Expected starting affiliate: Triple-A Buffalo
2020 GOSSIP: Way back in 2019, Murphy was on the verge of a potential recall for a spot start for the pitching-starved Jays before umpires deemed his toe-tap delivery to be illegal, forcing the 6-foot-4 right-hander to overhaul his mechanics. That's not easy and it took some time for Murphy to figure things out. After refining things at the ALT site last summer, Murphy made his big-league debut with four appearances out of the bullpen in late September, featuring a 96-97 mph fastball and a curve.
2021 OUTLOOK: Developed up to this point as a starter, Murphy's long-term future likely resides in the bullpen, where the fastball/hook combo would play up. But the Jays could continue to try to get him development innings in the rotation at Triple-A this year, and he'll be called upon to play a role at some point when depth is needed.
ETA: Debuted in 2020

2019 RANK

12

2020 RANK

14

AGE

25

ACQUIRED

2016 Draft
Expected starting affiliate: Triple-A Buffalo
2020 GOSSIP: Zeuch has had cups of coffee in the big leagues in each of the past two seasons, but hasn't shown the ability to miss enough bats to fill anything more than an innings-eating middle reliever role. Last summer, the Jays toyed with his mechanics and repertoire, leaving the 6-foot-7 right-hander as a work in progress.
2021 OUTLOOK: As a diehard New England Patriots fan, I have to give Zeuch a bit of a break, but it's an important year for the former first-round pick as he needs to find a way to generate enough whiffs with some sort of secondary pitch in order to give his worm-burning sinker more leeway.
ETA: Debuted in 2019

2019 RANK

N/A

2020 RANK

N/A

AGE

22

ACQUIRED

2020 Draft
Expected starting affiliate: Low-A Dunedin
2020 GOSSIP: An elbow injury sewered the Loyola Marymount product's draft stock last year, but the Jays saw a buy-low opportunity and grabbed the 6-foot-5 right-hander in the fourth round.
2021 OUTLOOK: The Jays have targeted college pitchers who maybe don't get a full opportunity to show their stuff, whether that be due to injury or a bullpen role, sometimes both. Frasso is no different, and the riding fastball/curveball combination gives him a good base to work with as the Jays develop him as a starter. He's expected to be healthy to start the year.
ETA: 2023

2019 RANK

N/A

2020 RANK

26

AGE

23

ACQUIRED

2019 Draft
Expected starting affiliate: High-A Vancouver
2020 GOSSIP: The 6-foot-2, 215-pound Robertson's game is all about strength and pop, so it's probably a good thing that he was one of the most productive Blue Jays hitters during the Fall Development League, mashing a couple of home runs in Florida.
2021 OUTLOOK: With the lack of outfield depth in the Jays' system, Robertson will have a chance to really move up this list if the game power continues to manifest and the lefty builds off a 2019 short-season debut in Vancouver that saw him slash .268/.365/.404 with 18 extra-base hits in 61 games. The more names I pencil in at High-A, the more I think I need to take a trip out to Van City for a Nooner at The Nat when this pandemic is in our rear-view. Save me a seat.
ETA: 2023

2019 RANK

N/A

2020 RANK

24

AGE

22

ACQUIRED

2019 Draft
Expected starting affiliate: High-A Vancouver
2020 GOSSIP: As a college product with a great approach, there are some serious Cavan Biggio-type vibes with Morris, who was drafted in the fifth round out of the University of Virginia two years ago. Now, not many have Biggio's elite pitch recognition and the power came after some swing adjustments as a pro, but the left-handed hitting Morris is a similar profile as a bat-first player who won't provide much in the way of defence.
2021 OUTLOOK: Those who know his game well say he rivals anyone in the organization when it comes to approach, but like Biggio, there is really no standout tool at this point in his development so he's going to have to hit his way to the big leagues in some sort of utility infielder role. As we learned with Biggio, prospects are fluid entities and adjustments can be significant when the approach is this good.
ETA: 2023​