UFC Notebook: Rose Namajunas hints at retirement
At age 26, Rose Namajunas was the UFC's youngest reigning champion. That changed on Saturday night when top contender Jessica Andrade hoisted Namajunas into the air and dumped her on her head, knocking Namajunas out to become the new women's strawweight champion at UFC 237 in Rio de Janeiro.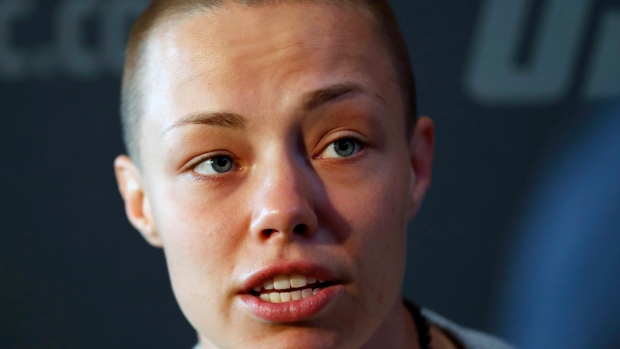 At age 26, Rose Namajunas was the UFC's youngest reigning champion. That changed on Saturday night when top contender Jessica Andrade hoisted Namajunas into the air and dumped her on her head, knocking Namajunas out to become the new women's strawweight champion at UFC 237 in Rio de Janeiro.
The often honest and conflicted Namajunas said after the loss that dropping the title lifted a big stress off her shoulders.
"It's just a huge pressure – you've always got to obsess about everything," Namajunas told TSN following the loss. "It's just a materialistic thing that ends up controlling your life and really, I went out there and had fun and I challenged myself. I have so many other things to look forward to. It was just a part of me and it was an accomplishment. Maybe I'll get it again, maybe I won't. Maybe I'll never do this again. We'll see.
Namajunas successfully defended the title once, against Joanna Jedrzejczyk – the very person she won the belt from prior to the loss to Andrade.
Despite the loss, Namajunas felt she was clearly the better of the two fighters before Andrade suddenly ended things.
"I definitely was whipping her butt for sure and I think I was forcing the finish a little," she said. "But like I said, I definitely know I could beat her. I just have to make sure that I want to and I want to do this."
Namajunas had been nursing a neck injury and wanted to take some time away from the sport after previously competing at UFC 223 last April.
Following the event, Andrade acknowledged that an immediate rematch for Namajunas made sense.
"It was an honour to share the cage with her and she was doing very well up until that point. We had a game plan that was starting to work, working the legs, working the body," Andrade told TSN. "She was a great champion, so if that's what the UFC thinks is the right move, I'm here for it. As soon as my stitches are out, I'll be back in the gym working because I know that there's a long line waiting for a piece of me. So I'm just going to get to work and fight whoever they think is the right person."
Volkanovski hoping to face Holloway in October
After becoming the first person to defeat featherweight legend and former champion Jose Aldo in a three-round fight in the WEC (World Extreme Cagefighting) or the UFC, Australia's Alexander Volkanovski feels he has done enough to earn the next shot at champion Max Holloway.
There have been rumours however that former lightweight champion Frankie Edgar, who has yet to face Holloway but has twice lost to Aldo, could have already been promised the next shot.
Volkanovski is not on board with that idea.
"Do you really give people title shots for sympathy? It's unfortunate, I've got a lot of respect for Frankie [Edgar], it's sad, I wish he didn't take that fight against Ortega, I wish he'd waited," Volkanovski told TSN. "He took a risk, that's why it's a risk, you lose and you lose your shot and that's what happened."
There have been rumours surfacing that the UFC is planning a trip to Volkanovski's home country in October for a middleweight title unification bout between middleweight champion Robert Whittaker and interim champion Israel Adesanya. Volkanovski hopes to compete on that card.
"Let's get us on that card too. That will be huge," said Volkanovski. "I reckon it's in Sydney."
Attendance and Bonuses
UFC 237 took place at Jeunesse Arena in Rio de Janeiro and drew a sold out crowd of 15,193 for an undisclosed gate.
The Fight of the Night was the main event between Namajunas and Andrade and the Performance of the Night bonuses went to Andrade and Warlley Alves, who defeated Sergio Moraes via third-round knockout.
Namajunas and Alves earned an additional $50,000 (USD), while Andrade earned an additional $100,000 (USD).
Cormier explains why he wants Jones at light heavyweight
UFC heavyweight champion Daniel Cormier decided to put retirement on hold after saying for some time that he hoped to retire when he turned 40, which happened earlier this year.
As a result, Cormier has been booked for a rematch with former heavyweight champion Stipe Miocic in August at UFC 241 in Anaheim.
However, Cormier still has hopes of defeating the only man to ever beat him, light heavyweight champion Jon Jones, who has beaten him on two occasions – the most recent of which was overturned due to an anti-doping violation.
"It would be a horrible weight cut," Cormier told TSN at an event where he was named as a brand ambassador for PokerStars. "I'm not going down to 205 (lbs.) just to fight anyone. It would only be if I was fighting Jones again."
Despite calls for Jones to move up to heavyweight, a recurring theme in his storied career, Jones has stated that that his preference would be to face Cormier at light heavyweight, where Jones is considered the consensus greatest of all-time in the division.
"He beat me at 205. He's never fought at heavyweight. It would be something completely new for him," said Cormier. "I'd want to fight on the terms that we fought prior."
In addition to Cormier, rising light heavyweight Johnny Walker and UFC announcer Bruce Buffer were also named as ambassadors for PokerStars at the event in Rio de Janeiro prior to UFC 237.
Nate Diaz's return booked
There had been rumblings for weeks about a potential return bout for Nate Diaz, who had been scheduled to compete at UFC 230 at Madison Square Garden last November against the now-interim lightweight champion Dustin Poirier before Poirier was forced to withdraw with an injury.
Despite difficulties booking Diaz, who hasn't competed in the UFC since his UFC 202 loss to Conor McGregor in one of the promotion's biggest-ever events, the Stockton, Calif., native has his return date set.
According to ESPN's Ariel Helwani, Diaz has signed to face former lightweight champion Anthony Pettis in a welterweight bout on August 17 at UFC 241 in Anaheim, California.
Diaz and Pettis have had something of a rivalry that has dated back sometime and will face each other in a weight class above their usual one as both have shown a desire to avoid cutting weight.
Diaz is mostly known for being the first one to stop McGregor in the UFC, a bout that also took place at welterweight, before McGregor exacted his revenge months later.
Cerrone to face Ferguson
One week after defeating Al Iaquinta in the main event of UFC Fight Night in Ottawa, in typical Donald 'Cowboy' Cerrone fashion, he has been booked with a quick turnaround to face former interim lightweight champion Tony Ferguson at UFC 238 on June 8 in Chicago.
The matchup, originally reported by ESPN's Ariel Helwani, was later confirmed by the promotion.
The bout adds some much-needed star power to the card headlined by a bout for the recently vacated bantamweight championship between top contender Marlon Moraes and flyweight champion Henry Cejudo. The card also features a co-main event between women's flyweight champion Valentina Shevchenko and Jessica Eye.
Ferguson has been inactive due to some personal issues that have made the UFC hesitant to book him until they were resolved and that now appears to be the case.
It will be Cerrone's 42nd Zuffa (WEC and UFC) appearance of his storied career. A win would help him get closer to his late career goal of becoming the lightweight champion.