Benning: Edler declined to waive no-trade
The Canadian Press with TSN.ca Files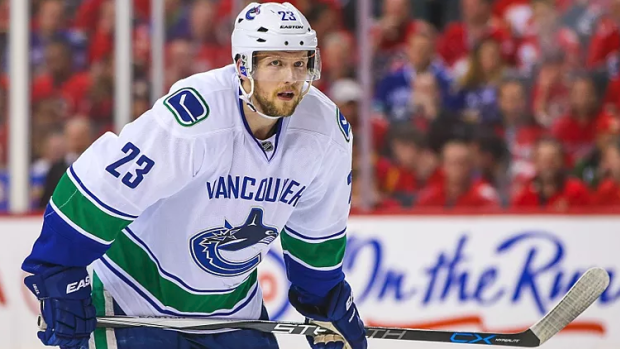 The Vancouver Canucks got calls about defenceman Alex Edler leading up to the trade deadline, general manager Jim Benning said Monday. The 32-year-old will be an unrestricted free agent on July 1.
The club approached Edler about the offers three or four days ago, but he declined to waive the no-trade clause in his contract according to Benning.
"If he would have wanted to waive his no-trade to go to one of those teams, we would have tried to figure out a deal for him. That, obviously, didn't happen," he said.
Negotiations about Edler's future continue, Benning said.
"Alex has been a great player for us for a long time," he said. "We'd like to continue for him to be part of our team, part of our group. And we're going to keep working towards trying to figure something out there."
A reluctance to give up draft picks limited what deals the Canucks could make leading up to this year's trade deadline, Benning said.
The draft is set to be held in Vancouver in June and the team doesn't want to trade away future potential for short-term fixes.
"I think we've done a good job drafting. We want to continue doing a good job drafting and developing and rebuilding the team," Benning said.
"I think the message to our fans today is to continue to be patient. We're going to continue to do things the right way. We're going to draft and develop, and we're going to build this thing piece by piece so we can be competitive for a long time."
TSN Hockey Insiders Darren Dreger and Pierre LeBrun reported last week that the Canucks and the defenceman were progressing toward an extension. He has five goals and 15 assists in 38 games so far this season.