With no contract talks, Pacioretty takes trade speculation in stride
As far as the Montreal Canadiens are concerned, Max Pacioretty will be at training camp next month. Pacioretty said Tuesday that there have been no talks with the team regarding a contract extension, but GM Marc Bergevin said he expects all players to report for camp.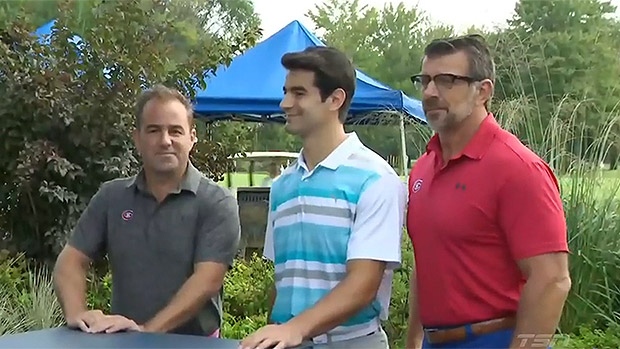 STE-JULIE, Que. — Max Pacioretty waited till the last minute to confirm that he would go ahead with his annual charity golf tournament.
Amid months of trade rumours mentioning his name, Pacioretty wanted to see if he was still a Montreal Canadien before sending out invitations for the tournament that helped raise money for both the team's and his own charitable foundations.
Pacioretty still wasn't sure where he'll play this season as he teed of Tuesday with some teammates, supporters, management and the coaching staff, but he wasn't going to let that spoil the day.
"We wanted to wait until the last possible minute just in case something happened," Pacioretty said. "Once we invited people, we got overwhelming support immediately.
"I wasn't contemplating whether or not to do the tournament. I was always in my mind that I wanted to, but you didn't want to do so if the circumstances weren't right."
He confirmed that there have been no talks with general manager Marc Bergevin on a new contract. So if negotiations don't start soon, it is likely the club will try to deal the high-scoring left-winger before his contract runs out at the end of the 2018-19 season and he becomes an unrestricted free agent.
Why Bergevin appears intent on trading one of the NHL's best left-wingers over the last seven years is a mystery. Bergevin, who also spoke briefly to the media, said he expects Pacioretty to be on hand when the Canadiens camp opens Sept. 14.
"I can't control that situation," said Pacioretty. "I've got to worry about what I can control and that is out of my control when it comes down to it.
"Whether it's Berg or my agent (Allan Walsh), they will have discussions that are necessary, but at this point I can't control any of that."
Bergevin and team president and owner Geoff Molson exchanged polite but hardly warm greetings with Pacioretty.
There had been a report that Bergevin and Molson would not attend, but the team released a statement two days later saying that invitations were delayed and they would be happy to join in.
"There was never any doubt," said Molson.
Pacioretty, who turns 30 in November, is entering the final year of one of the NHL's most club-friendly six-year contracts, which pays US$4.5 million per season. The New Canaan, Conn. native scored 30 or more goals in five out of six seasons, and 15 in the lockout-shortened 2013-14 campaign, before slumping to 17 goals in 2017-18.
The third-year captain has also fully embraced the team and the city, living year-round in Montreal with his wife, former tennis player Katia Afinogenova, and their three (soon to be four) children.
At Richelieu Valley Golf Club, Pacioretty handled himself with as much grace as his sticky situation would allow.
"This is life — nothing in life is perfect," he said. "I have no control of that situation but you guys know how I feel about living here.
"My kids start school tomorrow and we're excited about that. A lot of times I get asked if it's weird to be in this situation, but tons of people around the league are faced with this situation. It's just that mine is so magnified because of where we are and who I am.
"I know this is the hot topic, what we're talking about right now, but a the end of the day I'm just living my life. I'm at a charity golf tournament with a lot of my close friends and family and I'm excited to give back to the community."
He would have gone ahead with the tournament even if he had been traded, but in a modified format without the Canadiens.
There's not much Pacioretty's teammates can do but wait and see what happens.
"If you look around the league there's probably 20 guys (in situations) like that," said winger Nicolas Deslauriers. "Those are things we can't control.
"He's been a really good captain since I've been here. He welcomed me with open arms when I came in at the beginning of the year. He's not one of the best captains I've had for nothing. He's good for the organization and he's a great player."