By the Numbers: Eric Staal
When he signed a three-year, $10.5 million deal with the Minnesota Wild in 2016, it looked like Eric Staal's best days were behind him. With 36 goals this season, he's proving to be one of the best bargains in the NHL.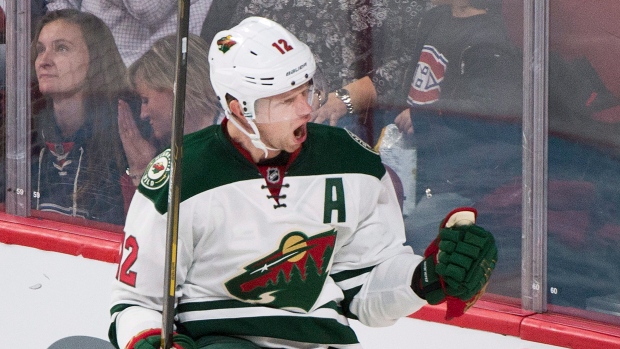 Eric Staal was coming off his worst offensive season since his rookie year more than a decade ago when he signed a three-year, $10.5 million deal with the Minnesota Wild in the summer of 2016. For a player on the wrong side of 30 and a veteran of 929 NHL games, it looked like his best seasons were behind him.
Now 33, he's turned out to be one of the best 'bang for your buck' bargains in the NHL.
In 67 games this season, Staal's 36 goals put him tied for fourth in the NHL heading into play on Friday. It's his highest total since the 2008-09 season, when he scored 40 as a member of the Carolina Hurricanes. He is averaging a point per game for the first time since the lockout-shortened 2012-13 season. Since Feb. 1, he is tied with Patrik Laine of the Winnipeg Jets for the league lead in goals with 16. The Wild have gone 10-4-2 over that span.
Other than Laine who is still on his rookie deal, Staal's contract is dwarfed by that of other top goals scorers like Alex Ovechkin (AAV $9.538M), Evgeni Malkin ($9.5M) and Tyler Seguin ($5.75M).
Leaders and $ Per Goal
| Player | Team | Goals | $ Per Goal |
| --- | --- | --- | --- |
| Alex Ovechkin | Washington Capitals | 40 | $238.5K |
| Evgeni Malkin | Pittsburgh Penguins | 38 | $250K |
| Tyler Seguin | Boston Bruins | 36 | $160K |
| Eric Staal | Minnesota Wild | 36 | $97K |
**Patrik Laine (39 goals) is excluded because he is on an entry-level deal.
Of comparable forwards making an AAV ranging from $3.5 million to $4 million, only Anders Lee (31) and Rickard Rakell (30) have at least 30 goals.
Comparable Forwards by AAV $3.5M - $4M
| Player | Team | Goals | $ AAV 2017-18 |
| --- | --- | --- | --- |
| Eric Staal | Minnesota Wild | 36 | $3.5M |
| Anders Lee | New York Islanders | 31 | $3.75M |
| Rickard Rakell | Anaheim Ducks | 30 | $3.8M |
| Brendan Gallagher | Montreal Canadiens | 24 | $3.75M |
| Evgenii Dadonov | Florida Panthers | 21 | $4M |
| Adam Henrique | Anaheim Ducks | 20 | $4M |
| Mark Stone | Ottawa Senators | 20 | $3.5M |
| Wayne Simmonds | Philadelphia Flyers | 20 | $3.98M |
Staal's renaissance year has him approaching Marian Gaborik's franchise record of 42 goals in the 2007-08 season.
"I don't think anybody would've thought he'd have 36 goals at this stage of the game," head coach Bruce Boudreau said Wednesday. "I remember when we signed him we were thinking if he could give us 50 to 60 points we would think it was a great signing. And he's gone well beyond that."
Staal told NHL.com this week that much of his success has come because of a welcome change of scenery with the Wild.
"Toward the end [in Carolina], it was difficult in a lot of areas," Staal said. "Having a chance to refresh and be in Minnesota, where hockey is a big deal, it's not far from where I grew up [Thunder Bay, Ont.], there are a ton of teams and kids and families that come down for tournaments and people in that area love the game [was important]."
"I've always believed that offensively I can be a contributor within the group and fit within the team," Staal said. "[Minnesota] has been a great fit for me."
Staal's play has the Wild sitting fourth in the Western Conference with 83 points and on pace to make the playoffs for the sixth straight season.
"Hopefully it continues," Staal said. "We have a lot of hockey left. … We just want to keep building our game and put ourselves in the best position we can for the playoffs."
They will be back in action Friday when they take on the Vancouver Canucks on the road.
**Stats courtesy of TSN's Kevin Gibson