Canadian teams dominate AHL All-Star picks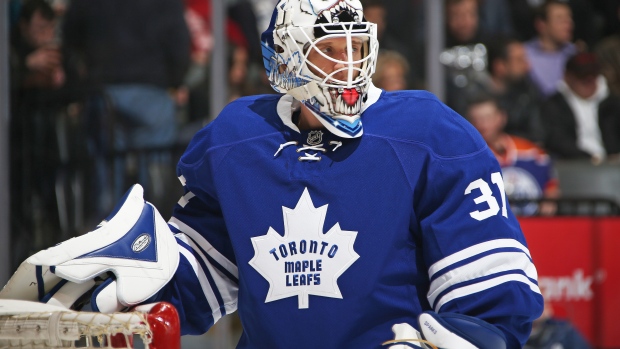 Canada's NHL franchises were well represented on the Frist and Second AHL All-Star teams revealed Thursday.
Four of the six First-Team All-Stars played for Canadian-affialiated franchises, while three of the six Second-Team All-Stars hailed from Winnipeg Jets, Toronto Maple Leafs and Montreal Canadiens.
Defenceman Sam Niku and right winger Mason Appleton were named First-Team All-Stars from the Manitoba Moose, the Winnipeg Jets' AHL affialiate, while goaltender Michael Hutchison was named to the Second-Team. Niku has 15 goals and 52 points in 71 games this season, while Appleton has 21 goals and 61 points in 71 games. Hutchison owns a 15-5-4 record this season with a .933 sav percentage and a 2.21 goals-against average.
Toronto Marlies goaltender Garret Sparks was named the AHL's First-Team goaltender after posting a 30-9-2 record this season with league-best a .936 save percentage and 1.81 GAA. Marlies forwards Andreas Johnsson, who's currently playing with the Toronto Maple Leafs, and Ben Smith were named Second-Team All-Stars. Johnsson scored 26 goals and posted 54 points in 54 games being being called up to the NHL, while Smith has 27 goals and 57 points in 71 games.
Chris Terry of the Laval Rocket was the Montreal Canadiens' lone representative as AHL All-Star. Terry was named First-Team with 29 goals and 67 points (tied for the league lead) in just 58 games this season.
The All-Star teams, in full, are as follows.
First-Team: G - Garret Sparks, Toronto Marlies, D – Jacob MacDonald, Binghamton Devils, D – Sami Niku, Manitoba Moose, LW – Chris Terry, Laval Rocket, C – Phil Varone, Lehigh Valley Phantoms, RW – Mason Appleton, Manitoba Moose.
Second-Team: G – Michael Hutchinson, Manitoba Moose, D – T.J. Brennan, Lehigh Valley Phantoms, D – Zach Redmond, Rochester Americans, LW – Andreas Johnsson, Toronto Marlies, C – Austin Czarnik, Providence Bruins, RW – Ben Smith, Toronto Marlies.
The All-Star teams were voted by AHL coaches, players and media from across the league's 30 teams.