Countdown to TradeCentre: What is the cost of bread?
Follow the latest trade rumours and speculation leading up to the Feb. 25 trade deadline with TSN.ca's Countdown to TradeCentre. Wednesday's roundup includes the asking price for Artemi Panarin, a pessimistic outlook on Matt Duchene and Mark Stone, and if an Avalanche blueliner could be on the block.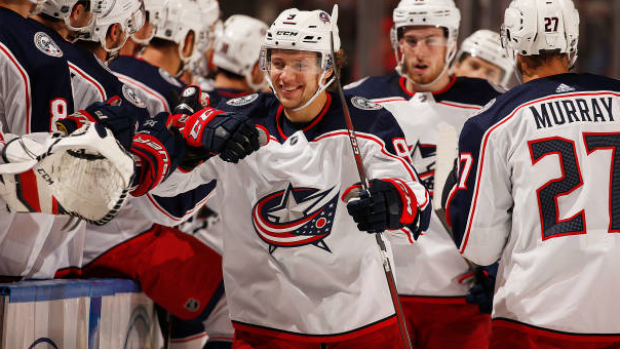 The National Hockey League's Trade Deadline is 3 p.m. ET on Monday, Feb. 25, and teams will be making decisions on whether to buy or sell and decide which players can make the biggest difference and hold the greatest value. Check out the latest trade rumours and speculation from around the NHL beat.
---

Cost of Bread
TSN Hockey Insider Pierre LeBrun said Thursday that the Nashville Predators and Boston Bruins "had a bit of sticker shock" when they heard the Columbus Blue Jackets' asking price for Artemi Panarin.
Fluto Shinzawa of The Athletic writes that, according to one executive, the Blue Jackets are seeking a first-round pick, a high-end prospect and a young player back for Panarin, who is a pending unrestricted free agent. From a Bruins perspective, Shinzawa thinks that would mean the team parting with either centre Ryan Donato or defenceman Urho Vaakanainen, forward Trent Frederic and the team's first-round pick to pry Panarin out of Columbus.
The Bruins paid a hefty price last season to acquire Rick Nash as a rental, sending prospect Ryan Lindgren, the team's 2018 first-round pick, Matt Beleskey and Ryan Spooner to the New York Rangers on deadline day and, with an aging core and a matchup with the Tampa Bay Lightning looming in their path to the Stanley Cup, Shinzawa believes Bruins general manager Don Sweeney could at least consider paying the price for Panarin.
LeBrun said Thursday, however, that with just over two weeks until the deadline, the price on Panarin should go down before Feb. 25 - especially if the Senators add Mark Stone and Matt Duchene to the trade market.

---

Closing Time
Speaking of Stone and Duchene, TSN Hockey Insider Bob McKenzie said Thursday that the Ottawa Senators should have clarity on their futures in the coming days.
McKenzie believes Stone and Duchene were previously told about the Senators' plans to spend to the cap in coming years before Eugene Melnyk's public declaration on Tuesday night. The question now, he said, is whether the two pending free agents buy into Melnyk's talk.
"Was it a bold declaration of a new mission statement where the Senators will go in a completely different direction of running their team, going from a budget team to a cap team? Or was it really just a public sales pitch to Matt Duchene and Mark Stone to have them stay? Or cynically, Melnyk did this just to put some spin out there to protect the organization just in case Duchene and Stone are on their way out of town," McKenzie said on Insider Trading.
"The declaration happened Tuesday night at the Hockey Hall of Fame. In addition to all of the corporate people that were there, all of the Senators players were there as well - including Duchene and Stone. I would have to believe that Duchene and Stone have heard this talk before. The bottom line is do Duchene and Stone believe Melnyk? Duchene seems to be slow-playing his negotiations, while Stone doesn't seem to have much happening on that front at the moment. What I do believe is that by the beginning of next week we're going to have clarity. Either they're staying or they're going, and if they're going, they're getting traded."
McKenzie said on the TSN Hockey Bobcast Thursday that he believes that clarity may not be in the favour of Senators fans.
"My needle on Stone and Duchene is that they're not going to sign in Ottawa and they're going to be traded," McKenzie said. "Now, I guess they could. And I'm sure Ottawa will continue here in the next number of days to try and take a run at that, but I don't know."

---

On the Way Out?
Colorado Avalanche defenceman Tyson Barrie is back in the rumour mill, according to Mike Chambers of The Denver Post. He wrote Thursday that he believed "there's a very good chance Barrie is traded by the Feb. 25 deadline or this summer."
Chambers' comments came in response to a mailbag question pointing to the likely additions of Cale Makar and Connor Timmins to the team's blueline possibly as soon as later this season as a reason to trade Barrie. With Barrie carrying a $5.5 million cap hit and being seven years older than both Makar and Timmins, Chambers believes he's the odd man out among the three right-handed shots and that a Barrie trade "is inevitable."
The 27-year-old is the team's fourth leading-scorer this season with six goals and 40 points through 49 games and leads Avalanche defencemen with an average of 21:55 of ice time per contest. He is scheduled to become a free agent after next season and does not have a no-trade clause in his contract.

---

Latest on Hayes
Kevin Hayes is one of three pending free agents on the New York Rangers listed on the TSN Trade Bait Board.
With 12 goals and 37 points in 44 games this season, the 26-year-old is expected to draw interest on the trade market, but TSN Hockey Insider Darren Dreger said Thursday that being traded may not be the end of his career in New York.
"Before we did the segment here - so about 10 minutes ago - I checked in on Kevin Hayes and the New York Rangers, just to see where that's at," Dreger said on TSN Radio 690 Montreal. "Because he's a pretty important piece to the New York Rangers. That deal might come right down to the end. Have a conversation with Hayes. Find out what he wants to do. Does he want to push for a playoff run, and ultimately the Stanley Cup as a rental, and then perhaps sign back with the New York Rangers.
"Kevin Hayes, to me, should be a player that Minnesota or a team like Winnipeg should be looking at. I mean, just everything he brings, I think he'd fit nicely in that conference."
Teammate Mats Zuccarello is listed seven spots ahead of Hayes on the Trade Bait list at No. 6, while defenceman Adam McQuaid is No. 36 on the list. Chris Kreider (No. 26) and Vlad Namestnikov (No. 40) of the Rangers are also on the Trade Bait list, though both are signed through next season.
TSN Senior Hockey Reporter Frank Seravalli wrote last week that the Jets are looking for a second-line centre to boost their pursuit of the Stanley Cup, while the Wild could have a need at centre after losing centre Mikko Koivu for the season earlier this week.