Countdown to TradeCentre: Who are the Sens eyeing?
Follow the latest trade rumours and speculation leading up to the Feb. 25 trade deadline with TSN.ca's Countdown to TradeCentre. Friday's roundup includes who the Senators may be looking at in Jets organization, the price for Jesse Puljujarvi and potential changes in Minnesota.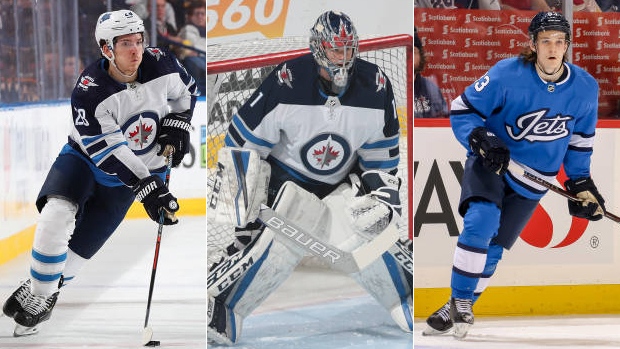 The National Hockey League's Trade Deadline is 3 p.m. ET on Monday, Feb. 25, and teams will be making decisions on whether to buy or sell and decide which players can make the biggest difference and hold the greatest value. Check out the latest trade rumours and speculation from around the NHL beat.
---

Scouting Trip
TSN Hockey Insider Bob McKenzie reported Ottawa Senators general manager Pierre Dorion was in attendance at Thursday's Winnipeg Jets game along with his assistants Jim Clark and Peter MacTavish.
McKenzie adds that the the Senators front office staff will remain in Winnipeg to scout the Jets and their AHL franchise, the Manitoba Moose, over the coming days.
The two sides have been speculated as trade partners as the Jets may add a pending free agent like Mark Stone or Matt Duchene for their playoff push. Jason Bell of The Winnipeg Free Press believes Jack Roslovic is among the players the Senators are watching on the Jets, while defenceman Sami Niku and goaltender Eric Comrie are likely of interest to Dorion on the Moose roster.
TSN Hockey Insider Darren Dreger reported Tuesday that the Jets' top priority ahead of the deadline is adding a top-six winger, meaning the team could be more interested in Stone than Duchene. On Thursday morning, Jets head coach Paul Maurice came to the defence of second-line centre Bryan Little and said he doesn't see the team replacing him in the top six.
"Other than the 16 points in the last 17 games, he's gotta tighten that up, doesn't he?" Maurice said. "He's playing with two really young, unique players (Patrik Laine and Jack Roslovic/Nikolaj Ehlers) and he's done that for the last year and a half and he's carried them in so many ways. Maybe it's only the coach's point of you to see how hard he works to get in and make things happen, but also to get out, to be on the right side of the puck, to battle every shift, to work with these kids who are really unique players.
"I'll wait until after the deadline and then I'll argue with you - on every one of those names that we should have gotten - that we have the right guy here."

---

Price Too High
TSN Hockey Insider Darren Dreger said Thursday that he does not believe Jesse Puljujarvi will be moved at the deadline, stating that the Edmonton Oilers have placed too high a price on the 20-year-old winger.
"It looked like Puljujarvi played better (against the Penguins) didn't it? That's how it looked," Dreger said on TSN Radio Edmonton 1260. "Can he string that together on a consistent basis. Well, he hasn't been able to to this point.
"Again, if I'm management in Edmonton, you're trusting Ken Hitchcock and the coaching staff right now. So lean on them. Find out what they believe to be the long-term upside of Jesse Puljujarvi. Now, you're asking to look into the crystal ball and make a prediction, and often that's really difficult to do with young, developing players.
"I can appreciate why Edmonton wants to continue to hold onto this young man, because they don't fully know what his potential is. But if the feedback from your coaching staff is, 'Well, we don't really see him as being much better than a third-line player in the NHL,' well cut bait.
"There is a trade market for Jesse Puljujarvi, but my understanding is that the Oilers just want too much - the ask on him is way too high. I don't even know what that is. I can take a guess at it when you start talking about either a top prospect or a first-round pick obviously plus something given where he was drafted.
"But I don't get the sense that Puljujarvi has much, if any, interest in going to Bakersfield and playing in the American Hockey League. Doesn't have a choice organizationally, so if the Oilers want to take a tough stand on him then so be it.
"But I think it's time that they actually seriously consider their trade options."
Puljujarvi was removed from the TSN Trade Bait board shortly after the Oilers fired general manager Peter Chiarelli and Oilers CEO Bob Nicholson stated the team wouldn't trade their top prospects "unless we get some real good pieces back."

---

Time for Change?
Minnesota Wild head coach Bruce Boudreau made a bold prediction on Thursday, predicting that the Wild will make the playoffs this season before adding, "we're going to be somebody hard to deal with."
It appears, however, that ownership could have a different take this season, with TSN Hockey Insider Pierre LeBrun citing a report that the front office has been given the green light to retool the franchise if need be.
"Interesting 24 hours in Minnesota. My colleague Mike Russo of the Athletic revealing that owner Craig Leipold had a sit down meeting with GM Paul Fenton and in which he said do what you got to do to retool this team if that's what you wish to do, despite the fact the Minnesota Wild are in a playoff race," LeBrun said on Insider Trading. "Reminds [me] of St. Louis a year ago that traded Stastny when they were in a playoff spot. So here we go. Core players such as (Charlie) Coyle, (Michael) Granlund, (Jason) Zucker, (Jonas) Brodin all potentially in play, either before the deadline or in the off-season.
"But the guy to really keep an eye on is Eric Staal, of course because he's a pending UFA. He doesn't want to go anywhere, he has a 10-team modified no-trade clause, but it's a good one. It's a 10-team list that we're told is vastly populated with all the obvious contenders and I'm not convinced that he'd want to waive, we'll see."
The Wild are in the final wild card spot in the Western Conference and will host the New Jersey Devils on Friday night.
---