Craig's List: Bouchard rocketing up draft board
The London Knights defenceman rides a stellar offensive season into the top five in TSN Director of Scouting Craig Button's draft ranking.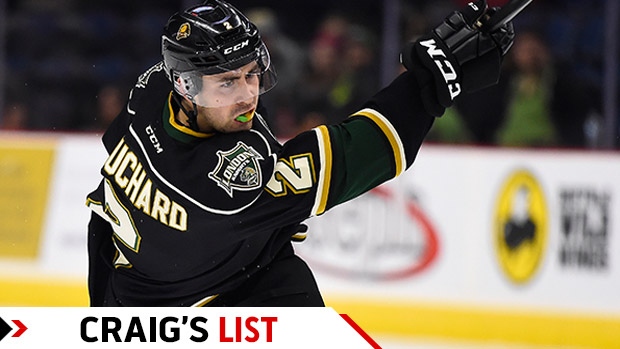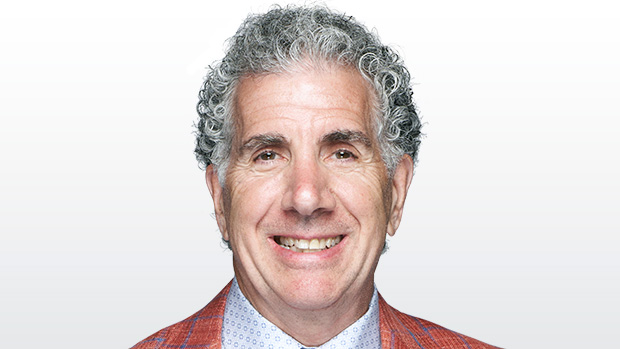 Swedish defenceman Rasmus Dahlin continues to be far and away the top prospect in the March edition of Craig's List ahead of the 2018 NHL Draft, but London Knights captain Evan Bouchard has forced his way into the top five of our rankings and could be the second blueliner off the board.
Bouchard, a 6-foot-1, 195-pound native of Oakville, Ont., sat in 23rd place in the September edition of our rankings. The right-shot blueliner then turned in a stellar regular season in London, racking up 87 points (25 goals, 62 assists) in 67 games to lead all OHL defenceman in scoring.
Along the way, he climbed to No. 20 in our November list, to No. 10 in our January rankings and now sits fifth.
The highest-ranked Canadian on our board, Bouchard is a fantastic passer who projects as true power-play quarterback at the next level. He has also been counted on to log north of the 30 minutes a night for a Knights team that traded away a number of key veterans during the season.
Three familiar wingers occupy the spots between Dahlin and Bouchard. Boston University left winger Brady Tkachuk, who has eight goals and 21 assists in 38 games in his freshman season, is our No. 2 prospect. Barrie Colts right wing Andrei Svechnikov, who had 40 goals and 32 assists in an injury-shortened regular season (44 games) is third. Sitting in fourth is Filip Zadina of the Halifax Mooseheads, a right wing who had 82 points (44 goals, 38 assists) in 57 games this season.
All three of these wingers bring a blend of size and skill and project to be productive pros. They could be drafted in any order behind Dahlin.
The rest of the top 10 includes dynamic Brynas IF defenceman Adam Boqvist (No. 6), Sault Ste. Marie Greyhounds two-way centre Barrett Hayton (No. 7), Acadie-Bathurst Titan right-shot defenceman Noah Dobson (No. 8) and USA Hockey National Team Development Program centre Oliver Wahlstrom at No. 9.
Sitting at No. 10 is 6-foot-1, 188-pound Finish centre Jesperi Kotkaniemi, who jumps all the way up from No. 26 in our January rankings. The 17-year-old Kotkaniemi, who is playing against men in Liiga for Assat, reminds me of Los Angeles Kings captain Anze Kopitar at the same age.
Note: If I haven't seen a player at least four times, they don't get evaluated. That's why highly rated players like German winger Dominik Bokk and Russian forward Vitaly Kravtsov aren't in this month's rankings.
Craig's List - March Ranking
| RK | Player | Team | POS | HT | WT | GP | G | P |
| --- | --- | --- | --- | --- | --- | --- | --- | --- |
| 1 | Rasmus Dahlin | Frolunda (SHL) | D | 6'2 | 181 | 41 | 7 | 20 |
| 2 | Brady Tkachuk | Boston U (NCAA) | LW | 6'2 | 194 | 38 | 8 | 29 |
| 3 | Andrei Svechnikov | Barrie (OHL) | RW | 6'1 ½ | 188 | 44 | 40 | 72 |
| 4 | Filip Zadina | Halifax (QMJHL) | RW | 6'0 | 198 | 57 | 44 | 82 |
| 5 | Evan Bouchard | London (OHL) | D | 6'1 ½ | 190 | 67 | 25 | 87 |
| 6 | Adam Boqvist | Brynäs (SWE J20) | D | 5'10 ¾ | 168 | 25 | 14 | 24 |
| 7 | Barrett Hayton | S.S. Marie (OHL) | C | 6'1 | 186 | 63 | 21 | 60 |
| 8 | Noah Dobson | A-Bathurst (QMJHL) | D | 6'2 ½ | 178 | 67 | 17 | 69 |
| 9 | Oliver Wahlstrom | USA NTDP (USHL) | C | 6'0 ¾ | 195 | 51 | 39 | 78 |
| 10 | Jesperi Kotkaniemi | Ässät (SM Liiga) | C | 6'1 ½ | 188 | 57 | 10 | 29 |
| 11 | Bode Wilde | USA NTDP (USHL) | D | 6'2 ½ | 197 | 50 | 10 | 35 |
| 12 | Quinn Hughes | Michigan (NCAA) | D | 5'9 | 167 | 34 | 4 | 28 |
| 13 | Rasmus Kupari | Kärpät (SM Liiga) | C | 6'1 ¼ | 183 | 39 | 6 | 14 |
| 14 | Grigori Denisenko | Yaroslavl (MHL) | LW | 5'11 | 163 | 31 | 9 | 22 |
| 15 | Joel Farabee | USA NTDP (USHL) | LW | 5'11 | 152 | 51 | 26 | 60 |
| 16 | Serron Noel | Oshawa (OHL) | RW | 6'4 | 200 | 62 | 28 | 53 |
| 17 | Isac Lundestrom | Luleå (SHL) | C/LW | 5'11 ¼ | 178 | 42 | 6 | 15 |
| 18 | Rasmus Sandin | S.S. Marie (OHL) | D | 5'10 ¾ | 183 | 51 | 12 | 45 |
| 19 | Ty Smith | Spokane (WHL) | D | 5'10 ¼ | 176 | 69 | 14 | 73 |
| 20 | Akil Thomas | Niagara (OHL) | RW | 5'11 | 169 | 68 | 22 | 81 |
| 21 | Jacob Olofsson | Timra (SWE-Als) | C | 6'2 | 185 | 43 | 10 | 21 |
| 22 | Jack McBain | Toronto (OJHL) | C | 6'3 ¼ | 196 | 39 | 5 | 24 |
| 23 | Filip Hallander | Timra (SWE-Als) | C/LW | 6'0 | 178 | 40 | 9 | 20 |
| 24 | Jared McIsaac | Halifax (QMJHL) | D | 6'1 | 195 | 65 | 9 | 47 |
| 25 | Nicolas Beaudin | Drummondville (QMJHL) | D | 5'10 ½ | 175 | 68 | 12 | 69 |
| 26 | Ryan Merkley | Guelph (OHL) | D | 5'11 | 170 | 63 | 13 | 67 |
| 27 | Joe Veleno | Drummondville (QMJHL) | C | 6'1 | 195 | 64 | 22 | 79 |
| 28 | Mattias Samuelsson | USA NTDP (USHL) | D | 6'3 ¼ | 209 | 47 | 9 | 28 |
| 29 | Albin Eriksson | Skellefteå (SWE J20) | LW | 6'4 ¼ | 207 | 38 | 22 | 40 |
| 30 | Ryan McLeod | Mississuaga (OHL) | C/LW | 6'2 | 190 | 68 | 26 | 70 |
| 31 | Benoît-Olivier Groulx | Halifax (QMJHL) | C | 6'0 ¾ | 192 | 68 | 28 | 55 |
| 32 | Jonatan Berggren | Skellefteå (SWE J20) | LW | 5'10 | 181 | 38 | 25 | 51 |
| 33 | Calen Addison | Lethbridge (WHL) | D | 5'9 ¾ | 179 | 68 | 11 | 65 |
| 34 | Axel Andersson | Djurgarden (SWE J20) | D | 5'11 ¾ | 178 | 42 | 6 | 31 |
| 35 | David Gustafsson | HV 71 (SHL) | C | 5'11 ½ | 196 | 45 | 6 | 12 |
| 36 | Jake Wise | USA NTDP (USHL) | C | 5'9 ¾ | 185 | 27 | 7 | 32 |
| 37 | Cameron Hillis | Guelph (OHL) | C | 5'9 ½ | 168 | 60 | 20 | 59 |
| 38 | Adam Ginning | Linköping (SHL) | D | 6'2 ¾ | 196 | 28 | 1 | 2 |
| 39 | Jett Woo | Moose Jaw (WHL) | D | 5'11 ¾ | 205 | 44 | 9 | 14 |
| 40 | Gabriel Fortier | Baie Comeau (QMJHL) | LW | 5'9 | 164 | 66 | 26 | 59 |
| 41 | Blake McLaughlin | Chicago (USHL) | LW | 5'11 | 156 | 46 | 20 | 45 |
| 42 | Allan McShane | Oshawa (OHL) | C | 5'10 ½ | 190 | 67 | 20 | 1 |
| 43 | Jack Drury | Waterloo (USHL) | C | 5'11 | 175 | 47 | 19 | 51 |
| 44 | Jacob Bernard-Docker | Okotoks (AJHL) | D | 6'0 | 181 | 49 | 20 | 41 |
| 45 | Sean Durzi | Owen Sound (OHL) | D | 5'11 ½ | 195 | 40 | 15 | 50 |
| 46 | Jonathon Tychonick | Penticton (BCHL) | D | 5'11 ¼ | 166 | 48 | 9 | 47 |
| 47 | Martin Kaut | Pardubice (CZE Extra) | RW | 6'1 ½ | 176 | 38 | 9 | 16 |
| 48 | Alexander Alexeyev | Red Deer (WHL) | D | 6'3 ½ | 184 | 45 | 7 | 37 |
| 49 | Filip Johansson | Leksands (SWE J20) | D | 6'0 ½ | 174 | 29 | 4 | 9 |
| 50 | Ty Dellandrea | Flint (OHL) | C/RW | 5'11 ¾ | 180 | 67 | 27 | 59 |
| 51 | Alexander Khovanov | Moncton (QMJHL) | C | 5'11 | 187 | 29 | 9 | 28 |
| 52 | Jon Gruden | USA NTDP (USHL) | C | 5'11 ½ | 172 | 50 | 22 | 44 |
| 53 | Tyler Madden | Tri-City (WHL) | C/RW | 5'10 | 152 | 46 | 15 | 33 |
| 54 | Justin Almeida | Moose Jaw (WHL) | C | 5'9 ¼ | 158 | 72 | 43 | 98 |
| 55 | Liam Foudy | London (OHL) | C/LW | 6'0 | 175 | 65 | 24 | 40 |
| 56 | K'Andre Miller | USA NTDP (USHL) | D | 6'3 ½ | 194 | 47 | 7 | 22 |
| 57 | Oskar Back | Färjestads (SWE J20) | C | 6'2 ¼ | 192 | 38 | 10 | 32 |
| 58 | Aidan Dudas | Owen Sound (OHL) | C/RW | 5'7 ½ | 162 | 68 | 31 | 65 |
| 59 | Jesse Ylonen | Espoo (FIN) | RW | 5'11 ¾ | 160 | 48 | 14 | 27 |
| 60 | Martin Fehervary | Oskarshamn (SWE-Als) | D | 6'1 | 190 | 42 | 1 | 7 |
| 61 | Kody Clark | Ottawa (OHL) | RW | 6'0 ¾ | 172 | 56 | 18 | 39 |
| 62 | Stanislav Demin | Wenatchee (BCHL) | D | 6'1 ½ | 190 | 57 | 9 | 45 |
| 63 | Curtis Hall | Youngstown (USHL) | C | 6'2 | 194 | 48 | 12 | 27 |
| 64 | Dmitri Zavgorodny | Rimouski (QMJHL) | LW | 5'9 | 161 | 62 | 26 | 47 |
| 65 | Kevin Bahl | Ottawa (OHL) | D | 6'5 ¾ | 225 | 58 | 1 | 18 |
| 66 | Nico Gross | Oshawa (OHL) | D | 5'11 ¾ | 183 | 58 | 4 | 14 |
| 67 | Tyler Weiss | USA NTDP (USHL) | C/LW | 5'10 ¼ | 143 | 21 | 3 | 11 |
| 68 | Carter Robertson | Ottawa (OHL) | D | 6'2 | 178 | 57 | 5 | 18 |
| 69 | Milos Roman | Vancouver (WHL) | C/LW | 5'11 ¾ | 188 | 39 | 10 | 32 |
| 70 | Olivier Rodrigue | Drummondville (QMJHL) | G | 6'0 ¼ | 155 | 53 | 2.54 | .903 |
| 71 | Lukáš Dostal | Brno (Cze Jr) | G | 6'0 ¾ | 158 | 20 | 2.43 | .921 |
| 72 | Declan Chisholm | Peterborough (OHL) | D | 6'0 ¼ | 183 | 47 | 3 | 20 |
| 73 | Sampo Ranta | Sioux City (USHL) | RW | 6'0 ¾ | 192 | 47 | 18 | 29 |
| 74 | Adam Samuelsson | USA NTDP (USHL) | D | 6'5 ¾ | 240 | 51 | 4 | 22 |
| 75 | Jakub Lauko | Chomutov (CZE Extra) | LW | 6'0 | 169 | 42 | 3 | 9 |
| 76 | Jay O'Brien | Thayer (USHS) | C | 6'0 | 175 | 30 | 43 | 80 |
| 77 | Alec Regula | London (OHL) | D | 6'3 | 201 | 67 | 7 | 25 |
| 78 | Giovanni Vallati | Kitchener (OHL) | D | 6'1 | 176 | 65 | 3 | 26 |
| 79 | Curtis Douglas | Windsor (OHL) | C | 6'8 | 234 | 38 | 15 | 28 |
| 80 | Kryštof Hrabik | B.n Jizerou (CZE WSM2) | LW | 6'3 | 209 | 32 | 5 | 15 |
| 81 | Nicolas Guay | Drummondville (QMJHL) | C | 5'11 | 174 | 68 | 29 | 55 |
| 82 | Blade Jenkins | Saginaw (OHL) | LW | 6'1 | 195 | 68 | 20 | 44 |
| 83 | Anderson MacDonald | Moncton (QMJHL) | LW | 6'1 ½ | 205 | 58 | 27 | 45 |
| 84 | Danila Galenyuk | St. Petersburg (MHL) | D | 6'1 | 200 | 7 | 1 | 3 |
| 85 | Alexis Gravel | Halifax (QMJHL) | G | 6'2 ½ | 226 | 39 | 3.38 | .890 |
| 86 | Philipp Kurashev | Quebec (QMJHL) | RW | 5'11 ½ | 181 | 59 | 19 | 60 |
| 87 | Xavier Bernard | Drummondville (QMJHL) | D | 6'2 ½ | 208 | 66 | 11 | 35 |
| 88 | Luka Burzan | Brandon (WHL) | C | 5'11 ¾ | 185 | 72 | 15 | 40 |
| 89 | Mikhail Bitsadze | Moskva (MHL) | C | 5'11 | 167 | 22 | 2 | 5 |
| 90 | Luke Henman | B-Boisbriand (QMJHL) | C | 5'11 ¼ | 150 | 61 | 9 | 47 |