Dubas: Leafs progressing on Matthews extension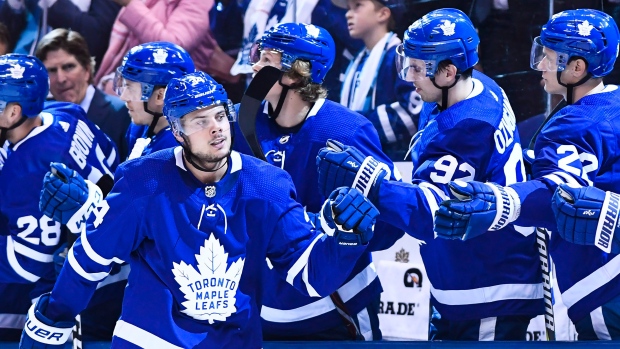 Toronto Maple Leafs general manager Kyle Dubas said Tuesday the team is having "healthy dialogue" on a contract extension for centre Auston Matthews.
Dubas added the team hopes to have the extension signed as soon as possible to help provide clarity on the Leafs' long-term salary cap outlook.
The Maple Leafs aren't currently negotiating with fellow pending restricted free agent Mitch Marner at the request of his agent, Darren Ferris, Dubas said. He added that the team is not trying to pressure either player into a deal.
"Those are very big personal decisions for those players and I don't want it to come off as we're putting pressure on them to [sign]," Dubas said.
Matthews, selected first overall in the 2016 NHL Draft, has 20 goals and 42 points through 34 games this season. He missed a month of action earlier this year due to a separated shoulder.
Through 178 career games, the 21-year-old has 94 goals and 174 points.
Marner, selected fourth overall in the 2015 Draft, has 19 goals and 42 assists for a team-leading 61 points in 48 games this season.
TSN Hockey Insider Darren Dreger reported earlier this month that Marner's camp is "committed to getting the Matthews deal done first before they get into the heavy negotiations with GM Kyle Dubas." Ferris also told TSN Hockey Insider Pierre LeBrun that Marner doesn't plan to negotiate in-season.
Dubas' most recent signing, William Nylander, has struggled to replicate the offensive production that earned him a six-year, $45 million contract in December. The general manager, however, remains confident in the 22-year-old.
"We have to remain patient and he has to continue to stick to his own development plan" Dubas said. "I've got a lot of faith he'll work himself out of it."
Nylander has one goal and three assists in 20 games this season. He spent much of Sunday's 4-2 loss against the Arizona Coyotes on the team's fourth line, moving up to the third line after an injury to Andreas Johnsson.
Dubas spoke to reporters after the team was given a day off while mired in their worst slump that has seen them post just a 3-6 record in the new year. Dubas said the adversity could pay dividends for the team moving forward.
"We had some teams with the (Toronto) Marlies who didn't really encounter any tough stretches during the season at all and then you get to late in the year when things are hard and the team hasn't had [that] experience," Dubas said.
The Maple Leafs have more than $5.5 million cap space this season, but Dubas said the team's focus remains on long-term success over making a significant addition at the trade deadline.
"Our hope is that our window, where we're in contention and continue to get better, expands for many years, as many as humanly possible," Dubas said.