Leafs GM Dubas, Nylander meeting in Europe
The Maple Leafs are off on Wednesday, but general manager Kyle Dubas' work getting restricted free agent William Nylander under contract appears to be ramping up.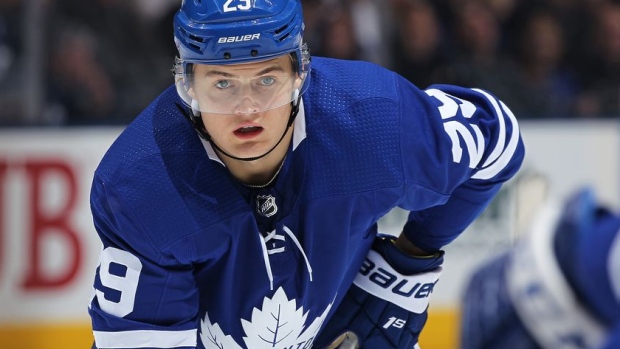 TORONTO ­– The Maple Leafs are off on Wednesday, but general manager Kyle Dubas' work getting restricted free agent William Nylander under contract appears to be ramping up.
Postmedia's Lance Hornby reported early Wednesday that Dubas is in Switzerland to meet with Nylander and his camp, headed by player agent Lewis Gross.
Nylander has been holed up in his native Sweden since late summer as talks repeatedly stalled over his second contract, a stalemate that's now dragged through the first seven games of Toronto's regular season.
In accordance with the NHL's Collective Bargaining Agreement, Nylander must be signed by Dec. 1 or he won't be eligible to play this season. A Western Conference GM told TSN Hockey Insider Pierre LeBrun last week Toronto isn't interested in trading Nylander.
The Swedish winger has been a solid producer for Toronto, registering 135 points (48 goals, 87 assists) in 185 career NHL games. That output is on par with Calgary Flames winger Johnny Gaudreau, who negotiated a six-year, $40.5 million pact (with an AAV of $6.75 million) as an RFA two years ago (with Gross as his agent). Gaudreau put up 142 points (54 goals, 88 assists) in 159 games over the two seasons prior to signing.
TSN Hockey Insider Darren Dreger reported on Oct. 5 that Nylander's side hasn't moved off their original ask of more than $8 million per season on a long-term deal, while TSN Hockey Insider Bob McKenzie said at the same time he didn't believe Nylander would get more than $6.6 million per season on a long-term pact from the Leafs.
As far as a bridge deal, McKenzie said in late September a three-year pact somewhere between the deals Ryan Johansen got from Nashville (three years with an AAV of $4 million) in 2014 and Nikita Kucherov received from Tampa (three years with an AAV of $4.76 million) in 2016 is where Toronto would want to land.
Per CapFriendly, the Leafs have a little more than $11 million in room this year, but that number will take a drastic hit in seasons to come once Auston Matthews and Mitch Marner, both restricted free agents in July, sign their own long-term deals.
In a media scrum prior to the Leafs' season opener on Oct. 3, Leafs' president Brendan Shanahan addressed Nylander situation by saying all of Toronto's stars will have to sacrifice financially if they want the team's core to stay together to compete for a Stanley Cup.
"With the challenges of today, you have to figure out what's important to you," Shanahan said, citing John Tavares' decision to leave millions on the table elsewhere and chase a championship in Toronto as an example for the young Leafs.
It's likely no coincidence that the only interview Nylander has granted since early August came the day after Shanahan's comments. Nylander told the Swedish outlet Aftonbladet on Oct. 4 that while it's obviously a lot of money being asked for, "in the end, I have to take care of myself and do [what] myself and my agents think is right…I have to think long-term, it's my own future."
Sitting out is costing Nylander a pretty penny. TSN Senior Hockey Reporter Frank Seravalli estimated the winger could be losing anywhere from $20,000 to $45,000 per day by refusing to sign.
The Maple Leafs, meanwhile, have been getting on just fine without him. The team sits atop the NHL standings with a 6-1-0 record and leads the league with 33 goals.
A major factor in that early success has been emergence of Kasperi Kapanen in Nylander's usual spot on Matthews' wing.
Kapanen had started the season on Toronto's fourth line while Tyler Ennis flanked Matthews and Patrick Marleau, but by the Leafs' third game, Kapanen had been promoted to that spot and hasn't looked back since.
Over Toronto's current five-game win streak, Kapanen has produced eight points (four goals, four assists), while Matthews has exploded for 12 points (seven goals, five assists). Much like Nylander, Kapanen brings an elite mix of speed and skill, while also heeding Mike Babcock's advice to drive the net and play heavy down low.
Part of the reason Dubas made his pilgrimage to Switzerland reportedly involved assuring Nylander that the Leafs' strong start doesn't diminish how much they want him back in the lineup.
But what will that eventuality mean for Kapanen? Will Nylander slip to Nazem Kadri's line while Kapanen and Matthews keep rolling? Or will Kapanen get the boot? As of Tuesday afternoon, Babcock wasn't saying ("I just kind of worry about the guys that are here, so I don't have to spend much time speculating on that") and he has refused to comment on any potential changes.