Eichel: 'Guys are going to respect' Housley and Botterill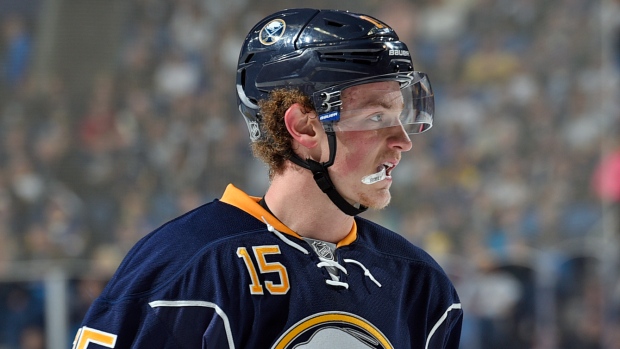 Buffalo Sabres centre Jack Eichel believes the team will benefit from their off-season coaching change, calling the new regime under head coach Jason Botterill and general manager Phil Housley a 'fresh start.'
"I think it was a good time for a fresh start for everyone and to be able to not have to worry about the opinions that were already formed," Eichel told Dan Rosen of NHL.com on Tuesday. "It's good for a lot of guys in the room. People are excited.
"Guys are going to respect (Housley and Botterill)."
Eichel has denied any rift between him and Bylsma - his head coach in both of his first two seasons in the league - but told the NHL.com that the coaching and management change will benefit players who can reset the organization's opinion of them.
"We have a new GM, new coaches, so it's a new situation for all of us and we have to look at it with the right mindset," Eichel said. "No bad relationships. No opinions.
"It's important for a lot of guys who might have been on the wrong foot."
Eichel denied reports back in April that he wouldn't sign an extension in Buffalo if the Sabres retained head coach Dan Bylsma.
WGR 550 reported that Eichel, who has one year remaining on his entry-level contract, would not re-sign as long as Bylsma remained behind the bench. The report came after Eichel made multiple comments voicing his displeasure for the team's performance over the past two seasons.
"It's been a mediocre two years," Eichel told The Buffalo News in early April. "More than anything, it's a bit disappointing, a bit embarrassing for us as players that we can't be better for them. You want to please the fans because of all they've been through and all they continue to put up with. You just want to be better."
He made similar comments in his season-ending media availability on April 10.
Both Bylsma and general manager Tim Murray were fired just a day after the report.
Eichel, 20, was the Sabres' leading scorer last season, despite missing 21 games with injury. In 61 games, he tallied 24 goals and 33 assists.
Botterill and the Sabres are believed to be working on a contract extension with Eichel that could be as long as eight years.
Drafted second overall by the Sabres in 2015, Eichel has 48 goals and 113 points in 142 games.