Habs' Weber out for season with tendon tear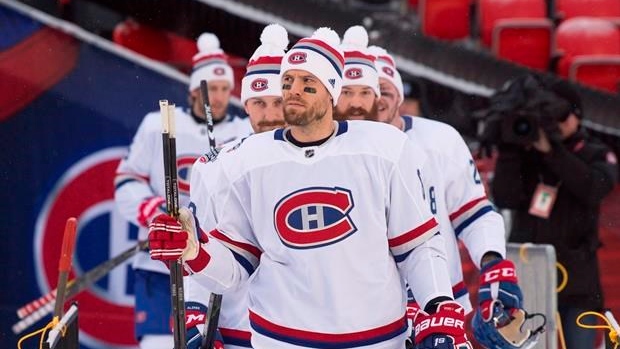 Defenceman Shea Weber will undergo season-ending surgery to repair a tear in a tendon in his left foot, the Montreal Canadiens announced Thursday.
According to TSN Hockey Insider Darren Dreger, Weber has seen Montreal doctors, a Toronto specialist and another specialist this week in Wisconsin to examine his foot injury suffered in the Habs' season-opening game in October against the Buffalo Sabres.
Dreger reports that the surgery will be handled by Dr. Robert Anderson in Green Bay, the same specialist that handled the surgery for Ottawa Senators defenceman Erik Karlsson last year.
Claude Julien announced earlier this week that Weber was being shut down indefinitely for the second time this season.
Weber has not played since the NHL 100 Classic in Ottawa on Dec. 16. He resumed skating on Feb. 7 after having a walking boot removed.
Julien said Monday that Weber was not "feeling comfortable" in his rehab from the injury, which he played through early in the season, and added Weber would only return once he was 100 per cent.
Weber, 32, scored six goals and 16 points in 26 games this season while averaging 25:21 of ice time. His total of 26 games is the lowest of his career for a season.
"Following the diagnosis of Shea Weber's injury, it was our belief that after a comprehensive rehabilitation protocol under the guidance of our medical team, Shea would be able to return to play this season. Unfortunately, after extensive efforts to heal Shea's injury, progress has not been made as expected. After further exams, and a consultation on Wednesday in Green Bay, Wisconsin with specialist Dr. Robert Anderson, and with Shea's approval, it has been determined that he should undergo surgery and will be out for the reminder of the season. Our medical group will work with Shea to ensure he is pursuing the best course of treatment moving forward, and we expect him to make a full recovery and be ready for the start of training camp next season. The length of his recovery will be determined following surgery, which will be performed by Dr. Anderson,'' said the club's orthopedic surgeon, Dr. Paul Martineau, in a statement.
The Canadiens (22-29-8) will be back in action Thursday night against the New York Rangers (27-28-5).