Hilary Knight joins Montreal's Canadiennes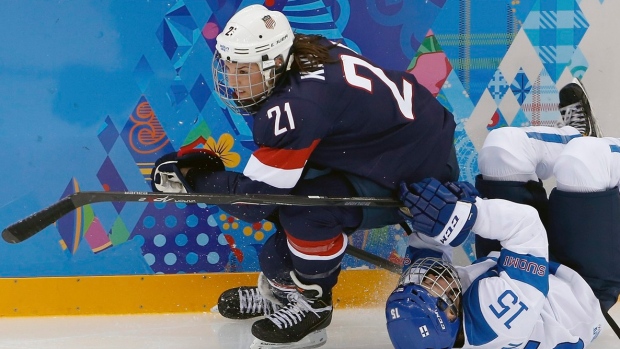 Montreal's Les Canadiennes announced on Thursday that the team has signed Team USA Olympic gold medalist Hilary Knight for the 2018 CWHL playoffs.
Knight is expected to practice with the team this Thursday, and make her debut in the lineup with Les Canadiennes on Sunday, March 11, against the Calgary Inferno at the Bell Sports Complex in Brossard
"I'm very excited for this opportunity to get back on the ice and to play in Montreal in front of Fabs fans! It's always an honour to be able to promote women's hockey, and my goal is to help Montreal defend their title as Clarkson Cup Champions," said Knight in a statement.
Knight, 28, was drafted fourth overall by the Boston Blades in the 2012 CWHL Draft. A CWHL MVP and two-time Clarkson Cup winner, she played two seasons with the NWHL's Boston Pride, helping them win the 2016 Isobel Cup.
Knight made her Olympic debut in 2010 in Vancouver as the youngest member of the U.S. Women's Olympic Ice Hockey Team and helped lead Team USA to a silver medal. She began her international career in 2007 at the age of 17 and has played in nine International Ice Hockey Federation Women's World Championships, helping Team USA capture seven gold medals and two silvers.
The Palo Alto, CA, native also played at the University of Wisconsin, helping the Badgers to three NCAA championship-game appearances and winning NCAA titles in both 2009 and 2011. She scored 143 career goals with Wisconsin, an all-time record among all Badger hockey players, male or female.