Hometown friends celebrate selection of O'Ree to HHOF
A packed Fredericton diner erupted in joyous cheers today as a prominent son of New Brunswick — Willie O'Ree, the first black NHL player — was named to the Hockey Hall of Fame.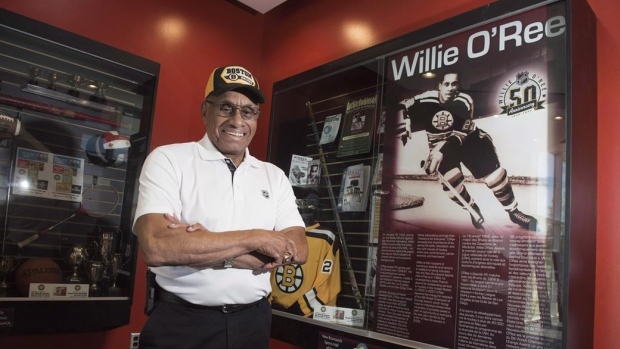 FREDERICTON — A packed Fredericton diner erupted in joyous cheers Tuesday as a prominent son of New Brunswick — Willie O'Ree, the first black player in the National Hockey League — was named to the Hockey Hall of Fame.
Friends of O'Ree packed The Cabin restaurant, where they chanted his name after the selection was announced. The 82-year-old was inducted in the builder's category.
"I was pacing in the house for four hours, waiting for the call. I am so happy and feel so fantastic," O'Ree said from his home in San Diego.
O'Ree, who is originally from Fredericton, joined the NHL in 1958 and remains active with the league as its diversity ambassador and active supporter of the Hockey is for Everyone program.
His best friend, Junior Doherty, travelled to Fredericton from his New Jersey home to be part of the celebration. He said O'Ree's selection is well deserved.
"He has spent so much time trying to make sure that youth knew how important education was and how important it was to set goals and to try to achieve them," Doherty said.
He and O'Ree have been friends since childhood and still spend a lot of time together, including annual fishing trips to New Brunswick.
Doherty's eyes filled with tears as he spoke of calling O'Ree on Monday night from Willie O'Ree Place — a rink named in his honour — to wish his friend good luck.
"I said, 'You have no idea how nice it is to see this place.' When we went there for the very first time, we went there together to see the rink, and it was in the evening and the lights were on and we were pretty choked up that day," he said.
O'Ree was the first black player in the NHL, but he will be the third inducted into the Hall of Fame, joining Edmonton Oilers goalie Grant Fuhr and Canadian women's national team captain Angela James.
O'Ree's first game with the Boston Bruins ended with a 3-0 win over the Canadiens in Montreal on Jan. 18, 1958. But he didn't realize the significance of the match until reading a newspaper the next day, which confirmed he had broken the NHL's colour barrier.
"It was a nice feeling. I just happened to be playing and just happened to be black," he said.
Following his stint within the Bruins, O'Ree played in other leagues for teams in Ottawa, Los Angeles and San Diego, all the while keeping the secret that an injury had left him blind in his right eye.
Sixty years later, there are now about two dozen black players on NHL rosters.
"This honour would not be possible if I had not rejoined the league in 1996," O'Ree said. "I was given a second wind to give back to the game."
Mike Eagles, who played sixteen seasons in the NHL and is now the athletic director at St. Thomas University in Fredericton, said O'Ree is the perfect choice as diversity ambassador.
"That's Willie ... That's him as a person and it's a perfect fit for him to be in that role and do the great job that he does," Eagles said.
David Sansom, who was one of the people who put together the 76-page submission to the Hockey Hall of Fame, said many people assumed O'Ree was already a member.
"It's been 21 years of giving back, and he has given tens of thousands of children a dream, and a dream they can believe in. For that, we can be eternally grateful," he said.