Insider Trading: What could the Leafs' ask be for Nylander?
The William Nylander saga continues, and with the December 1st deadline to sign a contract swiftly approaching, teams are kicking the tires on the Leafs' young winger. With the expected return being two roster players, who might be willing to reach Toronto's asking price if they decide they can't fit Nylander in their budget? The TSN Hockey Insiders discuss this and more in Insider Trading.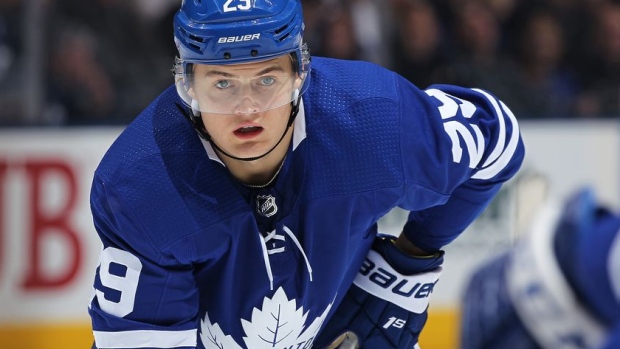 TSN Hockey Insiders Darren Dreger and Bob McKenzie joined host Gino Reda to discuss the ongoing situation with William Nylander and what the NHL and NHLPA are saying about Tom Wilson's suspension reduction.
---
The William Nylander situation
The Leafs are still trying to get William Nylander's name on a contract, but there is also interest around the league.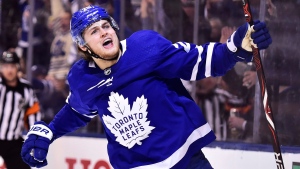 McKenzie: The priority for the Toronto Maple Leafs is to try and sign William Nylander to that contract extension, but they're really looking at their options too in terms of a trade and they would do well to prepare for that eventuality that maybe they don't get him signed by Dec.1. So there's two tracks going on here, the signing track and the talk trade track. We know Carolina has been interested all along in William Nylander and the expectation is that Don Waddell, the GM for the Hurricanes, and that Kyle Dubas, GM for the Leafs, are likely to continue their dialogue over the course of the week. The feeling is that Carolina is perfectly willing to part with Brett Pesce, one of their defencemen who is under contract for a number of years and a nice cap hit number, but not so eager to give up Jaccob Slavin so we'll see where that goes. But there are other teams. Minnesota has been interested all the way along, but with Minnesota playing so well now, maybe the Minnesota Wild aren't as eager to give up one of their young defencemen, maybe they don't think they could pay Nylander any more than the Toronto Maple Leafs. L.A. has interest in William Nylander but can they afford him and do they have the right pieces to fit and it goes on and on. Florida is a team that will probably kick tires to see if there is any interest, but there's going to be a lot of talk going on both the negotiation track and trade track.
Dreger: The big issue is who's going to meet the ask, assuming again the Toronto Maple Leafs get to the point they are willing to part with William Nylander and the ask is going to be significant. There is a ton of interest as Bob has illustrated but the ask is going to likely include two pieces off the roster. My sources indicate it could be a top four defenceman along with a top-nine forward because the Toronto Maple Leafs believe to contend for the Stanley Cup, they'd have to add some key pieces and that forward would be very crucial along with a defenceman so it's not an easy ask.
McKenzie: Here's where it gets really difficult for teams acquiring William Nylander is the financial aspect of it and trying to sign him. Because he's not signing at the beginning of the season, and he signed later, there's a divergent way of how the cap is calculated. Courtesy of our friends at Capfriendly.com, if the Leafs were to do a six-year deal at $7 million cap hit today Nov.13, his year one hit would be $8.7 million, years two through six. $6.7 million. You see can on Nov. 30, the day before the deadline, $9.6 million on a $7 million AAV and the $6.6 million. The Leafs love that scenario, that works for them. Let's say they do a three-year bridge deal. Well there you go. Today, the first year would be $5.9 million on a $5 million cap hit, but then it gets lesser after that. Same thing, same principle at work on Nov.30. This is a scenario that works to the Leafs' advantage in a big, big way. But almost all of the other teams that are interested in William Nylander, those big cap hit numbers in year one, that takes a lot of teams out of the trade talk right away. They can't afford an accelerated cap hit in year one, even if it drops below the AAV in years two through six or years two and three.
Tom Wilson's suspension reduced from 20 games to 14
The independent arbitrator reduced Tom Wilson's suspension from 20 games to 14, with him having already served 16. What are the two sides saying about this?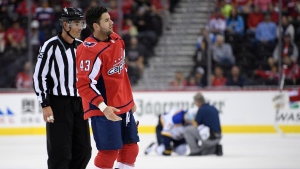 Dreger: Well you've got the Players' Association and of course the NHL. Now the arbitrator's decision included a quote from the PA from deputy commissioner Bill Daly, which was sent on Sept. 30 to the head of Department of Player Safety George Parros, acknowledging and referencing the Wilson hit and saying quote, "looks like a big one." The PA would argue there's influence there from the commissioner's office. Now when you look at it from the NHL's perspective, that is now three straight reductions in rulings from commissioner Gary Bettman that have been reduced. The commissoner doesn't like that, the Players' Association don't love the fact that commissioner Bettman is involved in the appeal process, period. So what we can expect is that these two sides will contest this as part of the negotiations and discussions with the upcoming CBA.