Insider Trading: The complexity of a potential Karlsson trade
TSN Hockey Insiders Darren Dreger, Pierre LeBrun and Bob McKenzie joined host Ryan Rishaug to discuss the latest with Erik Karlsson, if Ilya Kovalchuk is getting close to signing and what Buffalo might want for Ryan O'Reilly if they decide to deal him.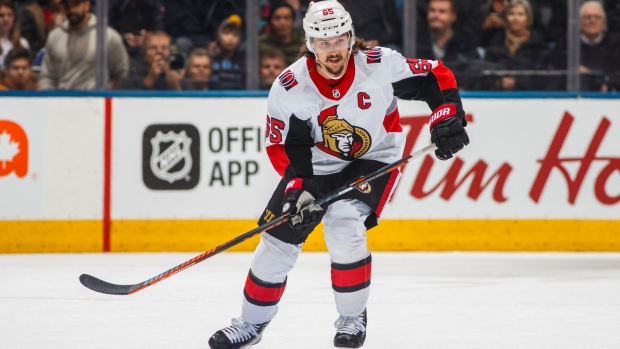 TSN Hockey Insiders Darren Dreger, Pierre LeBrun and Bob McKenzie joined host Ryan Rishaug to discuss the latest with Erik Karlsson, if Ilya Kovalchuk is getting close to signing and what Buffalo might want for Ryan O'Reilly if they decide to deal him.
---
What's the latest with Karlsson?
As the Ottawa Senators sort through an eventful off-season, their biggest question remains: will Erik Karlsson stay or will he go? It will be a complex deal.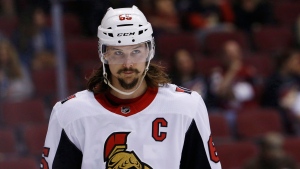 Dreger: No question about that and it dates back to prior to the trade deadline on Feb. 26 when the Vegas Golden Knights made a concerted effort to trade for Erik Karlsson. The fit wasn't right for Ottawa at that point, so we've been speculating for quite some time that the fit would be better here in Dallas during draft week and there's considerable interest in Erik Karlsson as you would expect. The pressure that the Senators might be feeling though is that if it gets to July 1 and they have to make Karlsson the offer, if he doesn't accept it, then the leverage fully shifts into the court of the player. So there's a list of teams interested and the Vegas Golden Knights are right there.
McKenzie: Well there's no question about that, the Vegas Golden Knights were interested before the deadline, couldn't get it done, weren't offering enough, want to get it done now, may still not be offering enough but to your point Dregs, if Karlsson is perceived as a diminishing asset then Ottawa has got to weigh what's on the table. The problem I think that you run into is that the Vegas Golden Knights more than any other team have the ability to take Bobby Ryan's contract off the hands of the Senators and that would be something that owner Eugene Melnyk would look favourably upon. But I think there's a cost associated with that and the cost is if Vegas takes the Bobby Ryan contract, they're not going to give as many live bodies or draft picks going back the other way to Ottawa. They're attaching a huge value to taking on Ryan's money. Ottawa is trying to attach a huge value to Karlsson in terms of what comes back in the door so I don't know how they bridge that gap other than to your point, the longer this Karlsson thing drags on, maybe the more of a diminishing asset he becomes.
LeBrun: And in the meantime Pierre Dorion has to decide by tomorrow night about the fourth overall pick which right now belongs to the Ottawa Senators but of course if they keep that pick then they give up the first round pick in 2019 to Colorado as part of that Matt Duchene deal that still haunts the Senators. And, you know it's interesting because if they do end up trading Erik Karlsson at some point this summer, it's hard for me to believe that they will be a better team than not, which means that could be a lottery pick from the Colorado Avalanche. But I think at this point Pierre Dorion will say quote on quote most likely he is keeping the fourth overall pick because, well he thinks they're going to be a better team anyway.
Kovalchuk narrowing down destinations?
The Russian sniper is expected to return to the NHL this season and it looks like he has a couple destinations in mind. Where might he end up?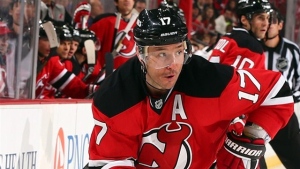 Dreger: There's developing interest as we expected. The Los Angeles Kings are believed to be at the top of that list and I believe that the L.A. Kings have made an offer. San Jose is in the mix, and the Vegas Golden Knights and the Boston Bruins. Nothing complete yet and of course Ilya Kovalchuk has the advantage of negotiating with these teams because he's a true free agent and can't sign until July 1. But it's a moving target and I expect that Kovalchuk will make his decision not in the next couple of days but certainly before July 1.
LeBrun: And Kovalchuk is affecting the Jeff Skinner trade scenario from the Carolina Hurricanes. The Hurricanes will deal Jeff Skinner, that is almost a guarantee in my mind, but L.A. was one of the teams that they've been talking to and if the Kings get Kovalchuk, and we're not saying for sure they will, but if they do, that might take them out of Jeff Skinner. Now Pittsburgh and St. Louis I'm told have also shown interest in Jeff Skinner and that's a big area of focus for Carolina right now.
McKenzie: Teams that are hopeful on Kovalchuk are hoping that they are going to get word before the draft as to what happens because it obviously plays in to what else they're going to do.
Buffalo's price for O'Reilly
If the Sabres do look to move centre Ryan O'Reilly, what might they look for in return?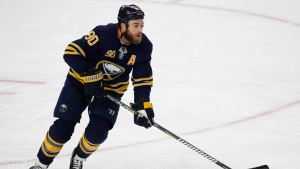 McKenzie: Yeah the Montreal Canadiens have had some interest in Ryan O'Reilly all along, there's no doubt they need to improve their centre position. O'Reilly would be a huge add for them but it's not going to come at a cheap price and one of the things that the Buffalo Sabres are really interested in and really covet is Montreal's third overall pick. Montreal I think has been adamant about not doing that and trying to find another way to make this deal work. Buffalo has not committed to trading Ryan O'Reilly, but they want to try and get younger players than O'Reilly to support Rasmus Dahlin and Jack Eichel and get a more age-appropriate core than to have a veteran centre. But, by the same token, when you've got Eichel coming back and you've got Casey Mittelstadt in the middle, they'd like to have some sort of buffer between the first-line centre and the third-line centre and not throw Mittelstadt to the wolves by making him play second-line minutes and therefore that's the reason why they're not just rushing O'Reilly out the door unless they get the right pieces coming back.
Trotz, Tavares talking?
Have newly-appointed head coach Barry Trotz and John Tavares been in contact? If so, what might that mean?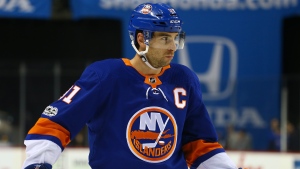 Dreger: Well he's still in that thinking mode and he's doing a little celebrating in the meantime because John Tavares is in fact on a bachelor party trip so he's got some bigger fish to fry in the moment. But as Barry Trotz, the new coach of the New York Islanders, acknowledged they've had communication already. The stability of the hiring of Barry Trotz is going to make a difference. It may not necessarily be a deal-maker because there are other elements that Tavares has to consider. The roster being among them, the quality of their goaltending is certainly on that list and the future home of the New York Islanders as well.
Isles looking at Grubauer?
The restricted free agent goaltender might be too expensive for the Washington Capitals to bring back, which opens up the possibility of a trade. If he is moved, where might he land?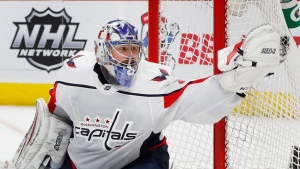 McKenzie: Maybe Barry Trotz had Philipp Grubauer in his suitcase when he arrived with the New York Islanders. The reality is that Philipp Grubauer is a guy who is very much in play and the Islanders are one of at least five or six teams that have significant interest in him. He's a restricted free agent but he's one year away from UFA status. The Washington Capitals cannot afford to re-sign Grubauer as a restricted free agent. That's why he's available. So the Islanders are interested, the Carolina Hurricanes are interested and in the Western Conference you've got the Detroit Red Wings, Chicago Blackhawks and Colorado Avalanche, amongst others, who to varying degrees require some level of goaltending and Grubauer may or may not fit the bill in those instances. The belief is that the Washington Capitals are asking for at least a first round pick in exchange for Grubauer. Whether they get it or not remains to be seen. It's going to be fascinating to see how the Grubauer sweepstakes, if you want to call it that, plays out here.
LeBrun: And I should mention that once Grubauer is traded or maybe as part of the trade, I believe his camp will be looking for a bridge deal because he's going to want to prove himself as a No. 1 and then set up that next deal. Kind of like Martin Jones did when he went from being a backup in L.A. to a starter in San Jose.
What's the latest with Lindholm?
A number of players are expected to be available under new owner Tom Dundon and general manager Don Waddell in Carolina, but is Elias Lindholm one of them?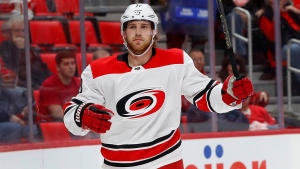 LeBrun: Well, they'd rather keep him is the reality. But they've had some roadblocks during their negotiations. I'm told that the Hurricanes are willing to pay just north of $4 million a year in a new deal for Lindholm. The Lindholm camp, led by agent Peter Wallen, has responded by saying they want north of $5 million a year. So there's about $1 million difference per year right now and the gap is there. They're supposed to meet tomorrow (Friday), Peter Wallen and Don Waddell, the GM of the Hurricanes, are supposed to meet tomorrow to try to hash things out. But let's be honest, if they don't get him signed, I believe the marching orders from owner Tom Dundon are to trade Elias Lindholm. We talked about interest from the Calgary Flames last night. That interest remains. But there are a lot of teams keeping an eye on him. Jeff Skinner is the most likely traded, but Elias Lindholm because he's 23 and a centre who can play right wing is the one that's generating the most interest.