Kings beat Senators in Cameron's first game as head coach
Trevor Lewis' goal at 4:02 of the third period held up as the winner as the Los Angeles Kings defeated the Senators 5-3 Thursday in Dave Cameron's first game as Ottawa's head coach. Cameron was named the Senators' new coach Monday afternoon after the firing of Paul MacLean.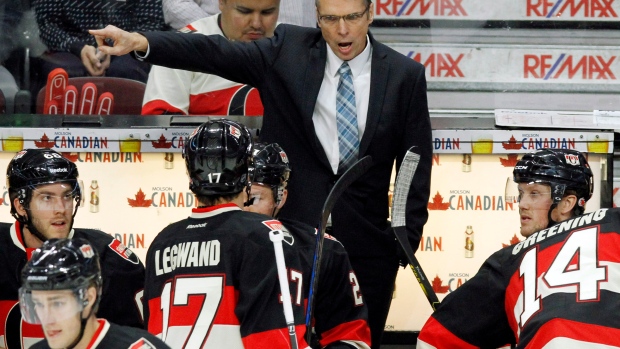 OTTAWA - It wasn't the result Dave Cameron was looking for, but the Ottawa Senators' new head coach couldn't fault his team's effort in a 5-3 loss to the Los Angeles Kings Thursday night.
The Senators were playing their first game under Cameron, who replaced Paul MacLean after he was fired on Monday.
"I thought for the most part we played the way that we wanted," said Cameron. "Hockey systems aren't that much different. We made a couple of changes in our system and I thought they identified it and executed it."
The 56-year-old Cameron had been waiting a long time for this opportunity. Despite the loss, he says he will cherish the memory of his first game.
"It's something I've been chasing a long time so it was a terrific feeling," Cameron said. "Much the way I thought it would be with the emotions and that, but I feel really, really humble to be able to say now I coach in the NHL."
As much as the Senators would have liked to get Cameron his first win, they at least felt good about their effort.
"Nobody spoke of it, but we took it upon ourselves to understand you want to get him his first W," said Bobby Ryan. "He hasn't come into an easy situation but he's done beautifully for the last couple days and run some good practices and I think there's a lot to build on as a unit going forward."
An exciting third period culminated with Trevor Lewis' winning goal at 4:02. Tanner Pearson added an empty-net goal to seal the victory.
Matt Greene, Justin Williams and Anze Kopitar also scored for the Kings (15-9-5). Jake Muzzin had three assists, while Jonathan Quick made 32 saves.
Ryan, Mark Stone and Jared Cowen scored for the Senators (11-12-5) as Craig Anderson stopped 31-of-35 shots.
Trailing 2-1, the Senators got off to a solid start in the third period to tie the game, but in less than two minutes the Kings regained a two-goal lead. Ottawa came close to completing the comeback, but fell just short.
With 1:21 remaining, Cowen got a shot through traffic that eluded Quick to make it 4-3, but the Kings made the most of an empty-net as Pearson picked up his 11th of the season.
Cowen, who has had his share of struggles this season, looked at this game as a fresh start.
"Always feels good contributing in all parts of the game especially with a fight, an assist and a goal," said Cowen. "Too bad we didn't come up with a win, but it's nice for me to get that and try to bring that more often."
In the opening minutes of the third, Stone jumped on a David Legwand rebound and tied the game with a short-handed goal, but 36 seconds later Kopitar — who hadn't scored in ten games — was left all alone in front and beat Anderson.
Muzzin gave the Senators full marks for doing their best to claw their way back into the game, but said the Kings were just as determined.
"A prime example was when they got their short-handed goal and we countered right away and got that one back," said Muzzin. "That was big. They had momentum going their way and we kind of shifted it back into our hands so that was big for us."
"To come back with a goal right away was huge," Muzzin added.
Just over a minute later, with Senators defencemen Chris Phillips and Eric Gryba sprawled on the ice, Lewis put one over Anderson.
The Kings jumped out to a 2-0 second-period lead before the Senators were able to cut the lead in half on a goal by Ryan.
Ryan, who is playing with a broken finger, dangled the puck past Brayden McNabb and then beat Quick off his backhand. The goal had the 17,284 on hand chanting Ryan's name.
"It felt good to get the monkey off my back," admitted Ryan, who had gone scoreless in his last seven games. "But when it goes for not it kind of gets forgotten and that's OK with me."
Los Angeles made it 2-0 midway through the period as Williams, who appeared to be looking for a wide-open Marian Gaborik, had his shot go in off Cody Ceci.
Greene opened the scoring at 1:47 of the second as his shot from just inside the blue-line made it through traffic. The play was reviewed but it was ruled that the shot deflected into the net in a legal fashion.
The Senators got off to a good start despite the first period remaining scoreless. Ottawa outshot the Kings 14-5 and didn't allow Los Angeles to register its first shot until the halfway mark of the period.
Chris Neil did not play the last two periods as he was sidelined with a knee injury. It appears the injury will keep Neil out for at least a week.
Notes: D Marc Methot and D Patrick Wiercioch were healthy scratches, while LW Clarke MacArthur was sidelined with the flu. The Senators were without LW Milan Michalek (upper body, day-to-day). Los Angeles D Jamie McBain, C Andy Andreoff and C Jordan Nolan were healthy scratches.