McDavid leads the TSN Core 4 U-24 Top 50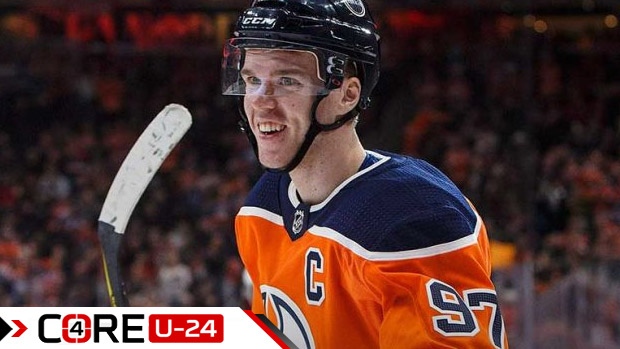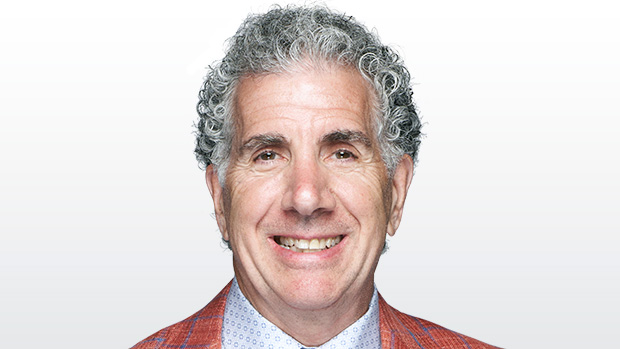 Until further notice, the best hockey player on the planet is Connor McDavid.
While the gap between the 21-year-old Edmonton superstar and the rest of the league may rise and fall throughout the season, McDavid is undeniably No. 1. He was first in the TSN preseason list of the top 50 players and he is first in the TSN Core 4 U-24 Top 50.
The battle begins at No. 2, where Toronto's 21-year-old Auston Matthews gets the nod over Colorado's 23-year-old Nathan MacKinnon by the smallest of margins. Matthews had a history-making start to the season – earning at least two points per game for seven straight games – and MacKinnon has picked up where he left off last season, when he finished second to Taylor Hall in MVP voting.
Rounding out the top group are Boston's David Pastrnak at No. 4 and Vancouver rookie sensation Elias Pettersson at No. 5.
With Colorado's Mikko Rantanen and Florida's Aleksander Barkov at No. 6 and 7, respectively, that means five nationalities are represented in the first seven: Canadians McDavid and MacKinnon, American Matthews, Czech Pastrnak, Swede Pettersson and Finns Rantanen and Barkov.
Completing the top 10 are No. 8 Mitch Marner of Toronto and a pair of Buffalo stars, No. 9 Rasmus Dahlin and No. 10 Jack Eichel.
Dahlin is the first defenceman on the list not because of what he has done so far in the NHL, but what he will do. The 18-year-old is a franchise-defining blueliner.
The list represents a blend of 50 players from the NHL, KHL, AHL, CHL and NCAA – all evaluated on the basis of performance to date and projected performance in the future.
The Top 50 Core 4 Under-24 Players
Nos. 1 - 5
| Player | 2018-19 | Age | GP | G | A | PTS |
| --- | --- | --- | --- | --- | --- | --- |
| 1. Connor McDavid, C | Edmonton | 21 | 18 | 10 | 16 | 26 |
| 2. Auston Matthews, C | Toronto | 21 | 11 | 10 | 6 | 16 |
| 3. Nathan MacKinnon, C | Colorado | 23 | 18 | 12 | 14 | 26 |
| 4. David Pastrnak, LW | Boston | 22 | 18 | 17 | 8 | 25 |
| 5. Elias Pettersson, C | Vancouver | 20 | 14 | 10 | 7 | 17 |

Nos. 6 - 10
| Player | 2018-19 | Age | GP | G | A | PTS |
| --- | --- | --- | --- | --- | --- | --- |
| 6. Mikko Rantanen, RW | Colorado | 22 | 18 | 7 | 22 | 29 |
| 7. Aleksander Barkov, C | Florida | 23 | 15 | 5 | 9 | 14 |
| 8. Mitch Marner, RW | Toronto | 21 | 18 | 5 | 17 | 22 |
| 9. Rasmus Dahlin, D | Buffalo | 18 | 18 | 1 | 6 | 7 |
| 10. Jack Eichel, C | Buffalo | 22 | 18 | 4 | 15 | 19 |

Nos. 11 - 15
| Player | 2018-19 | Age | GP | G | A | PTS |
| --- | --- | --- | --- | --- | --- | --- |
| 11. Leon Draisaitl, C | Edmonton | 23 | 18 | 11 | 9 | 19 |
| 12. Patrik Laine, RW | Winnipeg | 20 | 17 | 8 | 2 | 10 |
| 13. Brayden Point, C | Tampa Bay | 22 | 18 | 9 | 10 | 19 |
| 14. Charlie McAvoy, D | Boston | 20 | 7 | 1 | 5 | 6 |
| 15. Clayton Keller, RW | Arizona | 20 | 17 | 5 | 7 | 12 |

Nos. 16 - 20
| Player | 2018-19 | Age | GP | G | A | PTS |
| --- | --- | --- | --- | --- | --- | --- |
| 16. Matthew Tkachuk, LW | Calgary | 20 | 18 | 7 | 12 | 19 |
| 17. Igor Shestyorkin, G | St. Petersburg (KHL) | 22 | 13 | 11-2-0 | 1.30 | .946 |
| 18. Thomas Chabot, D | Ottawa | 21 | 18 | 5 | 17 | 22 |
| 19. Sebastian Aho, C | Carolina | 21 | 18 | 5 | 17 | 22 |
| 20. Mathew Barzal, C | NY Islanders | 21 | 17 | 2 | 14 | 16 |

Nos. 21 - 25
| Player | 2018-19 | Age | GP | G | A | PTS |
| --- | --- | --- | --- | --- | --- | --- |
| 21. Miro Heiskanen, D | Dallas | 19 | 18 | 2 | 6 | 8 |
| 22. Ilya Sorokin, G | Moscow (KHL) | 23 | 17 | 10-3-3 | 1.37 | .920 |
| 23. Zach Werenski, D | Columbus | 21 | 18 | 3 | 8 | 11 |
| 24. Ivan Provorov, D | Philadelphia | 21 | 19 | 2 | 5 | 7 |
| 25. Kyle Connor, LW | Winnipeg | 21 | 17 | 8 | 7 | 15 |

Nos. 26 - 50
| Player | 2018-19 | Age | GP | G | A | PTS |
| --- | --- | --- | --- | --- | --- | --- |
| 26. Brock Boeser, RW | Vancouver | 21 | 13 | 4 | 7 | 11 |
| 27. Bo Horvat, C | Vancouver | 23 | 20 | 9 | 8 | 17 |
| 28. William Nylander, LW | Toronto | 22 | - | - | - | - |
| 29. Nico Hischier, C | New Jersey | 19 | 15 | 3 | 9 | 12 |
| 30. Pierre-Luc Dubois, C | Columbus | 20 | 18 | 8 | 5 | 13 |

Nos. 31 - 35
| Player | 2018-19 | Age | GP | G | A | PTS |
| --- | --- | --- | --- | --- | --- | --- |
| 31. Josh Morrissey, D | Winnipeg | 23 | 17 | 1 | 7 | 8 |
| 32. Dylan Larkin, LW | Detroit | 22 | 18 | 7 | 11 | 18 |
| 33. Elias Lindholm, C | Calgary | 23 | 18 | 9 | 9 | 8 |
| 34. Timo Meier, LW | San Jose | 22 | 19 | 12 | 6 | 18 |
| 35. Mikhail Sergachev, D | Tampa Bay | 20 | 17 | 0 | 6 | 6 |

Nos. 36 - 40
| Player | 2018-19 | Age | GP | G | A | PTS |
| --- | --- | --- | --- | --- | --- | --- |
| 36. Aaron Ekblad, D | Florida | 22 | 15 | 1 | 2 | 3 |
| 37. Nikolaj Ehlers, LW | Winnipeg | 22 | 17 | 4 | 4 | 8 |
| 38. Jesperi Kotkaniemi, C | Montreal | 18 | 18 | 3 | 6 | 9 |
| 39. Alex DeBrincat, RW | Chicago | 20 | 19 | 9 | 7 | 16 |
| 40. Kirill Kaprizov, LW | Moscow (KHL) | 21 | 24 | 10 | 7 | 17 |

Nos. 41 - 45
| Player | 2018-19 | Age | GP | G | A | PTS |
| --- | --- | --- | --- | --- | --- | --- |
| 41. Cale Makar, D | UMass-Amherst (NCAA) | 20 | 9 | 4 | 9 | 13 |
| 42. Max Domi, C | Montreal | 23 | 18 | 10 | 12 | 22 |
| 43. Brady Tkachuk, LW | Ottawa | 19 | 7 | 4 | 4 | 8 |
| 44. Shea Theodore, D | Vegas | 23 | 19 | 2 | 5 | 7 |
| 45. Jonathan Drouin, LW | Montreal | 23 | 18 | 9 | 5 | 14 |

Nos. 46 - 50
| Player | 2018-19 | Age | GP | G | A | PTS |
| --- | --- | --- | --- | --- | --- | --- |
| 46. Juuso Valimaki, D | Calgary | 20 | 17 | 1 | 1 | 2 |
| 47. Cody Glass, C | Portland (WHL) | 19 | 16 | 7 | 27 | 34 |
| 48. Andrei Svechnikov, LW | Carolina | 18 | 18 | 4 | 4 | 8 |
| 49. Vitali Kravtsov, RW | Chelyabinsk (KHL) | 18 | 24 | 3 | 8 | 11 |
| 50. Carter Hart, G | Lehigh Valley (AHL) | 20 | 7 | 0 | 0 | 0 |